14 August 2020
3398
5 min.
4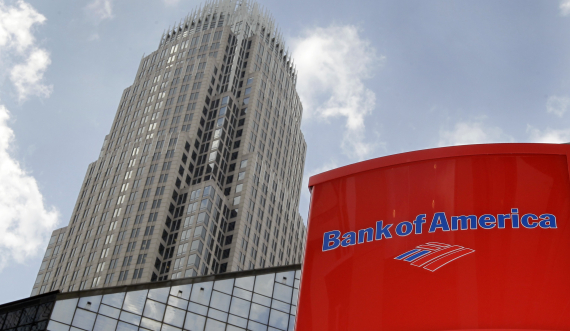 Euromoney magazine has named Bank of America the best bank in transaction services in Latin and North America in the publication's 2020 Awards for Excellence. This is the latest recognition the Global Transaction Services (GTS) business has received, and follows recent awards for innovation and trade finance, as well as top rankings in Commercial Card.
Established in 1992, the Euromoney Awards for Excellence program is considered a global benchmark for the banking industry. The publication received nearly 1,000 submissions for its regional and country awards.
The awards and some of Euromoney's rationale for naming the bank as the winner:
North America's best bank for Transaction Services: "Bank of America is the undisputed leader in transaction services in North America. Long before the coronavirus crisis struck its home market, the bank had entered the Euromoney awards period with strong momentum. But by the end of that period, it was being called upon to deploy all its leadership to help businesses across the U.S."
Latin America's best bank for Transaction Services: The service-led approach is working: 2019 was a record year for the bank's global transaction services (GTS) business in Latin America, with revenues growing by 19% year on year. The region was the best-performing globally for the bank – helped by 35% growth in deposits. Key markets performed well: Brazil's volumes were up by 18%, thanks to triple-digit growth in the Brazilian boleto payment system, while Mexico's were up 20%" – the rest of the region delivered sustainable double-digit growth.
Previously, the bank was recognized by the following publications.
Global Finance magazine: The Innovators 2020 program recognizes the top innovations in finance, the most innovative banks and fintechs, and the best innovation-boosting fintech labs. The bank was recognized as the:
Most Innovative Bank in North America: Like many in the industry, the pandemic has accelerated the bank's innovation agenda. Last month, the bank expanded its mobile wallet capabilities for commercial card to EMEA and APAC, giving companies more options to maintain safety procedures like social distancing, while still being able to make payments around the world.
Best in Class: Best innovations in Cash Management – Enhanced FX Trade and Pay, and Apple Watch Token.
Best in Class: Best innovation in Trade Finance – Supplier Enablement Tool.
2020 Nielsen Rankings, Visa and Mastercard Issuers: For the sixth consecutive year, Bank of America ranked as the No. 1 issuer of Visa and Mastercard Commercial Credit and Prepaid Solutions by market share in the 2020 Nilson Report for 2019. According to Nielsen, Bank of America is the largest commercial bank issuer across Purchasing Card/Virtual Payables, Corporate Card and Prepaid Card categories, with a combined annual spend volume of $66 billion, achieving more than 4% growth in 2019.
Global Trade Review, 2020 Leaders in Trade highlights excellence in the trade, commodity, supply chain and export finance, and fintech markets. Bank of America was named Best Trade Finance Bank in North America. "While many global banks continued to focus on large corporates, Bank of America put its focus squarely on supporting mid-sized companies, which makes it a worthy winner of this year's award," states Global Trade Review.
Global Finance magazine, The World's Best Treasury & Cash Management Banks and Providers, 2020 recognizes financial services providers that best meet the specialized needs of corporations engaged in global business. The bank won three categories:
Best Bank for Global Payments and Collections, globally;
Best Bank for Payments and Collections in North America;
Best Use of Artificial Intelligence in Treasury Management for Intelligent Receivables.
Bank of America
Bank of America is one of the world's leading financial institutions, serving individual consumers, small and middle-market businesses and large corporations with a full range of banking, investing, asset management and other financial and risk management products and services. The company provides unmatched convenience in the United States, serving approximately 66 million consumer and small business clients with approximately 4,300 retail financial centers, including approximately 3,000 lending centers, 2,700 financial centers with a Consumer Investment Financial Solutions Advisor and approximately 2,100 business centers; approximately 16,900 ATMs; and award-winning digital banking with approximately 39 million active users, including approximately 30 million mobile users. Bank of America is a global leader in wealth management, corporate and investment banking and trading across a broad range of asset classes, serving corporations, governments, institutions and individuals around the world. Bank of America offers industry-leading support to approximately 3 million small business owners through a suite of innovative, easy-to-use online products and services. The company serves clients through operations across the United States, its territories and approximately 35 countries. Bank of America Corporation stock (NYSE: BAC) is listed on the New York Stock Exchange.
"Bank of America" is the marketing name used by certain Global Banking and Global Markets businesses of Bank of America Corporation. Lending, other commercial banking activities, and trading in certain financial instruments are performed globally by banking affiliates of Bank of America Corporation, including Bank of America, N.A., Member FDIC. © 2020 Bank of America Corporation. All rights reserved.
For more Bank of America news, including dividend announcements and other important information, visit the Bank of America newsroom and register for news email alerts.
Source: https://newsroom.bankofamerica.com/press-releases/awards-and-recognition/euromoney-names-bank-america-best-transaction-services-bank
Press releases on the topic
NEW YORK PRESS RELEASES
GlobalNY.biz Press Releases are the latest news from New York companies.
Official press releases of New York companies are regularly published on the resource. You can find out the latest news of enterprises in the corresponding section on the main page. Placing press releases is a traditional and effective way to promote your business. It allows organizations to announce themselves and their products and services to the widest possible audience. In this case, the informational occasion can be anything: attracting people to an event or conference, highlighting new products or personnel appointments. If you set a goal to draw attention to your information, then GlobalNY.biz will become your reliable assistant in this matter. Thanks to the portal, your press release will be seen by reviewers of leading Internet publications, clients and partners.
GlobalNY.biz allows representatives of companies and organizations in New York to independently post a press release when registering on the resource. The most important feature of GlobalNY.biz is that all publications of New York companies fall into the archives and will be available from the search for a long time. You just need to add the press release to the news feed.
GlobalNY.biz offers its customers a subscription service that allows companies to regularly publish press releases on favorable terms. In addition, the business portal makes it possible to more fully tell about the life of the company by adding photos and videos, personas and employee quotes. All information materials have active links and will lead potential customers to your resource.
Alena Potapova
---
Development Director