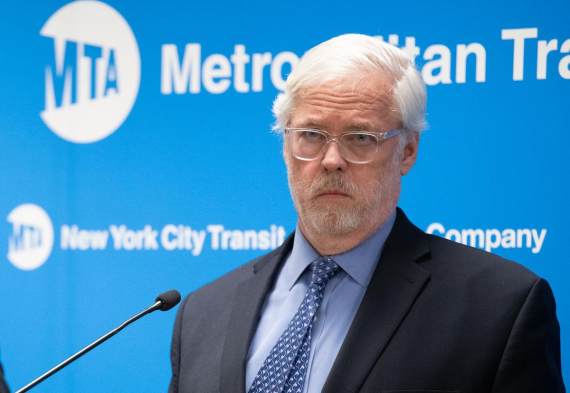 MTA Chairman and CEO Patrick J. Foye appeared on WCBS 880 with Michael Wallace to discuss the MTA's ongoing response to the novel coronavirus (COVID-19).
Michael Wallace: The daily shut downs of the subways from 1 to 5 a.m. for disinfecting begin tonight. On our Newsline MTA Chairman and CEO Pat Foye Thanks for joining us again, we appreciate it.
Pat Foye: Michael, thanks for having me.
Wallace: Alright so walk us through this. How's this going to work overnight tonight?
Foye: So here's how it's going to work, first thing your listeners should know is that starting Wednesday morning at 1 o'clock until 5 a.m. the subways will be shut down. This is the first time this has happened in the 116 year history of the subways. This is to allow an unprecedented 24/7 cleaning operation, and the disinfecting of every subway car, every bus is going to be disinfected as well and I'll tell you why that's important in a second, as well as every subway car and every station the same will be true on Long Island Railroad and Metro-North. In light of the pandemic and the rapid deterioration in the situation on the subways, with the homeless and to assure the public, our riders, and our employees that we're doing everything to protect public health, we're making this unprecedented decision. We are, however, providing substantially increased bus service during this period. For instance, the number of bus trips during this period is going to increase by over 1,100 bus trips, that's more than 76% increase, and we're adding 344 new buses on top of the 235 that are already deployed, so we're increasing the operational fleet of buses by nearly 150% during the 1 a.m. to 5 a.m. period. We believe that most of our customers who are going to be inconvenienced and we recognize the inconvenience, we apologize for it, but it's necessary. In light of making sure we can disinfect subway cars and stations and buses during the pandemic, most customers we believe will be served by the increased bus service that we put on the streets for the relatively small number of customers that can't use my service because it's not workable. There will be access to black livery cars who will take them home. One ride during the 1 to 5 period, one to four essential workers only, and three for those going either home, or to their to their workplace. We've reached out to employers generally throughout the five boroughs, including the chambers of commerce, individual large employers and labor unions, and we believe we've done a good job of getting the work out. Customers who want information, Michael, can go to myMTA app or MTA.info for information about the essential connector service the increase in bus service. Customers can go to MTA.info/overnight.
Wallace: Alright, a lot of information there to process. Our morning producer here used your online trip planner, she has to plan her bus ride from Upper to Lower Manhattan tomorrow morning at like two o'clock. Okay, so she says her ride would include two buses and two 20 minute walks in all, it may take her over two hours to get here. So she wanted me to ask you, why not just provide services that make stops parallel to the subway stops like you did with maybe the subway suspensions during the fast track.
Foye: Well, look, we are doing that in certain cases. Obviously we're substantially increasing both the number of bus trips and buses on the street for customers, like Lisa, she should call 511. Obviously that's not a workable trip for customers with a trip that according to the trip planner, will be over an hour and 20 minutes or involve more than two transfers. We don't think it's reasonable to impose that on the essential employees and first responders who are frankly should be solely the 10 to 11,000 customers that will travel in the pandemic era in the 1 to 5 day period, so for customers like Lisa. There is an option we do believe that substantially increased bus service will serve well and people most of our customers. Look, this is an effort that was put together, given the rapid deterioration on the subways, it has been put together with care and a lot of granular data, we're going to learn things tonight, and we'll be improving the service and the approach, as we go forward. The important thing here is that this unprecedented closing allows unprecedented 24/7 cleaning operations and disinfecting, and we've provided robust transportation alternatives for our customers, approximately 11,000 responders and essential employees that will travel during this time period.
Wallace: Certainly a lot of logistics went into that. Now what's going to be done? You mentioned the homeless earlier, what will be done with them when you shut the subways down tonight, where do they go?
Foye: Well everybody is going to have to leave the system. We're shutting the system down from 1 to 5 a.m. So unless you're in an NYPD uniform, a MTA Police uniform, a transit worker uniform, or a nurse or social worker, everybody's got to leave the system. It doesn't help anybody to have homeless New Yorkers living on the subways, that's not in their interest, it's not in the interest of our employees and our customers, especially given this terrible pandemic that we're living in. Homeless individuals have to leave the system like everybody else and will be offered mental health and health services, and taken to a shelter. And we think that is that is important in terms of their health and well being, but it's also important in being able to disinfect the entire system, every subway car, every station and every bus, extraordinarily important especially in the face of this horrible pandemic.
Wallace: We're speaking with MTA Chairman and CEO Pat Foye. Some lawmakers have called for a firm end date to these overnight cleanings, Governor Cuomo said the shutdown will end when the pandemic is over. Are you okay with this going on indefinitely, and can you afford it at the MTA?
Foye: The Governor reaffirmed that service will be restored when the pandemic ends. We're all rooting, obviously, I'm praying that the pandemic will end sooner rather than later, no one knows. And when the pandemic subsides, this service will be restored when it is safe to do so. We're going to continue disinfecting all our subway cars, buses and stations, and that it really is the goal and the purpose of this. Again, customers can go to the myMTA app, MTA.info and for bus service MTA.info/overnight
Wallace: That's the Chairman and CEO of the MTA, appreciate your joining us good luck tonight. Thank you, sir.
Persons1 in the news

Chairman and CEO
Press releases on the topic
NEW YORK PRESS RELEASES
GlobalNY.biz Press Releases are the latest news from New York companies.
Official press releases of New York companies are regularly published on the resource. You can find out the latest news of enterprises in the corresponding section on the main page. Placing press releases is a traditional and effective way to promote your business. It allows organizations to announce themselves and their products and services to the widest possible audience. In this case, the informational occasion can be anything: attracting people to an event or conference, highlighting new products or personnel appointments. If you set a goal to draw attention to your information, then GlobalNY.biz will become your reliable assistant in this matter. Thanks to the portal, your press release will be seen by reviewers of leading Internet publications, clients and partners.
GlobalNY.biz allows representatives of companies and organizations in New York to independently post a press release when registering on the resource. The most important feature of GlobalNY.biz is that all publications of New York companies fall into the archives and will be available from the search for a long time. You just need to add the press release to the news feed.
GlobalNY.biz offers its customers a subscription service that allows companies to regularly publish press releases on favorable terms. In addition, the business portal makes it possible to more fully tell about the life of the company by adding photos and videos, personas and employee quotes. All information materials have active links and will lead potential customers to your resource.
Alena Potapova
---
Development Director