22 April 2020
1197
5 min.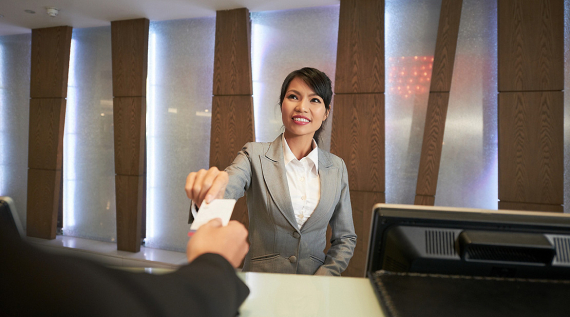 For the last five years I've spent a lot of time working with many families who own and operate large groups of hotels and motels. While you have faced challenging times in the past, nothing in recent memory is quite like what we are facing today. I know many of you may belong to industry organizations that have mobilized to help support their membership. Sometimes in a time of crisis, just knowing where to turn and what is available can provide peace of mind. Collaborating and sharing ideas with others in a similar situation may lead to opportunities that will make a difference in your ability to successfully navigate a path to survival.
"The travel and tourism industry is facing uncertain times as the public's perception of the risks posed by COVID-19 become the reality for America's hoteliers. America's hotel owners and their employees are the heart, soul, and economic engine of the travel industry."-Cecil Staton, President & CEO, AAHOA.
The Asian American Hotel Owner's Association (AAHOA), President and CEO Cecil P. Staton, has urged federal and state government officials to ease red tape and regulations to help hoteliers. The goal is to create breathing room to provide time for you to find ways to navigate through the crisis. The biggest, most immediate challenge you face in this business is a liquidity crisis. With business grinding to a trickle, as fewer people travel and events are cancelled, revenue streams have all but dried up creating uncertainty about your ability to make payroll and pay the mortgage.
There may be opportunities to shift your business focus to provide revenue from different sources in the near term as well as government programs you can access to provide a bridge until business normalizes again. Today I want to share with you some ideas others in this industry have successfully adopted:
Do you provide any kind of food service or catering? Consider providing online ordering for to go orders; contactless food delivery or even contracting with local essential businesses that must keep operating to provide food.
Provide Professional Laundry Services and include pick- up and delivery.
If possible, consider setting up an e-commerce channel to promote and sell hotel products such as bathrobes and other hotel branded merchandise.
If you normally provide shuttle services for your guests, consider offering limousine services to the local community.
Are there government agencies or other local groups looking for space to house different populations to allow for greater social distancing? Can you provide the space and services required?
Is there a charitable organization in your area that has mobilized to provide meals for front line responders and hospital personnel? If so, could you become a provider of food and beverages for the initiative?
Ideas to Consider for Expense Mitigation:
Negotiate with your lender to restructure mortgage payments.
Consider Borrowing from the SBA to meet payroll to ensure your staff is available to go back to work when customers return. Loan forgiveness for this purpose may be available.
Consider withdrawing money early from CDs. Many banks are allowing early withdrawal without penalty. Consult with your New York Life agent to determine what options you have about any life or annuity products you own.
Contact your property and casualty, health and disability insurers to find out if they have extended grace periods for premium payments.
Help from State and Federal Government. On March 18, 2020 the Families First Coronavirus Response Act (FFCRA) was signed into law. Some of the provisions that impact you include:
Providing many American workers affected by COVID-19 with paid sick leave, boost food assistance, unemployment insurance, and federal Medicaid funding, and provide free testing for coronavirus for those who need it. The Act sets enhanced compensation requirements for those employees affected by COVID-19 (see here). Private employers with fewer than 500 employees (which would cover most hotels) are subject to the expanded family and medical leave provisions of the FFCRA. Business with fewer than 50 employees may qualify for exemption from some of these requirements, if following the requirements would jeopardize the viability of the business as a going concern.
The Act "reimburses small businesses—defined as businesses with 50 or fewer employees—for the costs of providing the 14 days of additional paid sick leave used by employees during a public health emergency" (see here). This action should have great applicability to most hotels (many will have fewer than 50 employees), in instances where cashflow could otherwise be harmed if these businesses provided additional paid sick leave.
According to AAHOA, some large hotel "brands" such as Hilton, Radisson, and others are taking important steps to relax (or temporarily pause) enforcement of their brand standards in order to allow individual hoteliers to have the much needed flexibility and to cut costs and to help them stay in business (see here). This appears to be focused on items that are not essential to fundamental hotel operations (such as limiting hours and food and beverage services). At the same time, brands such as Hilton appear to be enhancing their focus on brand standards related to cleanliness: increased cleaning of public areas, and enhanced cleaning protocols for rooms, etc. (see here).
On March 27, 2020, the President signed into law a massive and unprecedented economic rescue package to provide a capital infusion to individuals and businesses alike. This legislation – the Coronavirus Aid, Relief and Economic Security (CARES) Act – follows on the heels of two recent bills aimed at providing emergency medical funding support, as well as paid sick leave for many employees.Now more than ever it is important to stay connected virtually with your peers in the industry to share ideas and information. Collectively, you hold a tremendous amount of knowledge that can be leveraged to find new and creative ways to navigate through the difficult times we all face.
Press releases on the topic
NEW YORK PRESS RELEASES
GlobalNY.biz Press Releases are the latest news from New York companies.
Official press releases of New York companies are regularly published on the resource. You can find out the latest news of enterprises in the corresponding section on the main page. Placing press releases is a traditional and effective way to promote your business. It allows organizations to announce themselves and their products and services to the widest possible audience. In this case, the informational occasion can be anything: attracting people to an event or conference, highlighting new products or personnel appointments. If you set a goal to draw attention to your information, then GlobalNY.biz will become your reliable assistant in this matter. Thanks to the portal, your press release will be seen by reviewers of leading Internet publications, clients and partners.
GlobalNY.biz allows representatives of companies and organizations in New York to independently post a press release when registering on the resource. The most important feature of GlobalNY.biz is that all publications of New York companies fall into the archives and will be available from the search for a long time. You just need to add the press release to the news feed.
GlobalNY.biz offers its customers a subscription service that allows companies to regularly publish press releases on favorable terms. In addition, the business portal makes it possible to more fully tell about the life of the company by adding photos and videos, personas and employee quotes. All information materials have active links and will lead potential customers to your resource.
Alena Potapova
---
Development Director