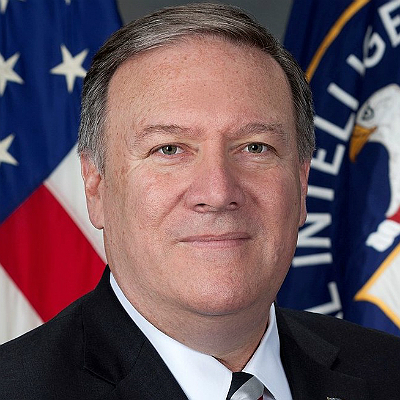 POMPEO
Michael
(Mike)
Richard
70th United States Secretary of State
Organization: United States Department of State
Date of Birth: 30 December 1964
Age: 59 years old
Place of Birth: Orange, California, U.S.
Height: 181
Weight: 79
Zodiac sign: Capricorn
Activity: The American politician, diplomat, businessman, and attorney who, since April 2018, has been serving as 70th United States Secretary of State. He is a former United States Army officer and was Director of the Central Intelligence Agency.
Profession: Politician
Content
Biography
Michael Richard Pompeo (born December 30, 1963) is an American politician, diplomat, businessman, and attorney who, since April 2018, has been serving as 70th United States Secretary of State. He is a former United States Army officer and was Director of the Central Intelligence Agency from January 2017 until April 2018.
Pompeo was a member of the United States House of Representatives from 2011 to 2017, representing Kansas's 4th congressional district. He was a Kansas representative on the Republican National Committee and member of the Italian American Congressional Delegation. Pompeo is also a member of the Tea Party movement within the Republican Party.
President Donald Trump nominated Pompeo as secretary of state in March 2018, with Pompeo succeeding Rex Tillerson after his dismissal. Pompeo was confirmed by the Senate on April 26, 2018, in a 57–42 vote and was sworn in the same day.
Education and early career
Pompeo was born in Orange, California, the son of Dorothy (born Mercer) and Wayne Pompeo. His father was of Italian ancestry; his paternal great-grandparents, Carlo Pompeo and Adelina Tollis were born in Pacentro, Abruzzo, and emigrated to the United States in 1899 and 1900, respectively. In 1982, Pompeo graduated from Los Amigos High School in Fountain Valley, California, where he played forward on the basketball team. In 1986, Pompeo finished first in his class from the United States Military Academy at West Point, where he majored in engineering management.
From 1986 to 1991, Pompeo served in the U.S. Army as an armor officer with the West Germany-based 2nd Squadron, 7th Cavalry in the 4th Infantry Division. He served as a tank platoon leader before becoming a cavalry troop executive officer and then the squadron maintenance officer. Pompeo left the U.S. Army at the rank of captain.
In 1994, Pompeo received a Juris Doctor degree from Harvard Law School, where he served as one of 78 editors of the Harvard Journal of Law & Public Policy and on the 81-member board of editors of the Harvard Law Review. After graduating, he worked as a lawyer for the law firm Williams & Connolly in Washington.
Business career
In 1998, Pompeo moved to Wichita, Kansas, where he and three other West Point friends, Brian Bulatao, Ulrich Brechbuhl, and Michael Stradinger, acquired three aircraft-part manufacturers there (Aero Machine, Precision Profiling, B&B Machine) and in St. Louis (Advance Tool & Die), renaming the entity Thayer Aerospace after West Point superintendent Sylvanus Thayer. Venture funding for the private organization included a nearly 20% investment from Koch Industries as well as Dallas-based Cardinal Investment, and Bain & Company (Brechbuhl worked for Bain at the time). Brechbuhl and Stradinger left the company shortly after it was founded, but Pompeo and Bulatao continued.
In 2006, he sold his interest in the company, which by then had been renamed Nex-Tech Aerospace, to Highland Capital Management, which had clients including Lockheed Martin, Gulfstream Aerospace, Cessna Aircraft, Boeing, Spirit AeroSystems and Raytheon Aircraft. Pompeo then became president of Sentry International, an oilfield equipment manufacturer that was also a partner of Koch Industries.
In 2017, when Pompeo became head of the CIA, he named his former business partner, Brian Bulatao, the agency's chief operating officer.
U.S. House of Representatives (2011–2017)
Elections

Pompeo represented Kansas's 4th congressional district from 2011 until his January 2017 appointment to director of the Central Intelligence Agency (CIA).
In the 2010 election, Pompeo won the Republican primary for Kansas's 4th District congressional seat with 39% of the vote, defeating state senator Jean Schodorf (who received 24%) and two other candidates. Late in the primary, Schodorf began to surge in the polls, prompting two outside groups—Common Sense Issues and Americans for Prosperity—to spend tens of thousands of dollars in the campaign's final days to attack Schodorf and support Pompeo. In the general election, Pompeo defeated Democratic nominee Raj Goyle, a member of the Kansas House of Representatives. Pompeo received 59% of the vote (117,171 votes) to 36% for Goyle (71,866). During Pompeo's campaign, its affiliated Twitter account praised as a "good read" a news article that called Goyle, his Indian-American opponent, a "turban topper" who "could be a muslim, a hindu, a buddhist etc who knows". Pompeo later apologized to Goyle for the tweet. Pompeo received $80,000 in donations during the campaign from Koch Industries and its employees.
In the 2012 election, Pompeo defeated Democratic nominee Robert Tillman by a margin of 62–32%. Koch Industries gave Pompeo's campaign $110,000.
In the 2014 election, Pompeo won the general election with 67% of the vote, defeating Democrat Perry Schuckman.
In the 2016 election, Pompeo beat Democrat Daniel B. Giroux in the general election with 61% of the vote.
Tenure
Pompeo served on the United States House Permanent Select Committee on Intelligence, the United States House Committee on Energy and Commerce, the United States House Energy Subcommittee on Digital Commerce and Consumer Protection, the United States House Energy Subcommittee on Energy, the United States House Intelligence Subcommittee on the CIA, and the United States House Select Committee on Benghazi.
He was a member of the Congressional Constitution Caucus.
CIA Director (2017–2018)
On November 18, 2016, President-elect Donald Trump announced that he would nominate Pompeo to be the director of the Central Intelligence Agency. He was confirmed by the Senate on January 23, 2017, with a vote of 66–32, and sworn in later that day.
In February 2017, Pompeo traveled to Turkey and Saudi Arabia. He met with Turkish president Recep Tayyip Erdoğan to discuss policy on Syria and ISIL. Pompeo honored the then–crown prince of Saudi Arabia Muhammad bin Nayef with the CIA's "George Tenet" Medal. It was the first reaffirmation of Saudi Arabia–United States relations since Trump took office in January 2017. In March 2017, Pompeo formally invoked state secrets privilege to prevent CIA officers, including Gina Haspel and James Cotsana, from being compelled to testify in the trial of Bruce Jessen and James Elmer Mitchell.
In June 2017, Pompeo named Michael D'Andrea head of the CIA's Iran mission center.
In August 2017, Pompeo took direct command of the Counterintelligence Mission Center, the department which helped to launch an investigation into possible links between Trump associates and Russian officials. Former CIA directors expressed concern since Pompeo is known to be an ally of Trump.
In September 2017, Pompeo sought authority for the CIA to make covert drone strikes without the Pentagon's involvement, including inside Afghanistan.
During Easter weekend 2018, Pompeo visited North Korea and met with Supreme Leader Kim Jong-un to discuss the 2018 North Korea–United States summit between Kim and Trump.
Pompeo usually personally delivered the president's daily brief in the Oval Office. At Trump's request, Pompeo met with former NSA official William E. Binney to discuss his doubts of Russian interference in the 2016 United States elections.
At the suggestion of Tony Perkins, president of the Family Research Council, Pompeo planned to hire chaplains at the CIA.
On April 15, 2019, Pompeo participated in a Q&A discussion at Texas A&M University, where he admitted: "I was the CIA director. We lied, we cheated, we stole. It was like we had entire training courses."
Secretary of State (2018–present)
Nomination and confirmation
President Trump announced on March 13, 2018, that he would nominate Pompeo to serve as secretary of state, succeeding Rex Tillerson, who stepped down on March 31, 2018.
On April 23, the Senate Foreign Relations Committee voted 11–9 in favor of sending Pompeo's nomination to the full Senate, with Senator Chris Coons voting "present" and Johnny Isakson, who was absent that day, voting "yes by proxy". In the interest of saving the committee's time, Coons decided to vote "present", as the vote would have been tied if he had voted no on the nomination with Isakson absent, a situation that would have nullified his vote. The Senate floor vote took place on April 26 and Pompeo was confirmed by the full Senate by a 57–42 vote, with five of ten Democratic senators running for reelection in 2018 in states that Trump won in 2016, voting to confirm Pompeo. Of those Democrats who voted for his confirmation, four lost their 2018 elections: Heidi Heitkamp of North Dakota, Joe Donnelly of Indiana, Bill Nelson of Florida and Claire McCaskill of Missouri. Only Joe Manchin III of West Virginia was reelected.[64] The campaign spokesperson for McCaskill's challenger, Josh Hawley asked, "Will Senator McCaskill ignore her liberal donors and support Mike Pompeo for Secretary of State, or will she stick with Chuck Schumer and continue to obstruct the President?" "It is deeply troubling how focused Senator McCaskill is on doing what's politically convenient, instead of doing what's right."
Tenure

Pompeo was sworn in on April 26, 2018. In testimony before the senate, he promised to prioritize improving the low-morale issue at the State Department.
Pompeo played a major part in the negotiations leading to the 2018 North Korea–United States Summit, and attended the summit at Singapore on June 12, 2018. During the summit Pompeo famously passed National Security Advisor John Bolton a disparaging note about President Trump, highlighted in Bolton's book "The Room Where it Happened". Following the summit he led the US party in further negotiations between the sides, leading to the return of the remains of US soldiers from Korea, and held several meetings with high ranking North Koreans, including North Korean leader Kim Jong-un, in Pyongyang.
In August 2018, Pompeo thanked Crown Prince Mohammad bin Salman "for Saudi Arabia's support for northeast Syria's urgent stabilization needs". Pompeo and Crown Prince also discussed the situation in war-torn Yemen.
Pompeo condemned the military crackdown by the Myanmar Army and police on Rohingya Muslims. In July 2018, Pompeo raised the issue of Xinjiang re-education camps and human rights abuses against the Uyghur Muslim minority in China. Pompeo criticized Iran's supreme leader Ayatollah Ali Khamenei for his refusal to condemn the Chinese government's repressions against the Uyghurs.
On October 10, 2018, Pompeo said Israel "is everything we want the entire Middle East to look like going forward" and that the Israel–United States relations are "stronger than ever". In March 2019, when questioned regarding Israel's conflicts with Iran and following a visit to the Western Wall with Israeli prime minister Benjamin Netanyahu, Pompeo spoke to "the work that our administration's done to make sure that this democracy in the Middle East, that this Jewish state, remains ... I am confident that the Lord is at work here."
On November 16, 2018, a CIA assessment was leaked to the media that concluded with "high confidence" Saudi Arabia's crown prince Mohammad bin Salman ordered the October 2, 2018, assassination of Washington Post columnist Jamal Khashoggi. Under mounting pressure from lawmakers who wanted action against Saudi Arabia, Pompeo disputed the CIA's conclusion and declared there was no direct evidence linking the Crown Prince to the Khashoggi's assassination.
On January 7, 2019, Pompeo began a diplomatic tour of the Middle East to assure regional U.S. partners that, amid the sudden withdrawal of U.S. troops from Syria, the U.S. mission to degrade and destroy the Islamic State and to counter Iranian influence in the region had not changed. The trip included stops in Jordan, Iraq, Egypt, and the Gulf nations. During the tour the secretary upheld America's alliance with the Arab States and Israel, commended the successful fight against ISIS and radical Islamic terrorists and countered Iranian influence in the region.
Pompeo meets with Abu Dhabi crown prince Mohammed bin Zayed Al Nahyan in Abu Dhabi, United Arab Emirates.
Pompeo announced on January 23, 2019, that Juan Guaidó would be recognized by the U.S. as the legitimate interim president of Venezuela, and that American diplomats in Caracas would remain at their posts, even as Nicolás Maduro gave them three days to evacuate the country upon Guaidó assumption of the presidency. After protests for over "homophobic, racist and misogynist remarks" by Brazilian president Jair Bolsonaro, a ceremony hosted by the Brazilian-American Chamber of Commerce was canceled. It was set to award Pompeo and Bolsonaro for "fostering closer commercial and diplomatic ties between Brazil and the United States".
On May 14, 2019, Pompeo met for three hours with Russian Foreign Minister Lavrov and for 90 minutes with Russian President Putin in Sochi, Russia. According to a Kremlin aide, they discussed Syria, North Korea, Iran, Venezuela, and the New Strategic Arms Reduction Treaty (New START); Pompeo stated that he brought up and Putin again denied Russian election interference.
In October 2019, the State Department web site promoted a speech by Pompeo "On Being a Christian Leader," which he delivered to a Christian group in his official government role. Pompeo touts Christianity in his speech, describes how he applies his faith to his government work. The promotion of the speech by the State Department was met with criticism from those who find it disrespects the separation of church and state in the U.S. government. He also created the Commission on Unalienable Rights, and created a faith-based employee affinity group that includes contractors.
Pompeo defended the 2019 Turkish offensive into north-eastern Syria, stating that Turkey has a "legitimate security concern" with "a terrorist threat to their south". However, Pompeo denied that the United States had given a 'green light' for Turkey to attack the Kurds.[83]
In November 2019, Pompeo said the U.S. no longer views Israeli settlements in the occupied West Bank as a violation of international law.
In rejecting a claimed double standard in recognizing Israel's annexation of the Golan Heights but placing sanctions on Russia for annexing Crimea in 2014, Pompeo said "What the President did with the Golan Heights is recognize the reality on the ground and the security situation necessary for the protection of the Israeli state."
In January 2020, the Trump administration assassinated Iranian General Qasem Soleimani. Pompeo was reportedly among the most hawkish advisors within the administration during the meeting in which Trump decided to assassinate Soleimani.[86] On the day of the strike, U.S. secretary of state Mike Pompeo asserted the attack was ordered by Trump to disrupt an "imminent attack" by Soleimani operatives, although subsequent reports on that rationale were mixed.
On January 25, 2020, Politico reported that Secretary of State Mike Pompeo ended an interview with NPR All Things Considered's Mary Louise Kelly abruptly on January 24 and called her to private quarters where he admonished her for asking questions regarding Ukraine during the interview.
On Pompeo's recommendation, Trump fired State Department Inspector General, Steve Linick, in May 2020. Linick had recently begun a watchdog investigation into Pompeo's alleged abuse of using a political appointee to perform tasks for him and his wife. The IG also investigated Pompeo's role in the Trump administration's decision to declare an "emergency" to bypass a congressional freeze on arms sales to Saudi Arabia and the UAE. Prior to his firing, Linick had requested an interview with Pompeo, which Pompeo had declined. After Linick's firing, it was also revealed that he had found that a top Pompeo aide had likely failed to report allegations of workplace violence. Pompeo denied that he sought to fire Linick in retaliation.
In May 2020, NBC News reported that—during his tenure as Secretary of State—Pompeo had hosted about two dozen tax-payer funded "Madison dinners" at the State Department Headquarters building (Harry S. Truman Building) for hundreds of elite attendees. More than half of the invitees to these events were from the corporate world, politics or government. Every invited congressional member was a Republican. Only 14% of the invitees were diplomats or foreign officials, which raised questions as to whether the dinners served any foreign policy purpose. State Department officials raised internal concerns that the dinners were intended for Pompeo to cultivate supporters and donors for future political ambitions, especially since detailed contact information for each attendee was sent to Pompeo's wife's personal email address.
Impeachment inquiry against Donald Trump

When asked about his knowledge of the controversial call made by President Trump on July 25, 2019, to Ukraine's President Volodymyr Zelenskiy, in which Trump solicited assistance in investigating the son of former Vice President and presidential candidate Joseph Biden, Pompeo initially said he had little knowledge of Trump's call with Zelenskiy since he had not yet read the transcript of the call. It was later confirmed by officials that he himself had been on the call.
Pompeo informed the chairmen of the House Foreign Affairs Committee, the House Intelligence Committee, and the House Oversight Committee that their subpoenas for documents regarding Trump's communications with the government of Ukraine "can be understood only as an attempt to 'intimidate, bully, and treat improperly, the distinguished professionals of the Department of State'." The three chairmen stated on October 1, 2019, "Any effort to intimidate witnesses or prevent them from talking with Congress – including State Department employees – is illegal and will constitute evidence of obstruction of the impeachment inquiry."
William B. Taylor Jr., acting ambassador to Ukraine and one of several current and former State Department officials appearing before congressional investigators, testified on October 22, 2019, that the White House was withholding military aid to Ukraine to force cooperation on U.S. domestic political issues, that Rudy Giuliani was running a shadow foreign policy effort parallel to official lines in the State Department, that when John Bolton and others fought the "effort to hijack" the U.S. relationship with Ukraine, Pompeo failed to respond directly to complaints, leaving Taylor to conclude that lack of timely, congressionally approved military aid would leave Ukrainians dying at the hands of Russian-led forces.
In his public testimony on November 20, 2019, Ambassador to the European Union Gordon Sondland noted in his opening statement that United States Secretary of Energy Rick Perry, then-U.S. Ambassador to NATO Kurt Volker and Sondland himself stayed in touch with Rudy Giuliani regarding the President's expectation that a public statement should be made by President Zelensky committing Ukraine to look into corruption issues, and that Giuliani "specifically mentioned the 2016 election (including the DNC server) and Burisma as two topics of importance to the President." Sondland stated that they kept the leadership of the NSC and State Department, including Pompeo, informed about their activities, and that as late as September 24, Pompeo was still telling Volker to talk with Giuliani.
An October 23, 2019, Freedom of Information Act (FOIA) request by the liberal watchdog group American Oversight persuaded a federal judge to give the State Department 30 days to release Ukraine-related records, including communications between Pompeo and President Trump's personal attorney, Rudy Giuliani. On November 22, the State Department released internal emails and documents bolstering Sondland's congressional testimony that Pompeo participated in Giuliani's activities relating to Ukraine. Pompeo and Giuliani exchanged emails and phone calls in late March 2019, before Ambassador Marie Yovanovitch was recalled from Ukraine. The documents also showed that the State Department had deliberately deceived Congress about the rationale for Marie Yovanovitch's removal as Ambassador to Ukraine. Giuliani later admitted that he spoke to Pompeo on the phone in late March 2019 "to relay information he had gathered during his Ukrainian research." Upon Pompeo's request, he then provided him memos of his interviews of two former Ukrainian prosecutors. Giuliani said he later heard that the details of the memos were passed on to the State Department Inspector General (IG) and the F.B.I. for investigation.
On November 26, 2019, Pompeo appeared to grant legitimacy to a debunked conspiracy theory that Ukraine, rather than or in addition to Russia, was behind interference in the 2016 United States elections. He had been asked by a reporter "Do you believe that the U.S. and Ukraine should investigate the theory that it was Ukraine and not Russia that hacked the DNC emails in 2016?" Pompeo responded "Any time there is information that indicates any country has messed with American elections, we not only have a right but a duty to make sure we chase that down," adding, "to protect our elections, America should leave no stone unturned."
COVID-19 pandemic
Pompeo said the U.S. government is trying to determine if the COVID-19 virus emanated from the Wuhan Institute of Virology. On April 23, 2020, Pompeo claimed that China had denied U.S. scientists permission to enter the country, in an effort to ascertain the origin of the current pandemic. He did not give details of any requests for such visits. On May 13, 2020, Pompeo made a swift visit Israel for his first trip overseas since the outbreak of the pandemic. Despite Iran and the application of Israeli law over parts of the Judea and Samaria were discussed between him and the Israeli PM, his high priority on this visit was to stress Israel to restrict its economic ties to China.
Potential 2020 U.S. Senate bid
Following an announcement that U.S. Senator Pat Roberts, a four-term Republican, would not seek re-election in 2020, there was speculation that Pompeo would run for U.S. Senate from Kansas. He still had almost one million dollars in his congressional campaign account as of June 2019, which could be used in a Senate bid. In March 2019, Pompeo said he had ruled out a 2020 Senate run although he implied an openness to seeking statewide office in the future. In July 2019, Pompeo "appeared to re-open the door to a Kansas Senate run, telling a Kansas City radio station that he will 'always leave open the possibility that something will change'". Senate majority leader Mitch McConnell has expressed a desire for Pompeo to enter the race. On July 29, Pompeo indicated that a 2020 Senate run was "off the table". Nevertheless, speculation continued to swirl in August 2019 regarding a potential Senate run. The speculation was driven by concern that Kris Kobach, who lost the 2018 Kansas gubernatorial race, could become the GOP candidate for U.S. Senate if Pompeo does not run. Specifically, some Republicans feared that Kobach would "again tap a conservative base, emerge from a crowded primary, alienate moderate voters and lose an otherwise safe seat that Republicans likely need to maintain their narrow Senate majority". Several other Republican candidates, including state Senate President Susan Wagle, Congressman Roger Marshall, and former Trump, Pompeo, and Koch network staffer Alan Cobb, the CEO and President of the Kansas Chamber of Commerce in 2019, have said they would step aside if Pompeo entered the race.
On October 29, 2019 New Jersey Sen. Bob Menendez filed a complaint about Pompeo's repeated trips to Kansas, calling for review of whether Pompeo was engaging in political activity while traveling in an official capacity on taxpayer funds and thereby violating the Hatch Act of 1939. Menendez's complaint referenced a Wall Street Journal article saying that during his visit to Kansas, Pompeo met with GOP donor Charles Koch to discuss the Kansas senate race.
In an interview on November 22, 2019, Trump discussed Pompeo's interest in running for Senate from Kansas. Trump said that in their discussion, Pompeo explained he would prefer to stay in his job as Secretary of State and would only leave the Trump administration and run if it were necessary to keep a Republican seat in the Senate.
Efforts to recruit him into the race continued through the June 1 filing deadline, but he ultimately did not file.
Political positions
Pompeo and the Heritage Foundation
In a talk at The Heritage Foundation on May 21, 2018, entitled, "After the Deal: The New Iran Strategy", Pompeo said: "First as a private citizen and then as a member of Congress, and even today, the Heritage Foundation has shaped my thinking on matters of the world and public policy issues."
Military and national security
Military positions: 2013–2015
In 2013, Pompeo supported the surveillance programs of the National Security Agency, referring to the agency's efforts as "good and important work".
In a 2013 speech on the House floor, Pompeo said Muslim leaders who fail to denounce acts of terrorism done in the name of Islam are "potentially complicit" in the attacks. The Council on American–Islamic Relations called on him to revise his remarks, calling them "false and irresponsible". In 2016, ACT! for America gave Pompeo a "national security eagle award" for his comments on Islam. Pompeo has been a frequent guest on Frank Gaffney's radio show for the Center for Security Policy. As a congressman, he cosponsored legislation to add the Muslim Brotherhood to the United States State Department list of Foreign Terrorist Organizations.
Pompeo opposes closing Guantanamo Bay detention camp. After a 2013 visit to the prison, he said, of the prisoners who were on hunger strike, "It looked to me like a lot of them had put on weight." He criticized the Obama administration's decision to end secret prisons and its requirement that all interrogators adhere to anti-torture laws.
In March 2014, he denounced the inclusion of a telecast by Edward Snowden at the South by Southwest conference in Austin, Texas, and asked that it be cancelled, predicting that it would encourage "lawless behavior" among attendees. In February 2016, Pompeo said Snowden "should be brought back from Russia and given due process, and I think the proper outcome would be that he would be given a death sentence". But he has spoken in favor of reforming the Federal Records Act, one of the laws under which Snowden was charged, saying, "I'm not sure there's a whole lot of change that needs to happen to the Espionage Act. The Federal Records Act clearly needs updating to reflect the different ways information is communicated and stored. Given the move in technology and communication methods, I think it's probably due for an update."
On July 21, 2015, Pompeo and Senator Tom Cotton alleged the existence of secret side agreements between Iran and the International Atomic Energy Agency (IAEA) on procedures for inspection and verification of Iran's nuclear activities under the Joint Comprehensive Plan of Action. Obama administration officials acknowledged the existence of agreements between Iran and the IAEA governing the inspection of sensitive military sites but denied that they were "secret side deals", calling them standard practice in crafting arms-control pacts and saying the administration had provided information about them to Congress.
In November 2015, Pompeo visited Israel and said, "Prime Minister [Benjamin] Netanyahu is a true partner of the American people efforts to prevent Iran from obtaining nuclear weapons are incredibly admirable and deeply appreciated." He also said, "In the fight against terrorism, cooperation between Israel and the United States has never been more important must stand with our ally Israel and put a stop to terrorism. Ongoing attacks by the Palestinians serve only to distance the prospect of peace." He supported Trump's 2017 decision to move America's embassy in Israel to Jerusalem.
Military positions: 2016 to present
In 2016 Pompeo stated, "Congress should pass a law re-establishing collection of all metadata, and combining it with publicly available financial and lifestyle information into a comprehensive, searchable database. Legal and bureaucratic impediments to surveillance should be removed. That includes Presidential Policy Directive-28, which bestows privacy rights on foreigners and imposes burdensome requirements to justify data collection."
On March 5, 2016, at the Republican caucus in Wichita Pompeo addressed the issue of an authoritarian president who ignored the constitution and noted that military personnel take an oath to defend the constitution rather than swearing allegiance to a president.
In 2017, Pompeo worked to undermine the Joint Comprehensive Plan of Action nuclear deal with Iran (which had been negotiated by the Obama administration) saying, "I look forward to rolling back this disastrous deal with the world's largest state sponsor of terrorism." He also said that a better option than negotiating with Iran would be to use "under 2,000 sorties to destroy the Iranian nuclear capacity. This is not an insurmountable task for the coalition forces."
In 2017, it was reported that Pompeo had expressed desire for regime change in North Korea. In July 2017, he said "It would be a great thing to denuclearize the peninsula, to get those weapons off of that, but the thing that is most dangerous about it is the character who holds the control over them today."
In an April 2017 speech addressing the Center for Strategic and International Studies, Pompeo called WikiLeaks "a non-state hostile intelligence service" and described the organization's founder Julian Assange as a "narcissist", as well as "a fraud—a coward hiding behind a screen".
During his confirmation hearing, Pompeo said Russia "has reasserted itself aggressively, invading and occupying Ukraine, threatening Europe, and doing nearly nothing to aid in the destruction and defeat of ISIS".
In August 2018 Pompeo called Russia to "immediately release" jailed Ukrainian filmmaker Oleg Sentsov.
In September 2018, Pompeo "backed continued U.S. military support for Saudi Arabia's war in Yemen over the objections of staff members after being warned that a cutoff could jeopardize $2 billion in weapons sales to America's Gulf allies, according to a classified memo and people familiar with the decision".
In November 2018, Pompeo blamed Iran for the humanitarian crisis in Yemen, saying that "Iran causes death and destruction inside of Yemen and does nothing to prevent the starvation," while Saudi Arabia "have provided millions and millions of dollars of humanitarian relief" for Yemen.
Energy and environment

Speaking about climate change in 2013, Pompeo said: "There are scientists who think lots of different things about climate change. There's some who think we're warming, there's some who think we're cooling, there's some who think that the last 16 years have shown a pretty stable climate environment." He has said, "Federal policy should be about the American family, not worshipping a radical environmental agenda." In 2009 Pompeo signed the No Climate Tax pledge of Americans for Prosperity. He called the Obama administration's environment and climate change plans "damaging" and "radical". In 2012 he called for the permanent elimination of wind power production tax credits, calling them an "enormous government handout".
In 2015, Pompeo opposed the regulation of greenhouse gas emissions by the United States and supported eliminating the United States federal register of greenhouse gas emissions. As a member of the United States House Committee on Energy and Commerce, he voted for two resolutions disapproving of the Clean Power Plan implemented by the United States Environmental Protection Agency during the Obama administration.
In May 2019, Pompeo acted against environmental protection at the Arctic Council. He refused to sign on to a joint statement addressing the need for protection of the Arctic region from the threat of rapidly melting ice unless all mentions of climate change were removed from the document. He stated "climate change is actually good for the Arctic, since melting ice caps are 'opening up new shipping routes' and thus making it more economically viable to expand oil drilling in the region."
Health care
Pompeo opposed the Affordable Care Act (ACA). Pompeo has been criticized for saying he supports funding for certain programs, yet opposing them when they are a part of the ACA.
Social issues

Pompeo has stated that life begins at conception and believes that abortions should be allowed only when necessary to save the life of the mother, with no exceptions for rape. In 2011, he voted for the No Taxpayer Funding for Abortion Act, which would have banned federal health coverage that includes abortion. On May 31, 2011, he voted for H.R.2059 11-HR2059, which eliminated funding for the United Nations Population Fund.
He opposes same-sex marriage and sponsored bills to let states prevent same-sex couples from marrying.
Miscellaneous
Pompeo supported the United States federal government shutdown of 2013, blaming President Obama. He said he believed the shutdown was necessary to avoid an "American financial collapse 10 years from now".
He is a lifetime member of, and has been endorsed by, the National Rifle Association.
Pompeo opposes requiring food suppliers to label food made with genetically modified organisms. He introduced the Safe and Accurate Food Labeling Act of 2015 to block states from requiring mandatory GMO food labeling.
He sponsored the Small Airplane Revitalization Act of 2013.
Personal life

Pompeo married Leslie Libert in 1986. The couple later divorced. He then married Susan Justice Mostrous. They have one son, Nicholas.
Pompeo is affiliated with the Evangelical Presbyterian Church. Pompeo served as a local church deacon from 2007 to 2009 and taught Sunday school.
In 2014, Pompeo told a church group that Christians needed to "know that Jesus Christ as our savior is truly the only solution for our world". In 2015 in a talk at a church, Pompeo said that "politics is a never-ending struggle ... until the Rapture."
Born in one day
Days left until next birthday: 29 Days.
Quotes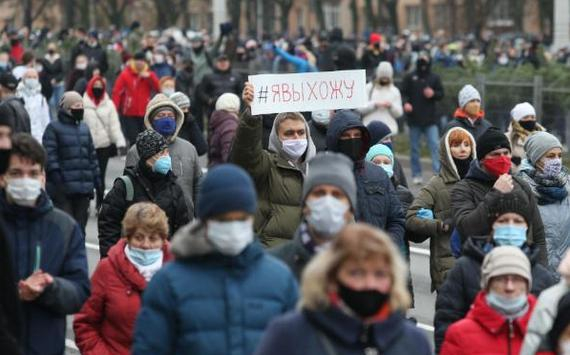 The United States supports those who peacefully defend their right to ligitive elections
16 November 2020
GlobalNY.biz pays special attention to the activities of famous people: politicians, officials, businessmen, bankers, cultural and sports figures. Their opinion largely determines the development of political, social and economic life in New York. The section is constantly edited by our journalists for the relevance of information. Here you can find information about CEOs and presidents of top New York companies, officials and public figures who play a key role in the development of the region.
The goal of the project is to create a comfortable information space for all market actors, as well as to acquaint the readership with business people in New York.
We have created an impressive database of people in New York, which contains information about a career path, education and other important information about a person.
Thanks to automatic counting of the number of mentions of a person in the news sections " New York News "and" New York Press Releases "on the portal the rating of popularity and influence of persons is formed. The GlobalNY.biz team monitors rating changes and rewards project participants for their success. In general, the rating of participants is based on an in-depth analysis of the activity of PR services of famous people, and also reflects the qualitative state of the information field formed by the media and press services around the organization.
Business People of New York is a project about people who, through their ideas, words and deeds, have a great influence on the development and prosperity of New York.
Alena Potapova
---
Development Director