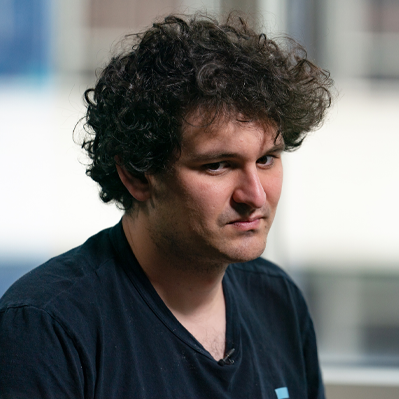 Content
Biography
Samuel Bankman-Fried also known by his initials SBF, is an American entrepreneur and investor. He is the founder and former CEO of FTX, a cryptocurrency exchange; FTX.US, its U.S. affiliate; and Alameda Research, a quantitative cryptocurrency trading firm. FTX experienced a solvency crisis in late 2022, which led to a collapse in FTX's native cryptocurrency, FTT. Amid the crisis, Bankman-Fried announced he would wind down operations at Alameda Research and resigned as CEO of FTX, which filed for Chapter 11 bankruptcy.
Bankman-Fried's net worth peaked at $26 billion. In October 2022, he had an estimated net worth of $10.5 billion. However, on 8 November 2022 amid FTX's solvency crisis, his net worth was estimated to have dropped 94% in a day to $991.5 million, according to the Bloomberg Billionaires Index, the largest one-day drop in the index's history. By 11 November 2022, the Bloomberg Billionaires Index considered Bankman-Fried to have no material wealth. Before Bankman-Fried's wealth eroded in November 2022, Bankman-Fried was a major donor to the Democratic Party and many left-wing political causes.
Early life and education
Bankman-Fried was born in 1992 on the campus of Stanford University into a family of academics. Born and raised to an upper-middle-class Jewish family in California, he is the son of Barbara Fried and Joseph Bankman, both professors at Stanford Law School. His aunt Linda P. Fried is the current dean of Columbia University Mailman School of Public Health. His brother, Gabe Bankman-Fried, is a former Wall Street trader and the director of the non-profit Guarding Against Pandemics. He attended Canada/USA Mathcamp, a summer program for mathematically talented high-school students. He attended high school at Crystal Springs Uplands School in Hillsborough.
From 2010 to 2014, Bankman-Fried attended the Massachusetts Institute of Technology. There, he lived in a coeducational group house called Epsilon Theta. In 2014, he graduated with a degree in physics and a minor in mathematics.
Career
In the summer of 2013, Bankman-Fried began working at Jane Street Capital, a proprietary trading firm, trading international ETFs. Initially an intern, he returned there full-time after graduating.
In September 2017, Bankman-Fried quit Jane Street and moved to Berkeley, where he worked briefly at the Centre for Effective Altruism as director of development from October to November 2017. In November 2017, he founded Alameda Research, a quantitative trading firm. As of 2021, Bankman-Fried owned approximately 90% of Alameda Research. In January 2018, Bankman-Fried organized an arbitrage trade, moving up to $25M per day, to take advantage of the higher price of bitcoin in Japan compared to in America. After attending a late 2018 cryptocurrency conference in Macau, he moved to Hong Kong. He founded FTX, a cryptocurrency derivatives exchange, in April 2019, and it then launched the following month.
On December 8, 2021, Bankman-Fried, along with other industry executives, testified before the Committee on Financial Services in relation to regulating the cryptocurrency industry.
On May 12, 2022, it was revealed that Emergent Fidelity Technologies Ltd., which is majority owned by Bankman-Fried, had bought 7.6% of Robinhood Markets Inc. stock.
In September 2022, it was revealed that Bankman-Fried had offered Elon Musk billions of dollars to fund his purchase of Twitter. According to messages released as part of the lawsuit between Twitter and Musk during the latter's proposed acquisition of Twitter, on April 25, 2022, investment banker Michael Grimes wrote that Bankman-Fried would be willing to commit up to $5 billion.
Bankman-Fried invested more than $500 million into venture capital firms, including $200 million into Sequoia Capital. Sequoia published a glowing profile of Bankman-Fried which it subsequently removed after the solvency crisis at FTX.
Bankman-Fried has stated he is a supporter of effective altruism and says that he is pursuing earning to give as an altruistic career. He is a member of Giving What We Can and has said that he plans to donate the great majority of his wealth to effective charities over the course of his life.[4] He founded the FTX Future Fund for this purpose, which included William MacAskill, one of the founders of the effective altruism movement. After the collapse of FTX, the entire team resigned.
Solvency crisis at FTX
In November 2022, Binance CEO Changpeng Zhao revealed on Twitter that his firm intended to sell its holdings of FTT, FTX's token. Binance received FTT as part of a sale of its equity in FTX in 2021. Zhao published his tweet soon after a report from CoinDesk stating that the bulk of the holdings of Alameda, Bankman-Fried's quantitative trading firm, were in FTT. Bloomberg and TechCrunch reported that any sale by Binance would likely have an outsize impact on FTT's price due to the token's low trading volume. The announcement by Zhao of the pending sale and disputes between Zhao and Bankman-Fried on Twitter led to a decline in the price of FTT and other cryptocurrencies. Zhao had been critical of Bankman-Fried's lobbying efforts.
On November 8, Zhao announced that Binance had entered into a non-binding agreement to purchase FTX due to a liquidity crisis at FTX. Zhao further announced on Twitter that the company would complete due diligence soon, adding that all crypto exchanges should avoid using tokens as collateral. He also wrote that he expected FTT to be "highly volatile in the coming days as things develop". On the day of the announcement, FTT lost 80 percent of its value. On 9 November, the Wall Street Journal reported that Binance was walking away from the FTX acquisition. Binance cited reports of FTX's mishandling of customer funds and pending investigations of FTX as the reasons the firm would not pursue the deal. Amid the crisis, Bankman-Fried was no longer a billionaire, according to the Bloomberg Billionaires Index. The same day, the FTT token's price fell more than 80 percent in 24 hours.
Also on 9 November, Bloomberg reported that the Securities and Exchange Commission and Commodity Futures Trading Commission were investigating FTX and the nature of its connections to Bankman-Fried's other holdings.
Anonymous sources cited by Reuters stated that Bankman-Fried had transferred at least $4 billion from FTX to Alameda Research, without any disclosure to insiders or the public, earlier in 2022. The sources said that the money transferred had included customer funds, and that it was backed by FTT and shares in Robinhood. An anonymous source cited by the Wall Street Journal stated that Bankman-Fried had disclosed that Alameda owed FTX about $10 billion which were secured through customer funds stored in FTX when FTX had, at the time, $16 billion in customer assets.
Bankman-Fried resigned as CEO of FTX and was replaced by John J. Ray III, the same day FTX and related entities filed for bankruptcy in Delaware.
Colleagues
Born in one day
Days left until next birthday: 341 Days.
GlobalNY.biz pays special attention to the activities of famous people: politicians, officials, businessmen, bankers, cultural and sports figures. Their opinion largely determines the development of political, social and economic life in New York. The section is constantly edited by our journalists for the relevance of information. Here you can find information about CEOs and presidents of top New York companies, officials and public figures who play a key role in the development of the region.
The goal of the project is to create a comfortable information space for all market actors, as well as to acquaint the readership with business people in New York.
We have created an impressive database of people in New York, which contains information about a career path, education and other important information about a person.
Thanks to automatic counting of the number of mentions of a person in the news sections " New York News "and" New York Press Releases "on the portal the rating of popularity and influence of persons is formed. The GlobalNY.biz team monitors rating changes and rewards project participants for their success. In general, the rating of participants is based on an in-depth analysis of the activity of PR services of famous people, and also reflects the qualitative state of the information field formed by the media and press services around the organization.
Business People of New York is a project about people who, through their ideas, words and deeds, have a great influence on the development and prosperity of New York.
Alena Potapova
---
Development Director