24 April 2020
963
2 min.
1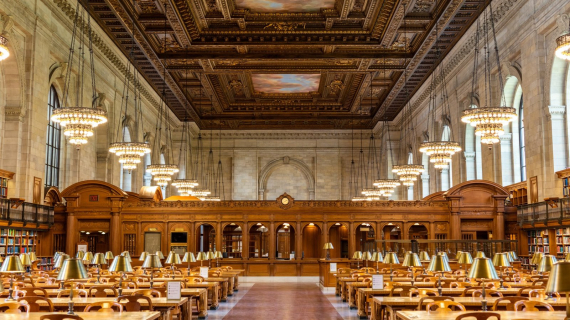 Inspiring biographies, dystopian novels, book clubs, and boy wizards are helping New Yorkers cope with the crisis.
The New York Public Library—temporarily closed since March 13 to help mitigate the spread of COVID-19—continues to offer New Yorkers over 300,000 e-books to browse, borrow, and read remotely through its e-reader app SimplyE. All that is required is a library card, which can be obtained through the app. Since the Library closed about a month ago, e-book checkouts have increased nearly %10 as compared to the same period last year and there has been a 15% increase in weekly e-book readers on average.
Today, in its NYPL Connect newsletter, the Library will share which books New Yorkers have checked out the most since the system temporarily closed. The top checkout over that time period is Michelle Obama's autobiography Becoming; other notable books on the top 10 list include James McBride's Deacon King Kong—the first book being read as part of a new virtual book club being offered by NYPL and public radio station WNYC—and two books featured on the Library's 125 Books We Love list (released in February to help celebrate the Library system's 125th anniversary): Harry Potter and the Sorcerer's Stone by JK Rowling and dystopian novel A Handmaid's Tale by Margaret Atwood.
The full top 10 list includes:
Becoming by Michelle Obama
Educated: A Memoir by Tara Westover
The Dutch House: A Novel by Ann Patchett
Deacon King Kong: A Novel by James McBride
The Testaments: The Sequel to The Handmaid's Tale by Margaret Atwood
Maybe You Should Talk to Someone: A Therapist, HER Therapist, and Our Lives Revealed by Lori Gottlieb
Normal People: A Novel by Sally Rooney
Harry Potter and the Sorcerer's Stone by J. K. Rowling
The Water Dancer: A Novel by Ta-Nehisi Coates
The Handmaid's Tale by Margaret Atwood
"For 125 years, The New York Public Library has brought New Yorkers together around reading and learning, offering books, classes, programs, and materials to strengthen our communities," said Anthony Marx, president of The New York Public Library. "I am proud that we continue to connect New Yorkers, even when we can't actually be together. Reading provides so much: comfort, an escape, a distraction. I hope this relatively small pleasure helps our communities through a very challenging time."
Persons1 in the news

President, Chief executive of the NYPL
Press releases on the topic
NEW YORK PRESS RELEASES
GlobalNY.biz Press Releases are the latest news from New York companies.
Official press releases of New York companies are regularly published on the resource. You can find out the latest news of enterprises in the corresponding section on the main page. Placing press releases is a traditional and effective way to promote your business. It allows organizations to announce themselves and their products and services to the widest possible audience. In this case, the informational occasion can be anything: attracting people to an event or conference, highlighting new products or personnel appointments. If you set a goal to draw attention to your information, then GlobalNY.biz will become your reliable assistant in this matter. Thanks to the portal, your press release will be seen by reviewers of leading Internet publications, clients and partners.
GlobalNY.biz allows representatives of companies and organizations in New York to independently post a press release when registering on the resource. The most important feature of GlobalNY.biz is that all publications of New York companies fall into the archives and will be available from the search for a long time. You just need to add the press release to the news feed.
GlobalNY.biz offers its customers a subscription service that allows companies to regularly publish press releases on favorable terms. In addition, the business portal makes it possible to more fully tell about the life of the company by adding photos and videos, personas and employee quotes. All information materials have active links and will lead potential customers to your resource.
Alena Potapova
---
Development Director