16 May 2020
2886
2 min.
2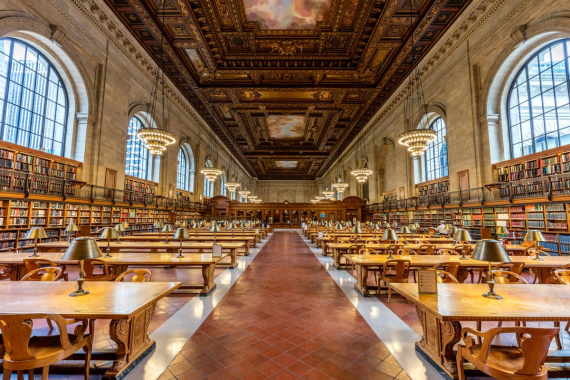 At its meeting yesterday evening, The New York Public Library Board of Trustees elected acclaimed writer Zadie Smith and philanthropist Howard L. Morgan as its newest members. The two longtime Library supporters will begin their tenure on immediately.
"The Library is very pleased to welcome Zadie and Howard to the Board of Trustees. Their clear affinity for the Library and its mission, as well as their impressive expertise in the worlds of business, literature, philanthropy, and culture, will no doubt be invaluable as the Board helps steward this beloved and critically important institution through this current crisis and beyond," said NYPL Board of Trustees Chairman Evan Chesler. "We thank them for their dedication to the Library, and look forward to their contributions."
Zadie Smith is an award-winning novelist, essayist, and short story writer. She has a long relationship with The New York Public Library: she was named a Library Lion in 2010, has participated in many Library programs, and her debut novel White Teeth was named to the Library's 125 Books We Love list, released earlier this year to celebrate books, reading, and the Library's 125th anniversary.
Smith has been a contributor to The New Yorker, The New York Review of Books, The New York Times, and Harper's Magazine, and has won numerous literary awards, including the James Tait Black Memorial Prize, the Whitbread First Novel Award, National Book Critics Circle Award for Criticism, and the Orange Prize for Fiction. She has also been nominated for a Baileys Women's Prize for Fiction, was a finalist for the National Book Critics Circle Award for Fiction, and was longlisted for the Man Booker Prize. Smith is also a senior faculty member in NYU's Creative Writing Program, and has previously taught at Harvard and Columbia Universities. Her newest work, Grand Union (2019), is her first short story collection.
Howard L. Morgan is a long-time New York Public Library donor, venture capitalist, and angel investor who founded or co-founded several firms, including Renaissance Technologies, B Capital Group, and First Round Capital. Morgan—whose career is often focused on supporting firms at the seed stage—is also president of the Arca Group Inc., which nurtures early stage companies and taking them through initial public offerings. A former professor of decision sciences at the University of Pennsylvania's Wharton School, Morgan has also co-authored several books on subjects such as computer science, business investment, and marketing. Morgan is a graduate of the City College of the City University of New York and Cornell University.
The Board meeting last night was held virtually.
Source: https://www.nypl.org/press/press-release/may-14-2020/new-york-public-library-names-author-zadie-smith-and-philanthropist
Persons1 and Companies1 in the news

Lawyer

Press releases on the topic
NEW YORK PRESS RELEASES
GlobalNY.biz Press Releases are the latest news from New York companies.
Official press releases of New York companies are regularly published on the resource. You can find out the latest news of enterprises in the corresponding section on the main page. Placing press releases is a traditional and effective way to promote your business. It allows organizations to announce themselves and their products and services to the widest possible audience. In this case, the informational occasion can be anything: attracting people to an event or conference, highlighting new products or personnel appointments. If you set a goal to draw attention to your information, then GlobalNY.biz will become your reliable assistant in this matter. Thanks to the portal, your press release will be seen by reviewers of leading Internet publications, clients and partners.
GlobalNY.biz allows representatives of companies and organizations in New York to independently post a press release when registering on the resource. The most important feature of GlobalNY.biz is that all publications of New York companies fall into the archives and will be available from the search for a long time. You just need to add the press release to the news feed.
GlobalNY.biz offers its customers a subscription service that allows companies to regularly publish press releases on favorable terms. In addition, the business portal makes it possible to more fully tell about the life of the company by adding photos and videos, personas and employee quotes. All information materials have active links and will lead potential customers to your resource.
Alena Potapova
---
Development Director