26 April 2022
2663
1 min.
3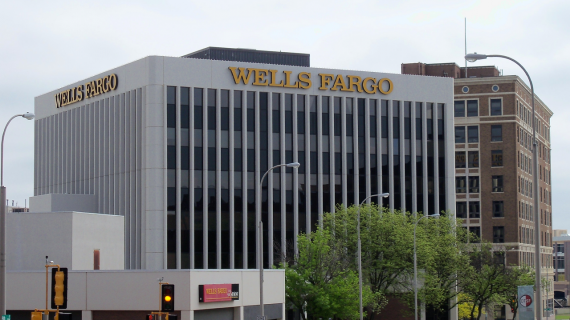 SAN FRANCISCO--(BUSINESS WIRE)-- Wells Fargo & Company (NYSE: WFC) today announced a quarterly common stock dividend of $0.25 per share, payable June 1, 2022, to stockholders of record on May 6, 2022, as approved today by the Wells Fargo board of directors.
About Wells Fargo
Wells Fargo & Company (NYSE: WFC) is a leading financial services company that has approximately $1.9 trillion in assets, proudly serves one in three U.S. households and more than 10% of small businesses in the U.S., and is a leading middle market banking provider in the U.S. We provide a diversified set of banking, investment and mortgage products and services, as well as consumer and commercial finance, through our four reportable operating segments: Consumer Banking and Lending, Commercial Banking, Corporate and Investment Banking, and Wealth & Investment Management. Wells Fargo ranked No. 37 on Fortune's 2021 rankings of America's largest corporations. In the communities we serve, the company focuses its social impact on building a sustainable, inclusive future for all by supporting housing affordability, small business growth, financial health, and a low-carbon economy. News, insights, and perspectives from Wells Fargo are also available at Wells Fargo Stories.
Additional information may be found at www.wellsfargo.com | Twitter: @WellsFargo
News Release Category: WF-CF
Media
Beth Richek, 704-374-2545
Beth.Richek@wellsfargo.com
Investor Relations
John Campbell, 415-396-0523
john.m.campbell@wellsfargo.com
Source: Wells Fargo & Company
Persons2 and Companies1 in the news

Vice President, Corporate Communications at Wells Fargo
Executive Vice President, Director of Corporate Responsibility and Community Relations, Wells Fargo

Press releases on the topic
NEW YORK PRESS RELEASES
GlobalNY.biz Press Releases are the latest news from New York companies.
Official press releases of New York companies are regularly published on the resource. You can find out the latest news of enterprises in the corresponding section on the main page. Placing press releases is a traditional and effective way to promote your business. It allows organizations to announce themselves and their products and services to the widest possible audience. In this case, the informational occasion can be anything: attracting people to an event or conference, highlighting new products or personnel appointments. If you set a goal to draw attention to your information, then GlobalNY.biz will become your reliable assistant in this matter. Thanks to the portal, your press release will be seen by reviewers of leading Internet publications, clients and partners.
GlobalNY.biz allows representatives of companies and organizations in New York to independently post a press release when registering on the resource. The most important feature of GlobalNY.biz is that all publications of New York companies fall into the archives and will be available from the search for a long time. You just need to add the press release to the news feed.
GlobalNY.biz offers its customers a subscription service that allows companies to regularly publish press releases on favorable terms. In addition, the business portal makes it possible to more fully tell about the life of the company by adding photos and videos, personas and employee quotes. All information materials have active links and will lead potential customers to your resource.
Alena Potapova
---
Development Director