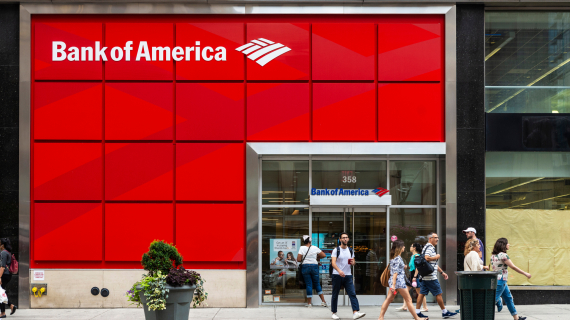 Bank of America Corporation announced on July 13 that the Board of Directors has authorized regular cash dividends on outstanding shares or depositary shares of the following series of preferred shares: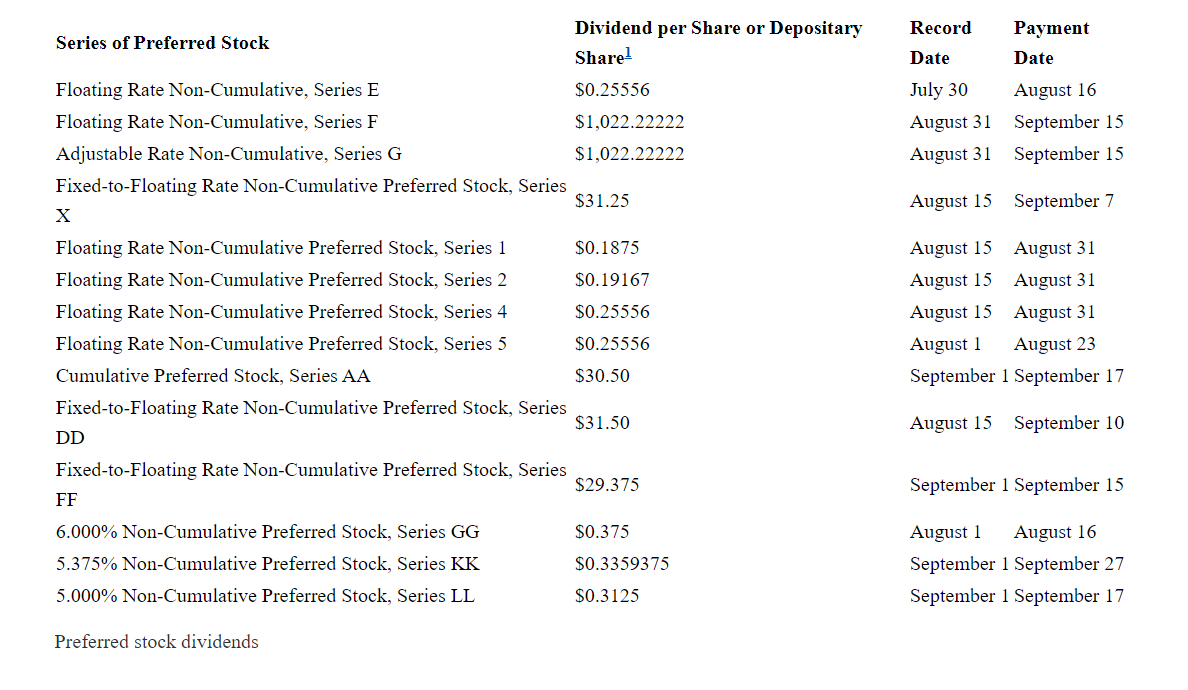 1 Each series of preferred stock, other than Series F and Series G, is represented by depositary shares. Dividend payments are made on a quarterly basis for each series of preferred stock, other than Series X, Series AA, Series DD, and Series FF, for which dividends are paid on a semi-annual basis.
Bank of America
Bank of America is one of the world's leading financial institutions, serving individual consumers, small and middle-market businesses and large corporations with a full range of banking, investing, asset management and other financial and risk management products and services. The company provides unmatched convenience in the United States, serving approximately 66 million consumer and small business clients with approximately 4,300 retail financial centers, including approximately 2,700 lending centers, 2,600 financial centers with a Consumer Investment Financial Solutions Advisor and approximately 2,400 business centers; approximately 17,000 ATMs; and award-winning digital banking with approximately 40 million active users, including approximately 31 million mobile users. Bank of America is a global leader in wealth management, corporate and investment banking and trading across a broad range of asset classes, serving corporations, governments, institutions and individuals around the world. Bank of America offers industry leading support to approximately 3 million small business households through a suite of innovative, easy-to-use online products and services. The company serves clients through operations across the United States, its territories and approximately 35 countries. Bank of America Corporation stock (NYSE: BAC) is listed on the New York Stock Exchange.
For more Bank of America news, including dividend announcements and other important information, visit the Bank of America newsroom and register for news email alerts.
Investors May Contact:
Lee McEntire, Bank of America
Phone: 1.980.388.6780
lee.mcentire@bofa.com
Jonathan Blum, Bank of America (Fixed Income)
Phone: 1.212.449.3112
jonathan.blum@bofa.com
Reporters May Contact:
Jerry Dubrowski, Bank of America
Phone: 1.646.855.1195 (office) or 1.508.843.5626 (mobile)
jerome.f.dubrowski@bofa.com
Christopher P. Feeney, Bank of America
Phone: 1.980.386.6794
christopher.feeney@bofa.com
Press releases on the topic
NEW YORK PRESS RELEASES
GlobalNY.biz Press Releases are the latest news from New York companies.
Official press releases of New York companies are regularly published on the resource. You can find out the latest news of enterprises in the corresponding section on the main page. Placing press releases is a traditional and effective way to promote your business. It allows organizations to announce themselves and their products and services to the widest possible audience. In this case, the informational occasion can be anything: attracting people to an event or conference, highlighting new products or personnel appointments. If you set a goal to draw attention to your information, then GlobalNY.biz will become your reliable assistant in this matter. Thanks to the portal, your press release will be seen by reviewers of leading Internet publications, clients and partners.
GlobalNY.biz allows representatives of companies and organizations in New York to independently post a press release when registering on the resource. The most important feature of GlobalNY.biz is that all publications of New York companies fall into the archives and will be available from the search for a long time. You just need to add the press release to the news feed.
GlobalNY.biz offers its customers a subscription service that allows companies to regularly publish press releases on favorable terms. In addition, the business portal makes it possible to more fully tell about the life of the company by adding photos and videos, personas and employee quotes. All information materials have active links and will lead potential customers to your resource.
Alena Potapova
---
Development Director