5 July 2021
2111
2 min.
4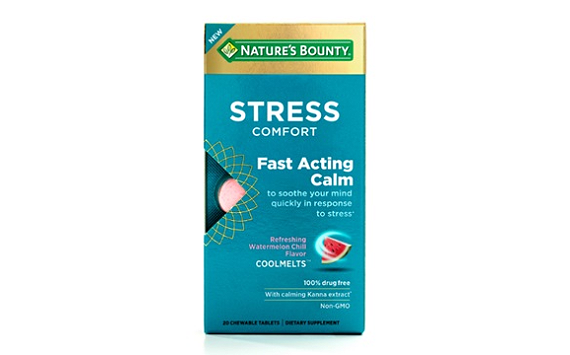 Many people are feeling stressed now more than ever, with studies showing more than half (55%) of Americans say they're more stressed than they were before the COVID-19 pandemic.1 To address this need, Nature's Bounty®, a leading nutrition brand,2 has launched Stress Comfort Fast-Acting Calm. This new COOLMELTS™ chewable watermelon tablet works quickly to soothe your mind in response to stress* and is the perfect solution for anyone with occasional stress.* Made with a non-GMO formula, this 100% drug-free format is available on Amazon.com right now and coming to a Walmart, CVS and Rite Aid near you this summer.
Chewing a tablet of Nature's Bounty® Stress Comfort Fast Acting Calm is a unique experience for consumers that activates the refreshing watermelon chill flavor and delivers a cooling sensation as the tablet quickly dissolves.
For more information about the new product, check out the company's latest blog post, available here.
About The Bountiful Company
The Bountiful Company is a pure play branded leader in global nutrition, living at the intersection of science and nature. As a manufacturer, marketer and seller of vitamins, minerals, herbal and other specialty supplements, and active nutrition products, we are focused on enhancing the health and wellness of people's lives. The Bountiful Company's portfolio of trusted brands includes Nature's Bounty®, Solgar®, Pure Protein®, Osteo Bi-Flex®, Puritan's Pride®, Sundown®, Body Fortress®, MET-Rx®, Ester-C® and Dr.Organic®. For more information, visit Bountifulcompany.com.
Media Contact:
Meghan Sowa
The Bountiful Company
msowa@bountifulcompany.com
* Эти заявления не были оценены Управлением по контролю за продуктами питания и лекарствами. Эти продукты не предназначены для диагностики, лечения или профилактики каких-либо заболеваний.
1 Более половины американцев говорят, что они испытывают больший стресс, чем до пандемии Covid-19 (CNBC, июль 2020 г.)
2 Чтобы соответствовать тому, как мы говорим о Щедрости Природы в S-1.
Press releases on the topic
NEW YORK PRESS RELEASES
GlobalNY.biz Press Releases are the latest news from New York companies.
Official press releases of New York companies are regularly published on the resource. You can find out the latest news of enterprises in the corresponding section on the main page. Placing press releases is a traditional and effective way to promote your business. It allows organizations to announce themselves and their products and services to the widest possible audience. In this case, the informational occasion can be anything: attracting people to an event or conference, highlighting new products or personnel appointments. If you set a goal to draw attention to your information, then GlobalNY.biz will become your reliable assistant in this matter. Thanks to the portal, your press release will be seen by reviewers of leading Internet publications, clients and partners.
GlobalNY.biz allows representatives of companies and organizations in New York to independently post a press release when registering on the resource. The most important feature of GlobalNY.biz is that all publications of New York companies fall into the archives and will be available from the search for a long time. You just need to add the press release to the news feed.
GlobalNY.biz offers its customers a subscription service that allows companies to regularly publish press releases on favorable terms. In addition, the business portal makes it possible to more fully tell about the life of the company by adding photos and videos, personas and employee quotes. All information materials have active links and will lead potential customers to your resource.
Alena Potapova
---
Development Director