28 June 2021
2075
3 min.
17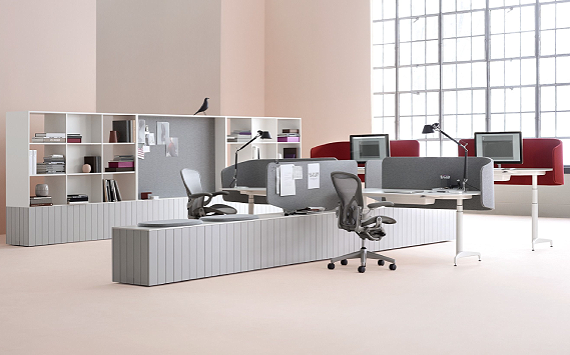 Global furniture company Herman Miller has launched the Diversity in Design (DID) Collaborative, bringing together nearly 20 companies to address the lack of Black creatives in design professions in the United States. Together these companies will build awareness, knowledge, and connections to open up new pathways leading to full-time employment.
Herman Miller led several months of planning to help the group establish a focus on creating change for Black design professionals by: building a stronger education pipeline; increasing design career opportunities; and supporting professional development and retention to increase representation of Black designers long term.
Work & Co is a founding partner of the DID Collaborative and also contributed through strategy, design, and development of the initial DID website.
The Collaborative is made up of an interdisciplinary group of design-minded companies and leaders in the field including: 2x4, Adobe, Architecture Plus Information, Aruliden, Civilization, COLLINS, Dropbox, Fossil Group, Freeman, fuseproject, Gap Inc., Knoll Inc., Levi Strauss & Co, Pentagram, Stamen Design, Studio 0+A, and Wolff Olins.
"The lack of diversity in design is too large an issue for one brand to try to solve itself," said D'Wayne Edwards, Advisor to DID and Founder of the Pensole Design Academy. "To me DID is about more than purposely creating more diversity in design, it is about an entire industry creating a more meaningful relationship with a consumer that goes beyond them being a consumer."
Said Tyesha Snow, Strategy Director at Work & Co: "The impact of designers on our society can't be overstated. Everything we engage in and with, on a daily basis, has been designed by someone. So intentional diversification of design professions isn't just something we need to catch up on, it's something we as businesses must create focused energy around to find solutions and fix."
DID members have agreed to partner on increasing design awareness and education at the middle school, high school, and college level with Historically Black Colleges and Universities (HBCUs), community colleges, higher learning programs and non-profit organizations that serve Black youth. Students will be aligned with DID Collaborative initiatives to foster their educational journey into internships, apprenticeships, and on to employment in the design field, ultimately creating an output of more inclusive solutions.
Additionally, the Collaborative is engaging in information-sharing on current DEI initiatives and opportunities while looking for areas of partnership with working groups addressing the following two key tracks:
Governance: DID members are ensuring that members are establishing DEI practices and metrics of success within their own organizations in addition to Collaborative actions, abiding by a Code of Conduct and the requirements for membership.
Creating opportunities: DID members are coming together to design and implement programming aimed to increase new opportunity, including a DID Design Fair in Detroit in 2022 —using this as a model for future fairs in other cities throughout the year— and support of the Pensole Academy and the College for Creative Studies that will launch in early 2022 in Detroit to create focused business and design education for Black college students.
Persons1 and Companies16 in the news
Press releases on the topic
NEW YORK PRESS RELEASES
GlobalNY.biz Press Releases are the latest news from New York companies.
Official press releases of New York companies are regularly published on the resource. You can find out the latest news of enterprises in the corresponding section on the main page. Placing press releases is a traditional and effective way to promote your business. It allows organizations to announce themselves and their products and services to the widest possible audience. In this case, the informational occasion can be anything: attracting people to an event or conference, highlighting new products or personnel appointments. If you set a goal to draw attention to your information, then GlobalNY.biz will become your reliable assistant in this matter. Thanks to the portal, your press release will be seen by reviewers of leading Internet publications, clients and partners.
GlobalNY.biz allows representatives of companies and organizations in New York to independently post a press release when registering on the resource. The most important feature of GlobalNY.biz is that all publications of New York companies fall into the archives and will be available from the search for a long time. You just need to add the press release to the news feed.
GlobalNY.biz offers its customers a subscription service that allows companies to regularly publish press releases on favorable terms. In addition, the business portal makes it possible to more fully tell about the life of the company by adding photos and videos, personas and employee quotes. All information materials have active links and will lead potential customers to your resource.
Alena Potapova
---
Development Director