12 June 2021
1901
2 min.
1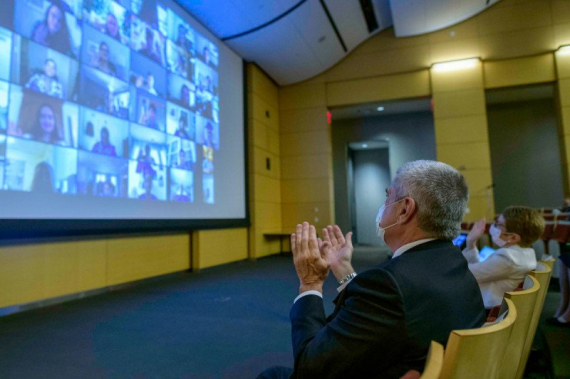 For the 15th year, MSK today honored the academic achievements of our youngest patients by hosting MSK Kids Convocation - a virtual ceremony to help mark and celebrate the end of their adolescent school years.
Almost 40 current and former patients joined the Zoom celebration along with hospital leadership and MSK Kids faculty and staff. Graduates, some of whom dialed in from across the country, enjoyed the singing talent of one fellow graduate, heard words of encouragement from another, and were presented with awards for academic and extracurricular achievement.
"You all inspire us, motivate us, and fill our hearts with pride," said Craig B. Thompson, MD, MSK's President and Chief Executive Officer.
MSK Kids Convocation has been a beloved event across MSK since its inception in 2007. This year, almost 80 current and former patients are graduating from high school or receiving their equivalency. While some graduates are still receiving care for their cancer or blood disorder, many graduates have completed treatment.
Convocation is organized by MSK Kids staff and hosted in coordination with the New York City Department of Education Hospital Schools program. MSK treatment teams consider schooling to be both necessary and therapeutic for pediatric patients, and full-time teachers play an active role in facilitating this important part of the comprehensive care MSK provides. For children and teens, school signifies a continuation of normal life, and allows them to keep up with their peers.
"Everything we do is about getting you healthy and back to a normal life," said Paul A. Meyers, MD, Chief of the Pediatric Sarcoma Service and Vice Chair for Clinical Affairs in the Department of Pediatrics. "And for you to share this important milestone with us is an affirmation and validation…we are so grateful."
Convocation is meaningful to not only the graduates and their families, but also to their MSK doctors, nurses, and other MSK Kids staff who have taken care of them throughout the years.
"Determination and perseverance are life skills that were thrust upon you, perhaps unwelcomingly, but these are skills you will use to address other life challenges," said Andrew Kung, MD, PhD, Chair of MSK's Department of Pediatrics. "I hope these final weeks of high school bring the fun activities you deserve to enjoy safely and in good health, and whether you are headed for a college campus, a new job, a journey to some other place, or another adventure, we have confidence in your motivation, your aspiration, and the bright future ahead of you."
Congratulations to the Class of 2021!
NEW YORK PRESS RELEASES
GlobalNY.biz Press Releases are the latest news from New York companies.
Official press releases of New York companies are regularly published on the resource. You can find out the latest news of enterprises in the corresponding section on the main page. Placing press releases is a traditional and effective way to promote your business. It allows organizations to announce themselves and their products and services to the widest possible audience. In this case, the informational occasion can be anything: attracting people to an event or conference, highlighting new products or personnel appointments. If you set a goal to draw attention to your information, then GlobalNY.biz will become your reliable assistant in this matter. Thanks to the portal, your press release will be seen by reviewers of leading Internet publications, clients and partners.
GlobalNY.biz allows representatives of companies and organizations in New York to independently post a press release when registering on the resource. The most important feature of GlobalNY.biz is that all publications of New York companies fall into the archives and will be available from the search for a long time. You just need to add the press release to the news feed.
GlobalNY.biz offers its customers a subscription service that allows companies to regularly publish press releases on favorable terms. In addition, the business portal makes it possible to more fully tell about the life of the company by adding photos and videos, personas and employee quotes. All information materials have active links and will lead potential customers to your resource.
Alena Potapova
---
Development Director