20 June 2020
2694
3 min.
4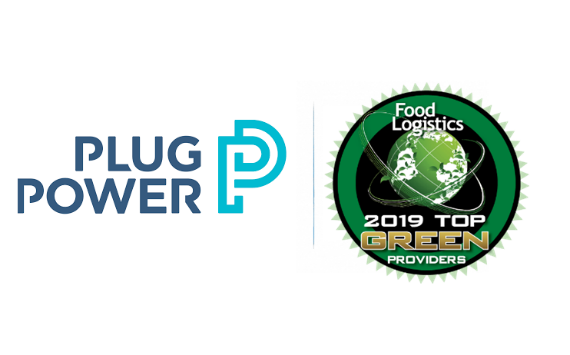 Plug Power Inc. (NASDAQ:PLUG), the leading company building the clean hydrogen economy, has been named to the Top Green Providers list for 2020 by Food Logistics, the only publication exclusively dedicated to covering the movement of products through the global food supply chain.
Food Logistics' annual Top Green Providers recognizes companies whose products, services, or exemplary leadership are enhancing sustainability within the food and beverage industry. Each year, the criteria for earning a spot on the list become more stringent for applicants. For example, the editorial staff evaluates a company's participation in such programs as the EPA's SmartWay and other recognized sustainability programs; facilities that are LEED-certified, and/or feature solar panels, LED lighting, and other energy saving installations and retrofits that produce measurable reductions in GHG emissions, to name a few.
2020 marks the fourth year in a row that Plug Power has been named on the Top Green Providers list. Plug Power products move 30% of the retail food and groceries through the United States, an increase from 25%, as a result of support provided during the COVID-19 crisis. In 2020, Plug Power's hydrogen fuel cell (HFC) solutions will provide the power for middle-mile and last-mile delivery vehicles as well, improving the sustainability of the entire logistics chain. Improved efficiency, reliability, and cost efficacy—combined with access to fleet performance data—has continued to increase the adoption of HFCs in the food logistics space: 32,000 fuel cell-powered forklifts have completed over 27 million hydrogen fills. Plug Power enables customers of all sizes, including leading retail giants like Walmart and Carrefour (France), to reach new heights in facility productivity with affordable, efficient, and clean hydrogen and fuel cell power.
"Our annual Top Green Providers award recognizes companies whose products, services or exemplary leadership enhances sustainability within the food and beverage industry. From technology that reduces a fleet's carbon footprint to software that helps shippers drive energy efficiency to systems and processes that help reduce the carbon and environmental impact of its customers' supply chains, these top green providers continue to practice the ultimate in sustainability year over year," said Marina Mayer, Editor-in-Chief of Food Logistics.
"The benefits of hydrogen fuel cells are seen every day, resulting in an increase of more than 200 hours of pick time per year per vehicle in a 3-shift facility, versus a battery-powered forklift," said Andy Marsh, CEO of Plug Power. "We're honored to be named to the Top Green Providers list for the fourth time as we continue to build and expand our portfolio of advanced technology, zero emission commercial solutions that enable customers in all parts of the supply chain to move product around the world in the cleanest way possible."
Source: https://www.ir.plugpower.com/Press-Releases/Press-Release-Details/2020/Plug-Power-Named-to-Food-Logistics-Top-Green-Providers-List-for-2020/default.aspx
Persons1 and Companies3 in the news
Press releases on the topic
NEW YORK PRESS RELEASES
GlobalNY.biz Press Releases are the latest news from New York companies.
Official press releases of New York companies are regularly published on the resource. You can find out the latest news of enterprises in the corresponding section on the main page. Placing press releases is a traditional and effective way to promote your business. It allows organizations to announce themselves and their products and services to the widest possible audience. In this case, the informational occasion can be anything: attracting people to an event or conference, highlighting new products or personnel appointments. If you set a goal to draw attention to your information, then GlobalNY.biz will become your reliable assistant in this matter. Thanks to the portal, your press release will be seen by reviewers of leading Internet publications, clients and partners.
GlobalNY.biz allows representatives of companies and organizations in New York to independently post a press release when registering on the resource. The most important feature of GlobalNY.biz is that all publications of New York companies fall into the archives and will be available from the search for a long time. You just need to add the press release to the news feed.
GlobalNY.biz offers its customers a subscription service that allows companies to regularly publish press releases on favorable terms. In addition, the business portal makes it possible to more fully tell about the life of the company by adding photos and videos, personas and employee quotes. All information materials have active links and will lead potential customers to your resource.
Alena Potapova
---
Development Director