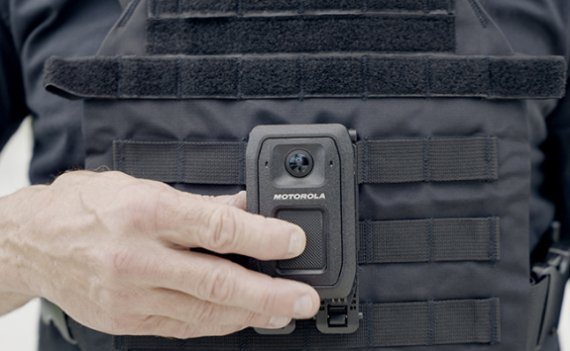 Motorola Solutions (NYSE: MSI) has launched its next generation V700 body camera with mobile broadband capabilities to give public safety agencies another critical source of real-time field intelligence and collaboration. The V700 seamlessly integrates with Aware - a cloud-based platform that provides a common operating view - as well as the M500 in-car video system, APX® radios and Holster Aware sensors.
This ecosystem of connected technologies offers command staff officer location and multiple points-of-view of an incident as it unfolds to improve response and officer safety. For example, the APX radio's fall detection feature will trigger the V700 to start recording if an officer is down or unresponsive, giving incident managers immediate awareness of the officer's situation so that they can dispatch appropriate assistance.
"In public safety, outcomes often hinge on an agency's ability to surface the critical insights necessary to make better, faster decisions," said Mahesh Saptharishi, executive vice president and chief technology officer, Motorola Solutions. "The V700's connectivity to our wider technology ecosystem - from radios and in-car video to command center software - offers an agency unprecedented understanding of an officer's situation so they can direct the resources needed to be successful in that moment."
To ensure a clear, accurate account of events, the V700's precision high-definition sensor adjusts to low lighting like a human eye. Its additional features are designed to maximize officers' time in their communities, including a high-capacity, field-swappable battery that can record continuously for up to 14 hours, so that officers can capture video throughout their entire shift. With mobile broadband capabilities, officers do not need to return to base to upload time-sensitive evidence into VideoManager EL. Critical evidence can also be recovered after an incident - even if a recording wasn't initiated - through the camera's unique Record-After-The-Fact® feature, and AI can be applied during evidence analysis to transcribe footage for a clear record of events.
The V700 is now available for order in North America.
Persons1 in the news

Executive Vice President and Chief Technology Officer at Motorola Solutions
Press releases on the topic
NEW YORK PRESS RELEASES
GlobalNY.biz Press Releases are the latest news from New York companies.
Official press releases of New York companies are regularly published on the resource. You can find out the latest news of enterprises in the corresponding section on the main page. Placing press releases is a traditional and effective way to promote your business. It allows organizations to announce themselves and their products and services to the widest possible audience. In this case, the informational occasion can be anything: attracting people to an event or conference, highlighting new products or personnel appointments. If you set a goal to draw attention to your information, then GlobalNY.biz will become your reliable assistant in this matter. Thanks to the portal, your press release will be seen by reviewers of leading Internet publications, clients and partners.
GlobalNY.biz allows representatives of companies and organizations in New York to independently post a press release when registering on the resource. The most important feature of GlobalNY.biz is that all publications of New York companies fall into the archives and will be available from the search for a long time. You just need to add the press release to the news feed.
GlobalNY.biz offers its customers a subscription service that allows companies to regularly publish press releases on favorable terms. In addition, the business portal makes it possible to more fully tell about the life of the company by adding photos and videos, personas and employee quotes. All information materials have active links and will lead potential customers to your resource.
Alena Potapova
---
Development Director