27 March 2023
883
2 min.
2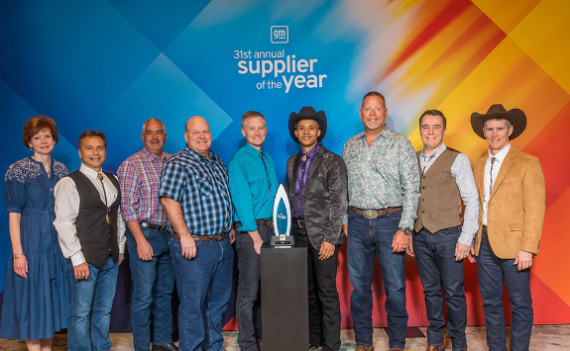 General Motors recognized Magna as a 2022 Supplier of the Year and Overdrive award winner at GM's 31st annual Supplier of the Year event in San Antonio, Texas. Magna is one of only two suppliers to receive both awards this year.

Our very first customer was GM and our strong, longtime partnership exemplifies Magna's commitment to delivering solutions that help our customers achieve their goals," said Eric Wilds, Chief Sales and Marketing Officer at Magna. "Receiving seven category awards in one year, plus the Overdrive award, is a great honor and testament to our team's commitment to excellence and inspires us to keep innovating."
GM's Supplier of the Year award recognizes global suppliers that distinguish themselves by exceeding GM's requirements, in turn providing customers with innovative technologies and among the highest quality in the automotive industry.
The Overdrive award was first presented in 2012 and is a distinction reserved for suppliers who display outstanding achievement across the Global Purchasing and Supply Chain organization's key priorities. These include sustainability, innovation, relationships, total enterprise cost, launch excellence and safety.
"We are thrilled to recognize these outstanding suppliers after yet another challenging year in the automotive industry," said Jeff Morrison, GM vice president of Global Purchasing and Supply Chain. "They overcame countless obstacles and exemplified what it means to be resilient, resourceful and determined. Beyond that, these suppliers demonstrated their commitment to sustainable innovation and to driving advanced solutions in collaboration with the GM team."
Each year, GM's Supplier of the Year and Overdrive award recipients are selected by a global, cross-functional GM team for their performance in criteria such Product Purchasing, Global Purchasing and Manufacturing Services, Customer Care and Aftersales and Logistics.>/p>
Magna received seven awards -- in the categories of Active Aero, Body Shop, Cradles, Driveline, Fascia, Frames and Structures.
Persons1 and Companies1 in the news

Vice president, Global Purchasing and Supply Chain at General Motors

Press releases on the topic
NEW YORK PRESS RELEASES
GlobalNY.biz Press Releases are the latest news from New York companies.
Official press releases of New York companies are regularly published on the resource. You can find out the latest news of enterprises in the corresponding section on the main page. Placing press releases is a traditional and effective way to promote your business. It allows organizations to announce themselves and their products and services to the widest possible audience. In this case, the informational occasion can be anything: attracting people to an event or conference, highlighting new products or personnel appointments. If you set a goal to draw attention to your information, then GlobalNY.biz will become your reliable assistant in this matter. Thanks to the portal, your press release will be seen by reviewers of leading Internet publications, clients and partners.
GlobalNY.biz allows representatives of companies and organizations in New York to independently post a press release when registering on the resource. The most important feature of GlobalNY.biz is that all publications of New York companies fall into the archives and will be available from the search for a long time. You just need to add the press release to the news feed.
GlobalNY.biz offers its customers a subscription service that allows companies to regularly publish press releases on favorable terms. In addition, the business portal makes it possible to more fully tell about the life of the company by adding photos and videos, personas and employee quotes. All information materials have active links and will lead potential customers to your resource.
Alena Potapova
---
Development Director