11 December 2021
2072
4 min.
3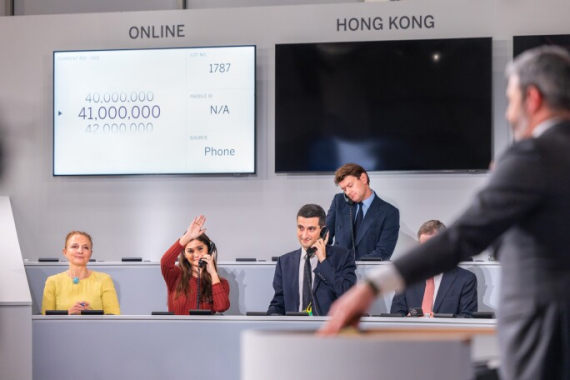 On November 18, 2021, at Sotheby's highly anticipated live auction in New York, an extremely rare copy of the first edition of the final text of the United States Constitution was sold for $ 43.2 million, more than double the $ 20 million. commendation and setting a world auction record for any book, manuscript, historical document or printed text *.
Following an eight-minute bidding battle on the telephones, the hammer fell to Brooke Lampley, Sotheby's Chairman & Worldwide Head of Sales for Global Fine Art.
Selby Kiffer, Sotheby's Senior International Specialist for Books & Manuscripts, remarked: "Tonight's sale of this exceptionally rare and important printing of the Constitution was a monumental and historic occasion. The Constitution needs little introduction as one of the most influential and significant historical documents ever conceived, and tonight's result reflects how relevant it remains 234 years later--not only in America but for global democracy."
Mrs. Dorothy Tapper Goldman, Collector, Educator, and Philanthropist, commented: "I have not been the owner of the United States Constitution but rather the custodian who has cared for this precious document. I have always felt an obligation and responsibility to facilitate access to the document through public and private exhibitions. New and established citizens, children and students of all ages have had many opportunities to see this touchstone of our republic. It is my fervent wish that the new custodian of this Constitution will guard it and continue to ensure public access to the visual, physical, and emotional experience of the document. While an individual person may continue to own this Constitution, it belongs to all Americans of all genders, all colors, and religious beliefs. The Constitution is the backbone of our democracy."
The Constitution was directly underbid by ConstitionDAO, a group of 17,000+ people from around the world who banded together through social media within the last week to raise money to acquire the document, marking the largest crowdfunding initiative ever put together.
The extremely rare Constitution – now the longest continuing charter of government in the world – is one of just 13 known copies of the official printing produced for the delegates to Constitutional Convention and for the Continental Congress, and only two copies of the first printing of the Constitution that remains in private hands. This printing of the Constitution was last sold at auction in 1988, when it achieved $165,000 by Mrs. Goldman's late husband, S. Howard Goldman.
On offer from the collection of Dorothy Tapper Goldman, full proceeds from the sale of the collection will benefit The Dorothy Tapper Goldman Foundation, whose mission is to further the understanding of the constitutional principles and how the acts of all citizens can impact our democracy. The foundation will achieve these goals through strategic grants to support relevant art projects, cultural and educational institutions, and worthy individuals.
The auction marked the first time that Sotheby's presented a unique, single-lot sale as part of our November Marquee Auction series, alongside our biggest sales of the year for Contemporary and Modern Art.
An additional group of approximately 80 constitutional and related documents will be on offer in Making Our Nation: Constitutions and Related Documents. Sold to Benefit the Dorothy Tapper Goldman Foundation. Part 1: a dedicated, live auction on 23 November in New York. A final group of rare works is on offer in Making Our Nation: Constitutions and Related Documents. Sold to Benefit the Dorothy Tapper Goldman Foundation - Part 2: a no-reserve online sale, open for bidding now through 2 December.
Tonight's remarkable results adds to the already historic week for Sotheby's, where our marquee sales of Modern and Contemporary Art have surpassed $1.1 billion, with two more sales yet to come.
**The previous world auction record for any printed text was $14,165,000 for the Bay Psalm Book sold at Sotheby's New York in 2013
*Notes to Editors
**The previous world auction record for any book and manuscript was $30,802,500 for The Codex Leicester sold at Christie's in 1994
**The previous world auction record for any historical document was $21.3 million for the 1297 Magna Carta sold at Sotheby's in 2007.
Persons3 in the news

Senior Vice President | International Senior Specialist New York

Chairman & Worldwide Head of Sales for Global Fine Art New York

President of the Dorothy Tapper Goldman Foundation
Press releases on the topic
NEW YORK PRESS RELEASES
GlobalNY.biz Press Releases are the latest news from New York companies.
Official press releases of New York companies are regularly published on the resource. You can find out the latest news of enterprises in the corresponding section on the main page. Placing press releases is a traditional and effective way to promote your business. It allows organizations to announce themselves and their products and services to the widest possible audience. In this case, the informational occasion can be anything: attracting people to an event or conference, highlighting new products or personnel appointments. If you set a goal to draw attention to your information, then GlobalNY.biz will become your reliable assistant in this matter. Thanks to the portal, your press release will be seen by reviewers of leading Internet publications, clients and partners.
GlobalNY.biz allows representatives of companies and organizations in New York to independently post a press release when registering on the resource. The most important feature of GlobalNY.biz is that all publications of New York companies fall into the archives and will be available from the search for a long time. You just need to add the press release to the news feed.
GlobalNY.biz offers its customers a subscription service that allows companies to regularly publish press releases on favorable terms. In addition, the business portal makes it possible to more fully tell about the life of the company by adding photos and videos, personas and employee quotes. All information materials have active links and will lead potential customers to your resource.
Alena Potapova
---
Development Director