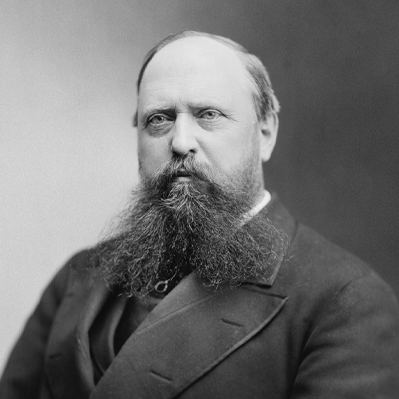 Content
Biography
Othniel Charles Marsh was an American professor of Paleontology in Yale College and President of the National Academy of Sciences. He was one of the preeminent scientists in the field of paleontology. Among his legacies are the discovery or description of dozens of new species and theories on the origins of birds.
Born into a modest family, Marsh was able to afford higher education thanks to the generosity of his wealthy uncle George Peabody. After graduating from Yale College in 1860 he travelled the world, studying anatomy, mineralogy and geology. He obtained a teaching position at Yale upon his return. From the 1870s to 1890s, he competed with rival paleontologist Edward Drinker Cope in a period of frenzied Western American expeditions known as the Bone Wars. Marsh's greatest legacy is the collection of Mesozoic reptiles, Cretaceous birds, and Mesozoic and Tertiary mammals that now constitute the backbone of the collections of Yale's Peabody Museum of Natural History and the Smithsonian Institution. Marsh has been called "both a superb paleontologist and the greatest proponent of Darwinism in nineteenth-century America."
Early life
Marsh was born October 29, 1831 in Lockport, New York, United States, to a family of modest means. His father, Caleb Marsh, was a farmer. His mother, Mary Gaines Peabody, was the younger sister of wealthy banker and philanthropist George Peabody, and died of cholera when Marsh was less than three years old.  The financial backing of his uncle allowed Marsh to obtain a formal education. He graduated from Phillips Academy, Andover in 1856 and Yale College with his bachelor of arts degree with honors in 1860.
Marsh received a Berkeley Scholarship from Yale, and studied geology, mineralogy and chemistry at Yale's Sheffield Scientific School from 1860 to 1862, earning an MA in 1863.  He next studied paleontology and anatomy in Berlin, Heidelberg and Breslau from 1862 to 1865. On his return to the United States in 1866 he was appointed professor of vertebrate paleontology at Yale University, making him the first professor of paleontology in the United States.
The same year, the Peabody Museum of Natural History at Yale was founded with a donation of US$150,000 from George Peabody, on Marsh's suggestion. Marsh served as a trustee of the Peabody Museum and was one of its three original curators.
Career
After receiving an inheritance of US$100,000 from his uncle, George Peabody, Marsh and his many fossil hunters were able to uncover about 500 new species of fossil animals, which were all named later by Marsh himself in the almost 400 scientific articles he published during his career. In May 1871, Marsh uncovered the first pterosaur fossils found in America. He also described early horses, flying reptiles, Cretaceous and Jurassic dinosaurs such as Triceratops, Stegosaurus, Brontosaurus,  Apatosaurus and Allosaurus,  and described the toothed birds of the Cretaceous Ichthyornis and Hesperornis.
Marsh discovered fossils showing the evolution of the horse. It was the ability to document Darwin's theory of evolution through the fossil record that made Marsh's efforts so significant. Marsh, more than anyone, produced the physical evidence to support Darwin's work. In 1876, English biologist and anthropologist Thomas Henry Huxley visited Marsh. Huxley's views on evolution were initially quite different from those of Marsh. However, Marsh showed him his collection of fossils and explained his conclusions. Huxley changed his opinions to match those of Marsh, and made them the basis of his famous New York lecture on the horse.
In 1868, Marsh was elected as a member of the American Philosophical Society.
Marsh began uncovering a vast array of Jurassic specimens in 1877 in the Morrison Formation near Morrison, Colorado in what is now known as Dinosaur Ridge. Later that year, he learned of the fossils at Como Bluff, Wyoming, and his workers there produced more astounding results, continuing until 1889. Marsh's men also excavated near Canon City, Colorado, and in the Denver Beds of the Lance Formation. The Morrison workers sent back 230 large boxes of bones to Marsh at Yale. His Canon City workers sent back 270 boxes, and 480 boxes were sent from Como Bluff. Marsh biographer Charles Schuchert referred to this as "truly the richest harvest of dinosaurs ever garnered by a single paleontologist."
Marsh's work with early mammals is also quite significant. In early 1878, Marsh was ecstatic to find that one of his men at Como Bluff had found a mammal fossil from the Jurassic period. This led to further discoveries which increased the knowledge of Jurassic mammals exponentially. Marsh was able to describe new genera and species in every major mammalian group.
In 1880, Marsh caught the attention of the scientific world with the publication of Odontornithes: a Monograph on Extinct Birds of North America, which included his discoveries of birds with teeth. These skeletons helped bridge the gap between dinosaurs and birds, and provided invaluable support for Darwin's theory of evolution. Darwin wrote to Marsh saying, "Your work on these old birds & on the many fossil animals of N. America has afforded the best support to the theory of evolution, which has appeared within the last 20 years" (since Darwin's publication of Origin of Species).
Marsh served as Vertebrate Paleontologist of the U.S. Geological Survey from 1882 to 1892. Thanks to John Wesley Powell, head of the USGS, and Marsh's contacts in Washington, Marsh was placed at the head of the consolidated government survey in the late 1880s.
Between 1883 and 1895, Marsh was President of the National Academy of Sciences.
The pinnacle of Marsh's work with dinosaurs came in 1896 with the publication of his two quartos, Dinosaurs of North America and Vertebrate Fossils, which demonstrated his unsurpassed knowledge of the subject.
On December 13, 1897, Marsh received the Cuvier Prize of 1,500 francs from the French Academy of Science.
Born in one day
Days left until next birthday: 334 Days.
GlobalNY.biz pays special attention to the activities of famous people: politicians, officials, businessmen, bankers, cultural and sports figures. Their opinion largely determines the development of political, social and economic life in New York. The section is constantly edited by our journalists for the relevance of information. Here you can find information about CEOs and presidents of top New York companies, officials and public figures who play a key role in the development of the region.
The goal of the project is to create a comfortable information space for all market actors, as well as to acquaint the readership with business people in New York.
We have created an impressive database of people in New York, which contains information about a career path, education and other important information about a person.
Thanks to automatic counting of the number of mentions of a person in the news sections " New York News "and" New York Press Releases "on the portal the rating of popularity and influence of persons is formed. The GlobalNY.biz team monitors rating changes and rewards project participants for their success. In general, the rating of participants is based on an in-depth analysis of the activity of PR services of famous people, and also reflects the qualitative state of the information field formed by the media and press services around the organization.
Business People of New York is a project about people who, through their ideas, words and deeds, have a great influence on the development and prosperity of New York.
Alena Potapova
---
Development Director