10 June 2021
1756
2 min.
5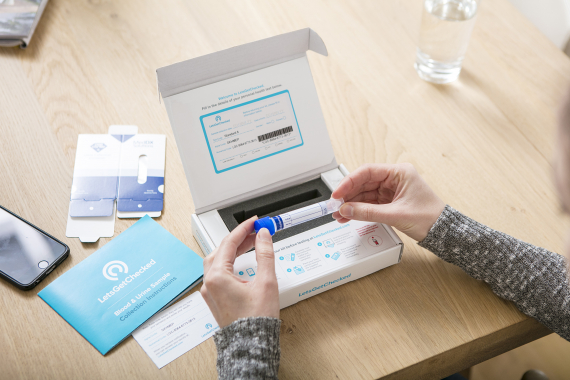 Virtual care startup LetsGetChecked announced Tuesday it has closed on a $150 million Series D to launch "care pathways," a comprehensive platform that will incorporate telehealth and pharmaceutical services, as well as expanded at-home testing for patients with chronic conditions.
"We are seeing unprecedented demand for at-home diagnostics and care as an alternative to traditional in-person medical visits, and we're expanding our offerings to include telehealth and treatment services to further help people live longer, happier lives," CEO Peter Foley said in a statement.
Foley founded LetsGetChecked in 2015, and the company now offers more than 100 validated at-home diagnostic tests for everything from sexual health and vitamin deficiencies to diabetes and cancer. It even offers its own test for the novel coronavirus. To date, the company has delivered more than two million tests and has served more than 300 corporate customers with its testing services and biometric screening solution.
This funding round was led by Casdin Capital, and comes about a year after LetsGetChecked raised a $71 million Series C funding to ramp up its supply, manufacturing and testing capabilities for Covid-19. Since then, the company says its revenue has grown by more than 1,500 percent year over year, and it has helped more than a million people.
LetsGetChecked is one of many venture-backed healthcare companies to have experienced tailwinds amid the global pandemic. Health diagnostic startups received a record-making $4.8 billion from investors last year, with companies like Paige and PathAI garnering support from firms like Goldman Sachs and D1 Capital Partners. Ro, a rising star in healthtech with a substantial in-home diagnostic component, raised a whopping $500 million Series D in March — a mere seven months after the company hit unicorn valuation.
In light of this recent funding which brought its own valuation to the coveted $1 billion-plus unicorn marker, LetsGetChecked plans to take an even bigger bite out of the sector with its care pathways. The company says it is beefing up its telehealth and pharmacy services now, and plans to introduce new at-home tests later this year.
The company is headquartered in Dublin, with additional offices in New York and Toronto.
Persons1 and Companies4 in the news
NEW YORK PRESS RELEASES
GlobalNY.biz Press Releases are the latest news from New York companies.
Official press releases of New York companies are regularly published on the resource. You can find out the latest news of enterprises in the corresponding section on the main page. Placing press releases is a traditional and effective way to promote your business. It allows organizations to announce themselves and their products and services to the widest possible audience. In this case, the informational occasion can be anything: attracting people to an event or conference, highlighting new products or personnel appointments. If you set a goal to draw attention to your information, then GlobalNY.biz will become your reliable assistant in this matter. Thanks to the portal, your press release will be seen by reviewers of leading Internet publications, clients and partners.
GlobalNY.biz allows representatives of companies and organizations in New York to independently post a press release when registering on the resource. The most important feature of GlobalNY.biz is that all publications of New York companies fall into the archives and will be available from the search for a long time. You just need to add the press release to the news feed.
GlobalNY.biz offers its customers a subscription service that allows companies to regularly publish press releases on favorable terms. In addition, the business portal makes it possible to more fully tell about the life of the company by adding photos and videos, personas and employee quotes. All information materials have active links and will lead potential customers to your resource.
Alena Potapova
---
Development Director