18 February 2021
1864
4 min.
3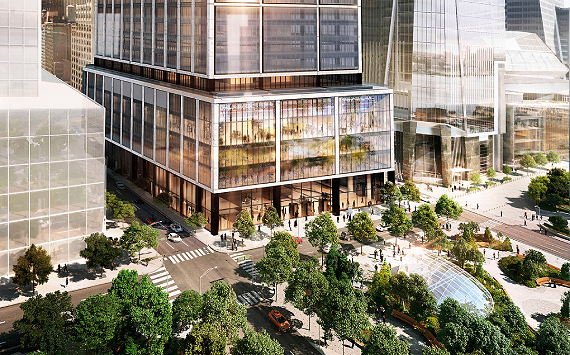 Related companies, Mitsui Fudosan America and Oxford Properties Group announced on February 12, 2021, that 50 Hudson Yards, the fourth-largest office tower in New York City and the largest commercial office building in the county by area, has officially ended. On this day, in the morning, the beam was lifted into place. The LEED Gold-designed building, which is 1,011 feet tall and has a total floor area of 2.9 meters, is already 75 percent leased. The LEED Gold-designed, 1,011 ft tall, 2.9 m gross-square-foot building is already 75 per cent leased. The tenants will include BlackRock's new corporate headquarters, which occupies 970,000 square feet, and Facebook, which occupies 1.2 square meters. The building is expected to open on schedule in 2022.
Designed by Foster + Partners, 50 Hudson Yards features "concrete superstructure first" construction which expedites core fit out. The structure contains 117,200 CY of concrete, 26,800 tons of structural steel and 11,460 panels of glass curtain wall. It is the second U.S. construction project to employ the Despe self-climbing cocoon improving worker safety standards and creating much needed perimeter exterior work space as the steel frame was erected.
"The topping out of 50 Hudson Yards, on schedule despite a global pandemic, underscores the incredible construction team who remained committed to robust safety precautions as they redefined the City skyline," said Bruce A. Beal Jr., President of Related Companies. "New York City has long been one of the world's centers of innovation and commerce and we know this city's best days are still ahead, fueled by a new generation of modern office space that will continue to attract the best companies and talent."
"This milestone would not have been possible without the commitment of hundreds of New York construction workers who have worked tirelessly to ensure this project comes to life despite the unprecedented impact of the pandemic," commented Dean Shapiro, Head of US Development at Oxford Properties. "It's up to all of us to build a New York for the future, and we're proud to be developing a home for some of the world's most innovative companies at Hudson Yards that will continue to drive the city's economy."
50 Hudson Yards will welcome tenants to a new workplace standard with expansive floorplates ideal for large trading floors and other collaborative work environments that are able to accommodate 500+ employees per floor. Floors will offer sweeping views of the Hudson River and City skyline. The building will feature 94 elevators to facilitate seamlessly movement throughout the building.
Located on a full block between Hudson Boulevard and Tenth Avenue between 33rd and 34th Street with direct access to the No. 7 Subway, the amenities-driven building features executive valet parking in a private porte-cochère, dedicated ground level lobbies with two abstract sculptures by acclaimed Artist Frank Stella, communal sky lobbies, outdoor terraces, and more.
About Oxford Properties Group:
Oxford Properties Group connects people to exceptional places, and is the owner, developer and asset manager of some of the world's best real estate assets. Established in 1960, it manages approximately C$60 billion of assets across the globe on behalf of its co-owners and investment partners. Oxford's portfolio encompasses office, retail, industrial, life sciences, hotels and multifamily residential and spans more than 100 million square feet in global gateway cities across four continents. A highly disciplined and thematic investor, Oxford invests in properties, portfolios, development sites, debt, securities and platform opportunities across the risk-reward spectrum. With its global headquarters in Toronto, Oxford operates out of over 15 regional offices including New York, London, Luxembourg, Singapore and Sydney. Its long-term approach to real estate investment aligns Oxford's interests to its customers and the communities in which it operates. Oxford is owned by OMERS the defined benefit pension plan for Ontario's municipal employees.
Contact:
Related Companies
Jon Weinstein
212-801-1000
Communications@Related.com
NEW YORK PRESS RELEASES
GlobalNY.biz Press Releases are the latest news from New York companies.
Official press releases of New York companies are regularly published on the resource. You can find out the latest news of enterprises in the corresponding section on the main page. Placing press releases is a traditional and effective way to promote your business. It allows organizations to announce themselves and their products and services to the widest possible audience. In this case, the informational occasion can be anything: attracting people to an event or conference, highlighting new products or personnel appointments. If you set a goal to draw attention to your information, then GlobalNY.biz will become your reliable assistant in this matter. Thanks to the portal, your press release will be seen by reviewers of leading Internet publications, clients and partners.
GlobalNY.biz allows representatives of companies and organizations in New York to independently post a press release when registering on the resource. The most important feature of GlobalNY.biz is that all publications of New York companies fall into the archives and will be available from the search for a long time. You just need to add the press release to the news feed.
GlobalNY.biz offers its customers a subscription service that allows companies to regularly publish press releases on favorable terms. In addition, the business portal makes it possible to more fully tell about the life of the company by adding photos and videos, personas and employee quotes. All information materials have active links and will lead potential customers to your resource.
Alena Potapova
---
Development Director