18 February 2021
1923
3 min.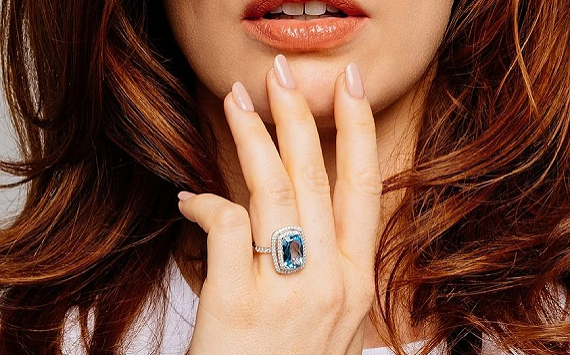 By combining brilliant diamonds with natural gemstones, we've created a timeless collection of wearable luxury, each design striking and unique.
After residing in multiple cities and communicating in various languages, artist David Guez has seen the world through a kaleidoscopic lens—appreciating every colorful facet in its natural beauty. Having created a visual language through his gestural abstraction, Guez possesses a penchant for making a mark with his work to bring forth an unforgettable statement. In a pursuit to further explore and convey through design, he now translates this expression into jewelry—developing Heaven-Roc, a sophisticated line of luxury that links romanticism and the classic to create chic wearable pieces for modern times.
With a fusion of fashion and architecture—Guez's two primary sources of inspiration—the brand's scintillating assemblage combines brilliant diamonds with natural gemstones and prides itself on expert craftsmanship with handcrafted metallics, specially handpicked and ethically-sourced. The meticulous brushwork mastered by Guez in his art isn't lost—wonderfully resonant in each construction and just every bit as interesting as its artful roots.
Original and imaginative, Heaven-Roc is sure to be the contemporary sartorialist's go-to for the best place to buy handcrafted, semi-precious gemstone jewelry with its aim to be an intrinsic part of your personal aesthetic featuring whimsical yet sophisticated treasures. The brand's ethos is driven by a perfect harmony of elegance and fun individualism, presenting an arsenal of impeccable metals that span from subtle, chromatic bijoux to vibrant and striking jewels for those who prefer a more dazzling approach. No matter your avenue or the season, this cutting-edge label embraces every independent spirit, ready to elevate any look exquisitely.
Just like the essence of Guez's creativity, Heaven-Roc is dynamic and grand. And with every piece you bring home is a fragment of the artist's ardent genius as a creator, along with the ease of the timeless New York splendor. Pick your armor and get ready to make your mark.
Dolce Vita Collection: The allure of vintage glam
The Dolce Vita collection represents a substantial part of New York's appeal - the grandeur of old Hollywood. It speaks for the glitz and glam flourished throughout the 20th century with stars and socialites gracing the scene. Inspired by this vintage pizzaz, Dolce Vita is all about the allure of the classic featuring gems in delicate geometric cuts surrounded by glimmering stones, each in their own unique design.
The Dolce Vita Collection consists of 4 magnificent timeless yet modern ring styles. Each, crafted from diamonds and semi-precious stones from topaz to amethyst. Elizabeth, a stunning emerald-cut topaz ring; Charlotte, a marquise-cut amethyst beauty; Eva, a classic cushion-cut citrine ring; and Sophia, a handcrafted cushion-cut green quartz make up the covetable collection.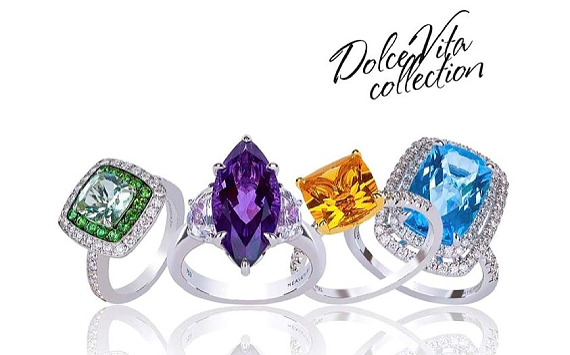 Riviera Collection: A magnificent marriage of French and New York styles
Akin to the tropical allure of the plush destination it's named after, the Riviera collection blends with the charm of the French with the artfulness and edge of New York's melting pot. Its resplendent style is expressive of creator David Guez's affinity for whimsicality materialized into dazzling streams of gemstones and diamonds in all their prismatic glory.
The Riviera Collection offers 4 exquisite pieces of wearable art, each with its unique charm. The pieces feature a myriad of semi-precious stones - blue sapphire, tsavorites, lime quartz, blue topaz, and the star of the show: diamonds.
Like the essence of Guez's creativity, Heaven-Roc is dynamic and grand. Not only will it be your updated go-to for casual luxury needs but also the newest and best online engagement ring store for those special moments. And with every piece you bring home is a fragment of the artist's ardent genius as a creator, along with the ease of the timeless New York splendor.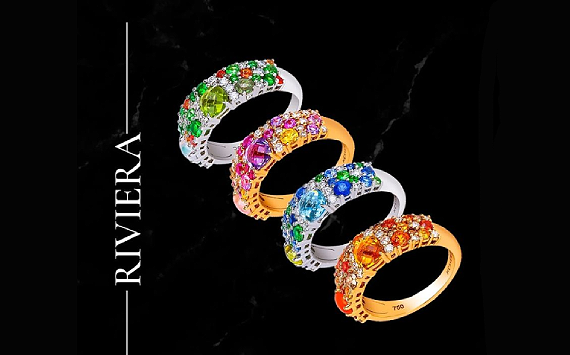 NEW YORK PRESS RELEASES
GlobalNY.biz Press Releases are the latest news from New York companies.
Official press releases of New York companies are regularly published on the resource. You can find out the latest news of enterprises in the corresponding section on the main page. Placing press releases is a traditional and effective way to promote your business. It allows organizations to announce themselves and their products and services to the widest possible audience. In this case, the informational occasion can be anything: attracting people to an event or conference, highlighting new products or personnel appointments. If you set a goal to draw attention to your information, then GlobalNY.biz will become your reliable assistant in this matter. Thanks to the portal, your press release will be seen by reviewers of leading Internet publications, clients and partners.
GlobalNY.biz allows representatives of companies and organizations in New York to independently post a press release when registering on the resource. The most important feature of GlobalNY.biz is that all publications of New York companies fall into the archives and will be available from the search for a long time. You just need to add the press release to the news feed.
GlobalNY.biz offers its customers a subscription service that allows companies to regularly publish press releases on favorable terms. In addition, the business portal makes it possible to more fully tell about the life of the company by adding photos and videos, personas and employee quotes. All information materials have active links and will lead potential customers to your resource.
Alena Potapova
---
Development Director