27 October 2020
2042
2 min.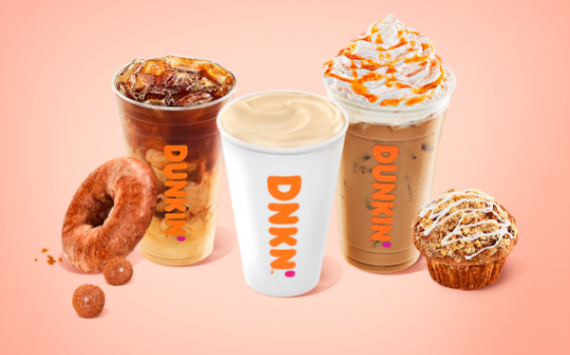 Happy National Pumpkin Day! In honor of one of our favorite fall holidays, we've rounded up some of the delicious ways you can celebrate with Dunkin'. Whether you're looking for a sweet seasonal sip, like our Signature Pumpkin Spice Latte, or a tasty treat, like a Pumpkin Donut, Dunkin' has something for every pumpkin lover to enjoy this National Pumpkin Day.
1. Signature Pumpkin Spice Latte
Our Signature Pumpkin Spice Latte is the perfect seasonal sip to spice up your day. Elevating PSL to another level of enjoyment, the Signature Pumpkin Spice Latte – available hot or iced – combines rich, smooth espresso with pumpkin spice and vanilla flavors, topped with whipped cream, a caramel drizzle, and cinnamon sugar topping.
2. Pumpkin Flavored Coffee
Fall wouldn't be complete without the return of our beloved pumpkin flavored swirl. The classic choice for fueling up this fall, our pumpkin flavored swirl is available to add to our hot or iced coffee, Chai Latte, Cold Brew, espresso drinks, frozen coffee, and frozen chocolate.
3. Pumpkin Donut, MUNCHKINS® Donut Hole Treats and Muffin
Another favorite that we brought back this fall is our Pumpkin Donut, a glazed pumpkin cake donut that can also be enjoyed as bite-size MUNCHKINS® donut hole treats, as well as our Pumpkin Muffin, topped with white icing and sweet streusel crumbs.
4. Pumpkin K-Cup® Pods and Packaged Coffee
Pumpkin fanatics can also take the flavor home with our Pumpkin K-Cup® Pods, available at participating Dunkin' restaurants for a limited time. Pumpkin Spice K-Cup® Pods and packaged coffee are also available in grocery stores and other retailers nationwide for a limited time this season.
5. Munchkins® Milkshakes
Last but not least, those lucky enough to live in the Chicago area can enjoy a tasty twist on the traditional milkshake with new Munchkins® Milkshakes, featuring an irresistible combination of Pumpkin Munchkins® and Baskin-Robbins' ice cream Flavor of the Month, Pumpkin Cheesecake. This delectable treat is available at all 250 Dunkin'/Baskin-Robbins combo locations throughout the greater Chicago area now through the end of November.
NEW YORK PRESS RELEASES
GlobalNY.biz Press Releases are the latest news from New York companies.
Official press releases of New York companies are regularly published on the resource. You can find out the latest news of enterprises in the corresponding section on the main page. Placing press releases is a traditional and effective way to promote your business. It allows organizations to announce themselves and their products and services to the widest possible audience. In this case, the informational occasion can be anything: attracting people to an event or conference, highlighting new products or personnel appointments. If you set a goal to draw attention to your information, then GlobalNY.biz will become your reliable assistant in this matter. Thanks to the portal, your press release will be seen by reviewers of leading Internet publications, clients and partners.
GlobalNY.biz allows representatives of companies and organizations in New York to independently post a press release when registering on the resource. The most important feature of GlobalNY.biz is that all publications of New York companies fall into the archives and will be available from the search for a long time. You just need to add the press release to the news feed.
GlobalNY.biz offers its customers a subscription service that allows companies to regularly publish press releases on favorable terms. In addition, the business portal makes it possible to more fully tell about the life of the company by adding photos and videos, personas and employee quotes. All information materials have active links and will lead potential customers to your resource.
Alena Potapova
---
Development Director