3 August 2023
1895
2 min.
1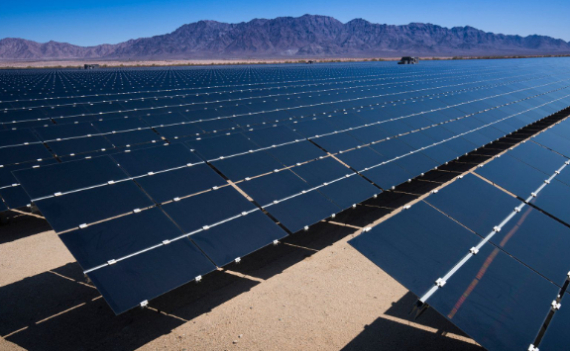 Geographical Information Service (GIS) provider Esri honors Bechtel with this year's Special Achievement recognition
Bechtel today announced that its Cutlass Solar project, the new 140 MwDC solar energy facility in Fort Bend, Texas, has been recognized for its innovative use of digital tools to deliver best-in-class engineering, procurement, construction, and project management.
Bechtel was awarded the Special Achievement in GIS recognition for its 'minutes matter' initiative, which brings Bechtel's trusted integrated engineering, procurement, and construction (EPC) philosophy to utility-scale solar farm projects. This approach optimizes the impacts of scale to improve safety and health, increase productivity, promote repeatability, and continuously improve. The award was given to Bechtel today at Esri's Annual User conference in San Diego.
"It is an honor to receive the Special Achievement in GIS Award for Bechtel's one-of-a-kind approach to executing a project, from engineering to commission, to bringing these critically important projects online in record time," said Kelley Brown, EPC Operations Manager for Bechtel. "Bechtel set out to develop an innovative, 100% digital execution methodology that not only allows for a faster and safer approach to project management and delivery, but also helps meet the worldwide demand for reliable, clean electricity at affordable prices."
Completed in January 2023, the Cutlass Solar facility is producing enough electricity to power approximately 20,000 homes.
Bechtel leveraged digital tools to help manage the project and integrate automation, using the Esri ArcGIS platform as the primary resource for construction. This centralized system captured all project data tied to geographic positions on the earth's surface, allowing for analysis and management across the many acres of the solar project, providing for streamlined communications between all team members.
"Users across all industries continue to show the groundbreaking possibilities of what GIS can help them accomplish," said Jack Dangermond, Esri founder and president. "I am honored to recognize all the organizations for the many ways they are taking a geographic approach toward meeting some of the most pressing challenges our world faces today."
Persons1 in the news

Global Communications Sector Lead, Bechtel Infrastructure and Power Corp (BIPC)
Press releases on the topic
NEW YORK PRESS RELEASES
GlobalNY.biz Press Releases are the latest news from New York companies.
Official press releases of New York companies are regularly published on the resource. You can find out the latest news of enterprises in the corresponding section on the main page. Placing press releases is a traditional and effective way to promote your business. It allows organizations to announce themselves and their products and services to the widest possible audience. In this case, the informational occasion can be anything: attracting people to an event or conference, highlighting new products or personnel appointments. If you set a goal to draw attention to your information, then GlobalNY.biz will become your reliable assistant in this matter. Thanks to the portal, your press release will be seen by reviewers of leading Internet publications, clients and partners.
GlobalNY.biz allows representatives of companies and organizations in New York to independently post a press release when registering on the resource. The most important feature of GlobalNY.biz is that all publications of New York companies fall into the archives and will be available from the search for a long time. You just need to add the press release to the news feed.
GlobalNY.biz offers its customers a subscription service that allows companies to regularly publish press releases on favorable terms. In addition, the business portal makes it possible to more fully tell about the life of the company by adding photos and videos, personas and employee quotes. All information materials have active links and will lead potential customers to your resource.
Alena Potapova
---
Development Director