13 July 2023
260
2 min.
1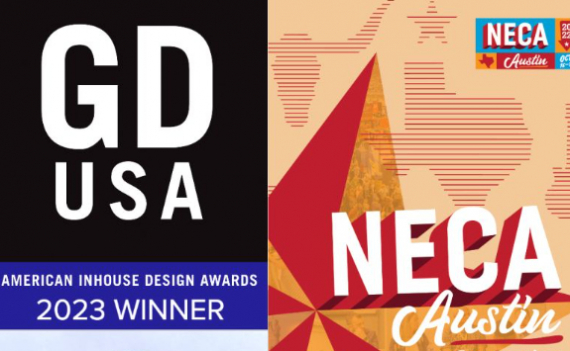 NECA is pleased to announce that the NECA 2022 Austin Convention Poster won a 2023 American Inhouse Graphic Design award from Graphic Design USA (GDUSA)!
The 2022 poster, part of the series of posters commemorating the annual Convention, was created by Junior Graphic Designer Sarah O'Grady. Recognized as one of the most appealing posters amongst hundreds of submissions nationwide, O'Grady's design faced tough competition. GDUSA competitions attract work from many notable companies such as AARP, Bank of America, Costco Wholesale, Morgan Stanley, T. Rowe Price, 3M and PepsiCo.
"It is an honor to be recognized for this award and I cannot be more thankful to my team for their continued help and encouragement," said O'Grady.
According to GDUSA, the American Inhouse Design Awards are 'the original and premier showcase for outstanding work by inhouse creatives and their departments.' The 2023 competition was the 60th anniversary of the awards. The competition typically attracts thousands of entries and recognizes approximately five percent of those entries with awards. Awards are presented to those projects that exhibit the many ways inhouse designers advance the mission of their companies and build value for their companies, institutions, brands and causes.
"I'm excited to receive a 2023 GDUSA Inhouse Graphic Design Award, and even more thrilled for Sarah," said NECA Creative Director Ginger Wilson. "Sarah joined our team shortly before designing the poster and clearly made an impact from day one."
NECA's creative team—Wilson, Senior Graphic Designer Mia Flowers, and O'Grady—has won Inhouse Design Awards in 2008, 2009 and 2020. In some of these years the team won awards for multiple projects. The team is responsible for a wide range of projects including branding and collateral for the NECA Convention and other meetings, the design of Safety Leader and Line Contractor magazines, and design and production of ELECTRI International research reports, NEIS, safety, and education publications. Their skilled work helps to deliver effective, authentic and trustworthy materials that magnify NECA's message and value.
Persons1 in the news

NECA Creative Director
Press releases on the topic
NEW YORK PRESS RELEASES
GlobalNY.biz Press Releases are the latest news from New York companies.
Official press releases of New York companies are regularly published on the resource. You can find out the latest news of enterprises in the corresponding section on the main page. Placing press releases is a traditional and effective way to promote your business. It allows organizations to announce themselves and their products and services to the widest possible audience. In this case, the informational occasion can be anything: attracting people to an event or conference, highlighting new products or personnel appointments. If you set a goal to draw attention to your information, then GlobalNY.biz will become your reliable assistant in this matter. Thanks to the portal, your press release will be seen by reviewers of leading Internet publications, clients and partners.
GlobalNY.biz allows representatives of companies and organizations in New York to independently post a press release when registering on the resource. The most important feature of GlobalNY.biz is that all publications of New York companies fall into the archives and will be available from the search for a long time. You just need to add the press release to the news feed.
GlobalNY.biz offers its customers a subscription service that allows companies to regularly publish press releases on favorable terms. In addition, the business portal makes it possible to more fully tell about the life of the company by adding photos and videos, personas and employee quotes. All information materials have active links and will lead potential customers to your resource.
Alena Potapova
---
Development Director