31 March 2023
2656
3 min.
1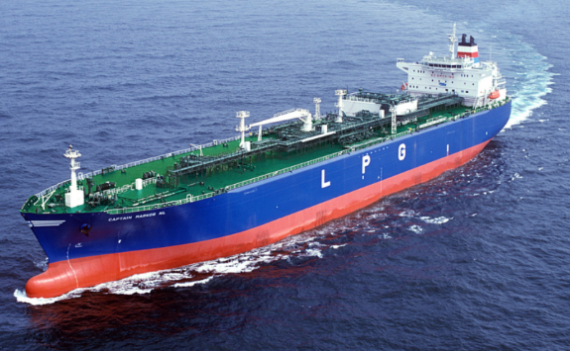 Dorian LPG Ltd. (NYSE: LPG) (the "Company" or "Dorian LPG"), one of the world's largest owners and operators of modern and ECO very large gas carriers ("VLGCs"), is pleased to announce that it took delivery today under a 13-year bareboat charter of its Dual-Fuel LPG Carrier, Captain Markos, which was delivered from Kawasaki Heavy Industries to its Japanese owner on the same date. She will trade in the Helios LPG Pool which we operate jointly with Phoenix Tankers Pte. Ltd., a wholly-owned subsidiary of Mitsui OSK Lines Ltd.
John Hadjipateras, Chairman, President and Chief Executive Officer of Dorian LPG Ltd. said, "We are very pleased to welcome Captain Markos, which will be our first technically managed dual-fuel LPG VLGC. She is the third of four Dual-Fuel VLGCs that are scheduled for delivery to the Company during calendar 2023, each with improved economics and carbon footprints, consistent with our mission to provide safe, reliable, clean, and trouble-free transportation. We thank our Japanese partners for their role in this transaction, and we wish our seafarers fair winds and smooth seas."
Similar to our previous Japanese financings, this transaction is treated as a financing transaction and Captain Markos will be recorded as an asset on our balance sheet. Prior to the delivery of the vessel, we paid $25.0 million in cash and, upon delivery, entered into a $56 million bareboat charter financing arrangement. This debt financing has a floating interest rate of one-month SOFR plus a credit adjustment spread of .1148% (reflecting the difference between unsecured LIBOR and SOFR) and a margin of 2.475%, monthly broker commission fees of 1.25% over the 13-year term on interest and principal payments made, broker commission fees of 1.0% payable on the remaining debt outstanding at the time of the repurchase of Captain Markos, and a monthly fixed straight-line principal obligation of $0.210 million until March 31, 2028 and of $0.250 million from April 30, 2028 through the remainder of bareboat charter period with a balloon payment of $19.4 million. The Company has early buyout options beginning March 31, 2028.
Forward-Looking & Other Cautionary Statements
This press release contains "forward-looking statements." Statements that are predictive in nature, that depend upon or refer to future events or conditions, or that include words such as "expects," "anticipates," "intends," "plans," "believes," "estimates," "projects," "forecasts," "may," "will," "should" and similar expressions are forward-looking statements. These statements are not historical facts but instead represent only the Company's current expectations and observations regarding future results, many of which, by their nature are inherently uncertain and outside of the Company's control. Where the Company expresses an expectation or belief as to future events or results, such expectation or belief is expressed in good faith and believed to have a reasonable basis. However, the Company's forward-looking statements are subject to risks, uncertainties, and other factors, which could cause actual results to differ materially from future results expressed, projected, or implied by those forward-looking statements. The Company's actual results may differ, possibly materially, from those anticipated in these forward-looking statements as a result of certain factors, including changes in the Company's financial resources and operational capabilities and as a result of certain other factors listed from time to time in the Company's filings with the U.S. Securities and Exchange Commission. For more information about risks and uncertainties associated with Dorian LPG's business, please refer to the "Management's Discussion and Analysis of Financial Condition and Results of Operations" and "Risk Factors" sections of Dorian LPG's SEC filings, including, but not limited to, its annual report on Form 10-K and quarterly reports on Form 10-Q. The Company does not assume any obligation to update the information contained in this press release.
Persons1 in the news

President and Chief Executive Officer of Dorian LPG Ltd.
Press releases on the topic
NEW YORK PRESS RELEASES
GlobalNY.biz Press Releases are the latest news from New York companies.
Official press releases of New York companies are regularly published on the resource. You can find out the latest news of enterprises in the corresponding section on the main page. Placing press releases is a traditional and effective way to promote your business. It allows organizations to announce themselves and their products and services to the widest possible audience. In this case, the informational occasion can be anything: attracting people to an event or conference, highlighting new products or personnel appointments. If you set a goal to draw attention to your information, then GlobalNY.biz will become your reliable assistant in this matter. Thanks to the portal, your press release will be seen by reviewers of leading Internet publications, clients and partners.
GlobalNY.biz allows representatives of companies and organizations in New York to independently post a press release when registering on the resource. The most important feature of GlobalNY.biz is that all publications of New York companies fall into the archives and will be available from the search for a long time. You just need to add the press release to the news feed.
GlobalNY.biz offers its customers a subscription service that allows companies to regularly publish press releases on favorable terms. In addition, the business portal makes it possible to more fully tell about the life of the company by adding photos and videos, personas and employee quotes. All information materials have active links and will lead potential customers to your resource.
Alena Potapova
---
Development Director