10 February 2023
1298
2 min.
2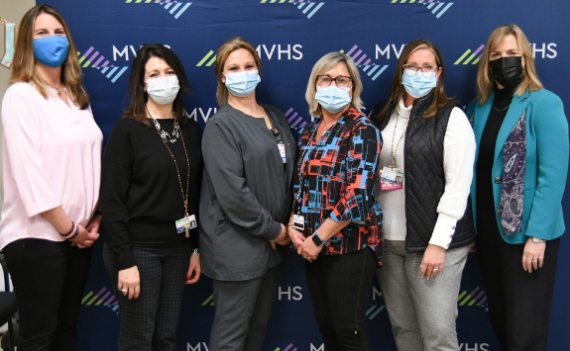 The Mohawk Valley Health System (MVHS) CenteringPregnancy program received a $150,000 Member and Community Health Improvement (MACHI) grant from Excellus BlueCross BlueShield. The Excellus BCBS grant is intended to improve maternal health and health equity in upstate New York.
MVHS offers the area's only licensed CenteringPregnancy program, which brings 8-10 women all due at the same time together for their care. Centering group prenatal care follows the recommended schedule of 10 prenatal visits, but each visit is 90 minutes to two hours long – giving women much more time with their provider. Moms engage in their care by taking their own weight and blood pressure and recording their own health data, with private time with their provider for belly check.
"Since beginning the MVHS CenteringPregnancy program, we have held 36 groups, providing prenatal care to more than 240 moms," said Jaime Kierpiec, RN, Maternal Child Services Nurse Education. "It is really gratifying to see the bonds these moms and families make during their time together. In the fall of 2019, before the COVID pandemic put our program on hold for a while, we held a CenteringPregnancy reunion. We invited all women that attended CenteringPregnancy, their partner and infant to the reunion. Women that attended Centering together sat with each other. As I walked around the room, I learned that many of the women remained friends and get their children together.
"We are so appreciative to Excellus BCBS for this grant which will help us expand CenteringPregnancy to more women in our community who have difficulty accessing prenatal care."
According to research, CenteringPregnancy has been shown to nearly eliminate racial disparities in preterm birth. All women, but especially African American women, who are at higher risk in the US, experience lower risk of preterm birth when enrolled in CenteringPregnancy than traditional care. This is particularly important in Oneida County since the preterm birth rate is substantially higher than the state's rate. Additionally, a large percentage of MVHS patients are followed for high-risk pregnancies, which include the risk of preterm delivery.
"Maternal health and health equity is at the forefront of our community investment strategy," explains Eve Van de Wal, Excellus BCBS regional president. "By collaborating with community partners like MVHS, we can help close gaps in care and create a positive impact on maternal health in our community. We are proud to provide funding for the CenteringPregnancy program that offers peer support and vital access to care, which helps improve outcomes and promotes safe pregnancies and childbirth for those who often face health disparities."
Photo Caption:From left to right: Shayna Keller of Excellus BCBS; Renee Minasov, MS, FNP-C, Jaime Kierpiec, RN, Marianne Stalteri, NP, CNM, Renee Bonafield, RN, BSN, IBCLC, of MVHS; and Eve Van de Wal, regional president of Excellus BCBS.
Persons1 and Companies1 in the news

Excellus BCBS regional president
Press releases on the topic
NEW YORK PRESS RELEASES
GlobalNY.biz Press Releases are the latest news from New York companies.
Official press releases of New York companies are regularly published on the resource. You can find out the latest news of enterprises in the corresponding section on the main page. Placing press releases is a traditional and effective way to promote your business. It allows organizations to announce themselves and their products and services to the widest possible audience. In this case, the informational occasion can be anything: attracting people to an event or conference, highlighting new products or personnel appointments. If you set a goal to draw attention to your information, then GlobalNY.biz will become your reliable assistant in this matter. Thanks to the portal, your press release will be seen by reviewers of leading Internet publications, clients and partners.
GlobalNY.biz allows representatives of companies and organizations in New York to independently post a press release when registering on the resource. The most important feature of GlobalNY.biz is that all publications of New York companies fall into the archives and will be available from the search for a long time. You just need to add the press release to the news feed.
GlobalNY.biz offers its customers a subscription service that allows companies to regularly publish press releases on favorable terms. In addition, the business portal makes it possible to more fully tell about the life of the company by adding photos and videos, personas and employee quotes. All information materials have active links and will lead potential customers to your resource.
Alena Potapova
---
Development Director