14 December 2022
3015
2 min.
1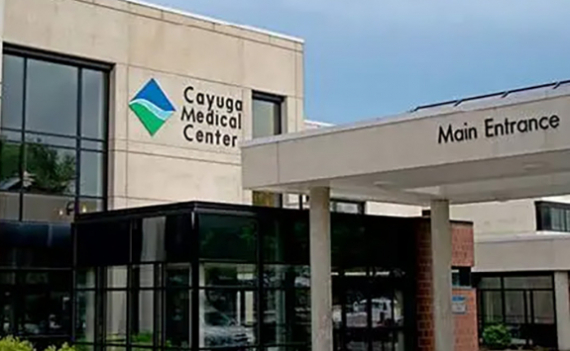 Cayuga Medical Center (CMC), a member of Cayuga Health, has been designated a 2022-2023 Best Maternity Hospital by U.S. News & World Report. CMC is one of only nine New York State hospitals to receive this distinction. This is the highest award a hospital can earn for U.S. News' Best Hospitals for Maternity Care.
The annual evaluation is designed to assist expectant parents and their doctors in making informed decisions about where to receive maternity care.
Cayuga Medical Center earned a High Performing designation in recognition of maternity care as measured by factors such as newborn complication rates.
"This recognition is a testament to the committed members of our Cayuga Birthplace team at CMC and all who support them" said Martin Stallone, MD, Chief Executive Officer of Cayuga Health. "We believe that every patient should have convenient access to safe, compassionate maternity care, at every stage of pregnancy. We are honored to provide such a high-quality service for new mothers in Tompkins, Cortland, and Schuyler Counties."
"We are proud of the care our obstetricians, neonatologists, midwives, nurses, and entire maternal & child health team provides" stated Naph'tali Edge, Cayuga Health's Chief Nursing Officer. "Our family-centered approach to prenatal care, labor and delivery, through the Neonatal Intensive Care Unit ensures our patients receive compassionate, collaborative attention at all levels."
U.S. News evaluated nearly 650 hospitals that provide high-quality labor & delivery services for uncomplicated pregnancies for its 2022-2023 Best Hospitals for Maternity Care. Fewer than half of all hospitals that offer maternity care and participated in the survey received a High Performing designation.
The U.S. News Best Hospitals for Maternity Care methodology is based entirely on objective measures of quality, such as C-section rates in lower-risk pregnancies, newborn complication rates, exclusive breast milk feeding rates, early elective delivery rates and vaginal birth after cesarean (VBAC) rates, among other measures.
For more information, visit Best Hospitals for Maternity Care and use #BestMaternityHospitals on Facebook and Twitter.
For more information about the Cayuga Birthplace at Cayuga Medical Center, visit www.cayugamed.org/services-2/birthplace/
Persons1 in the news

Chief Executive Officer of Cayuga Health
Press releases on the topic
NEW YORK PRESS RELEASES
GlobalNY.biz Press Releases are the latest news from New York companies.
Official press releases of New York companies are regularly published on the resource. You can find out the latest news of enterprises in the corresponding section on the main page. Placing press releases is a traditional and effective way to promote your business. It allows organizations to announce themselves and their products and services to the widest possible audience. In this case, the informational occasion can be anything: attracting people to an event or conference, highlighting new products or personnel appointments. If you set a goal to draw attention to your information, then GlobalNY.biz will become your reliable assistant in this matter. Thanks to the portal, your press release will be seen by reviewers of leading Internet publications, clients and partners.
GlobalNY.biz allows representatives of companies and organizations in New York to independently post a press release when registering on the resource. The most important feature of GlobalNY.biz is that all publications of New York companies fall into the archives and will be available from the search for a long time. You just need to add the press release to the news feed.
GlobalNY.biz offers its customers a subscription service that allows companies to regularly publish press releases on favorable terms. In addition, the business portal makes it possible to more fully tell about the life of the company by adding photos and videos, personas and employee quotes. All information materials have active links and will lead potential customers to your resource.
Alena Potapova
---
Development Director