18 February 2023
1397
1 min.
1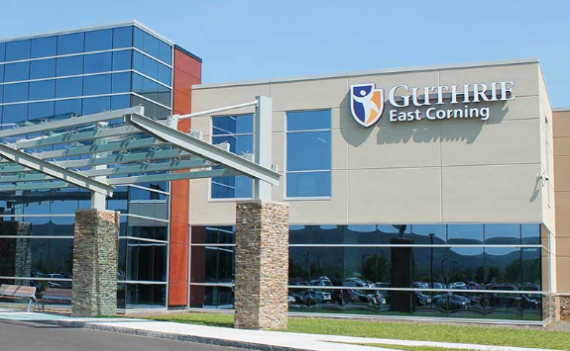 More than $100,000 was raised at the Guthrie Corning Hospital Valentine's Ball, with net proceeds benefitting the Guthrie Corning Cancer Center. The sold-out event was held Feb. 11 at the Corning Museum of Glass. The evening included dinner and dancing to music from the band Into the Spin. Guests also heard the inspirational story of one of the patients from the Guthrie Corning Cancer Center.
During the event, Dr. Edmund Sabanegh, Guthrie President and CEO, highlighted some of Guthrie's accomplishments in the Corning community in the past year, including the expansion of robotic surgery and the many awards and recognitions earned. He said "It's because of the generosity of so many throughout the community that many of these accomplishments are possible. You can see that every gift Guthrie receives moves us forward in providing the highest quality care to those who rely on us. Thank you again for your continued support."
The Guthrie Corning Cancer Center adjoins the Guthrie Corning Hospital and provides easy access to medical, radiation and surgical oncologists, comprehensive interventional radiology treatments, a large selection of clinical trials, minimally invasive surgical options and a complete range of support services.
Persons1 in the news

Chief Executive Officer of Guthrie
Press releases on the topic
NEW YORK PRESS RELEASES
GlobalNY.biz Press Releases are the latest news from New York companies.
Official press releases of New York companies are regularly published on the resource. You can find out the latest news of enterprises in the corresponding section on the main page. Placing press releases is a traditional and effective way to promote your business. It allows organizations to announce themselves and their products and services to the widest possible audience. In this case, the informational occasion can be anything: attracting people to an event or conference, highlighting new products or personnel appointments. If you set a goal to draw attention to your information, then GlobalNY.biz will become your reliable assistant in this matter. Thanks to the portal, your press release will be seen by reviewers of leading Internet publications, clients and partners.
GlobalNY.biz allows representatives of companies and organizations in New York to independently post a press release when registering on the resource. The most important feature of GlobalNY.biz is that all publications of New York companies fall into the archives and will be available from the search for a long time. You just need to add the press release to the news feed.
GlobalNY.biz offers its customers a subscription service that allows companies to regularly publish press releases on favorable terms. In addition, the business portal makes it possible to more fully tell about the life of the company by adding photos and videos, personas and employee quotes. All information materials have active links and will lead potential customers to your resource.
Alena Potapova
---
Development Director