25 January 2023
2734
2 min.
1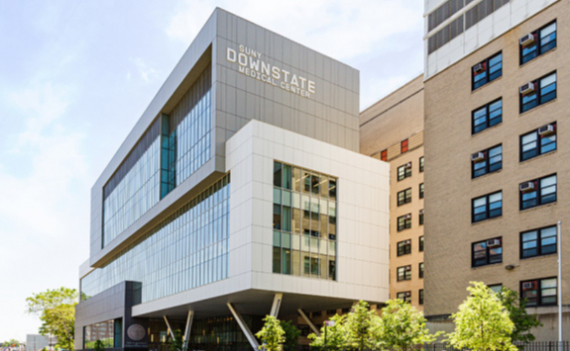 Downstate's Online Graduate Nursing Programs Earn Top Spots for the 2023 Best Online Programs and 2023 Best Online Programs for Veterans Rankings
Brooklyn, NY – SUNY Downstate Health Sciences University today announced that it has received national recognition for its online graduate nursing programs by U.S. News & World Report.
SUNY Downstate Health Sciences University has been ranked No.53 among the 2023 Best Online Graduate Nursing Programs and No.19 among the Veterans Graduate Nursing Programs by U.S. News & World Report – the global leader in news, consumer advice, rankings, and analysis.
"SUNY Downstate goes above and beyond to provide the best and most efficient programs possible to ensure that every student who wishes to pursue a degree is able to do so. It is an honor to be recognized by U.S. News for our major contributions to online education and our mission to provide accessible, high-quality medical education to all students," said SUNY Downstate president Wayne J. Riley , M.D.
Designed for individuals looking to complete or further their education, this year's edition evaluates more than 1,800 online bachelor's and master's degree programs. U.S. News assessed the schools based on a variety of objective factors, such as student engagement, faculty credentials, and services and technologies.
"Most of the undergraduate programs in the Best Online Programs rankings are degree completion programs, meaning the vast majority of their students already have some college credit," said Liana Loewus, managing editor of Education at U.S. News. "The methodologies are developed with those students in mind, setting these rankings apart from those that are focused on recent high school graduates pursuing higher education for the first time."
Prospective students can see how SUNY Downstate Health Sciences University compares to other institutions and how the rankings are calculated on USNews.com.
Persons1 in the news

President SUNY Downstate Health Sciences University
Press releases on the topic
NEW YORK PRESS RELEASES
GlobalNY.biz Press Releases are the latest news from New York companies.
Official press releases of New York companies are regularly published on the resource. You can find out the latest news of enterprises in the corresponding section on the main page. Placing press releases is a traditional and effective way to promote your business. It allows organizations to announce themselves and their products and services to the widest possible audience. In this case, the informational occasion can be anything: attracting people to an event or conference, highlighting new products or personnel appointments. If you set a goal to draw attention to your information, then GlobalNY.biz will become your reliable assistant in this matter. Thanks to the portal, your press release will be seen by reviewers of leading Internet publications, clients and partners.
GlobalNY.biz allows representatives of companies and organizations in New York to independently post a press release when registering on the resource. The most important feature of GlobalNY.biz is that all publications of New York companies fall into the archives and will be available from the search for a long time. You just need to add the press release to the news feed.
GlobalNY.biz offers its customers a subscription service that allows companies to regularly publish press releases on favorable terms. In addition, the business portal makes it possible to more fully tell about the life of the company by adding photos and videos, personas and employee quotes. All information materials have active links and will lead potential customers to your resource.
Alena Potapova
---
Development Director