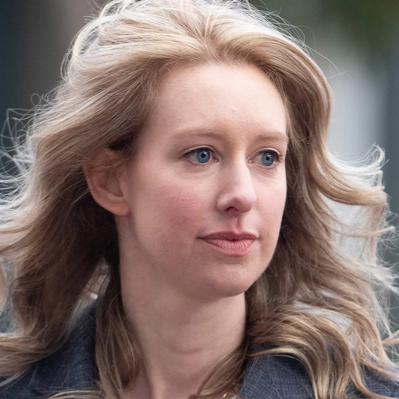 Content
Biography
Elizabeth Anne Holmes is an American former businesswoman found guilty of fraud in 2022, who was the founder and chief executive of Theranos, a now-defunct health technology company that soared in valuation after the company claimed to have revolutionized blood testing by developing testing methods that could use surprisingly small volumes of blood, such as from a fingerprick. By 2015, Forbes had named Holmes the youngest and wealthiest self-made female billionaire in America on the basis of a $9-billion valuation of her company. The next year, following revelations of potential fraud about Theranos's claims, Forbes revised its estimate of Holmes's net worth to zero, and Fortune named her in its feature article on "The World's 19 Most Disappointing Leaders".
The decline of Theranos began in 2015, when a series of journalistic and regulatory investigations revealed doubts about the company's technology claims and whether Holmes had misled investors and the government. In 2018, the U.S. Securities and Exchange Commission charged Theranos and Holmes with deceiving investors by "massive fraud" through false or exaggerated claims about the accuracy of the company's blood-testing technology; Holmes settled the charges by paying a $500,000 fine, returning 18.9 million shares to the company, relinquishing her voting control of Theranos, and being barred from serving as an officer or director of a public company for ten years.
In June 2018, a federal grand jury indicted Holmes and former Theranos chief operating officer (COO) Ramesh Balwani on nine counts of wire fraud and two counts of conspiracy to commit wire fraud for distributing blood tests with falsified results to consumers. The trial in case, U.S. v. Holmes, et al., began on August 31, 2021. Holmes was convicted of four counts of fraud and conspiracy in January 2022. Holmes faces up to 20 years in federal prison, plus potentially millions in restitution and fines.
The credibility of Theranos was attributed in part to Holmes's personal connections and ability to recruit the support of influential people, including Henry Kissinger, George Shultz, Jim Mattis, and Betsy DeVos, all of whom had served or would go on to serve as U.S. presidential cabinet officials. Holmes was in a clandestine romantic relationship with Balwani during most of Theranos's history. Following the collapse of Theranos, she started dating hotel heir Billy Evans.
Holmes's career, the rise and dissolution of her company, and the subsequent fallout are the subject of a book, Bad Blood: Secrets and Lies in a Silicon Valley Startup, by The Wall Street Journal reporter John Carreyrou, and an HBO documentary feature film, The Inventor: Out for Blood in Silicon Valley.
Early life
Elizabeth Holmes was born February 3, 1984, in Washington, D.C. Her father, Christian Rasmus Holmes IV, was a vice president at Enron, an energy company that later went bankrupt after an accounting fraud scandal. Later he held executive positions in government agencies such as USAID, the EPA, and USTDA. Christian Holmes is of Danish and Hungarian ancestry. His great-great-grandfather Charles Louis Fleischmann was a Hungarian Jewish immigrant who founded Fleischmann's Yeast. Among Charles Louis Fleischmann's children were Julius Fleischmann, mayor of Cincinnati from 1900 to 1905 and entrepreneur. Her mother, Noel Anne (née Daoust), worked as a Congressional committee staffer.
Holmes attended St. John's School in Houston. During high school, she was interested in computer programming and says she started her first business selling C++ compilers to Chinese universities. Her parents had arranged Mandarin Chinese home tutoring, and partway through high school, Holmes began attending Stanford University's summer Mandarin program. In 2002, Holmes attended Stanford, where she studied chemical engineering and worked as a student researcher and laboratory assistant in the School of Engineering.
After the end of her freshman year, Holmes worked in a laboratory at the Genome Institute of Singapore and tested for severe acute respiratory syndrome coronavirus (SARS-CoV-1) through the collection of blood samples with syringes. She filed her first patent application on a wearable drug-delivery patch in 2003. In March 2004, she dropped out of Stanford's School of Engineering and used her tuition money as seed funding for a consumer healthcare technology company.
Personal life
Holmes was romantically involved with technology entrepreneur Ramesh "Sunny" Balwani, a Pakistani-born Hindu who immigrated to India and then the US. She met him in 2002 at age 18, while still in school; he was 19 years older than she was and was married to another woman at the time.
Balwani divorced his wife in 2002 and became romantically involved with Holmes in 2003, about the same time Holmes dropped out of university. The couple moved into an apartment together in 2005. Although Balwani did not officially join Theranos until 2009, when he was given the title of chief operating officer, he was advising Holmes behind the scenes from the company's inception. Holmes and Balwani jointly ran the company with a corporate culture of "secrecy and fear" according to employees. Their romantic relationship was kept secret for much of their time running the company. Balwani left Theranos in 2016 in the wake of investigations. The circumstances of his departure are unclear; Holmes has stated that she fired him, but Balwani says that he left of his own accord.
On November 29, 2021, Holmes testified that she had been raped while she was a student at Stanford and that she sought solace from Balwani in the aftermath of the incident. She also said Balwani was very controlling during their romantic relationship, which lasted more than a decade, and at times he berated and sexually abused her. In her testimony, she stated he also wanted to "kill the person" she was and create a "new Elizabeth". However, she also testified that Balwani had not forced her to make the false statements to investors, business partners, journalists and company directors that had been described in the case. In court filings, Balwani has "categorically" denied abuse allegations, calling them "false and inflammatory."
Before the March 2018 settlement, Holmes owned half of Theranos's stock. Forbes listed her as one of America's Richest Self-Made Women in 2015 with a net worth of $4.5 billion. In June 2016, Forbes released an updated valuation of $800 million for Theranos, which made Holmes's stake essentially worthless, because other investors owned preferred shares and would have been paid before Holmes, who owned only common stock. Holmes reportedly owed a $25 million debt to Theranos in connection with exercising stock options. She did not receive any company cash from the arrangement, nor did she sell any of her shares, including those associated with the debt.
In early 2019, Holmes became engaged to William "Billy" Evans, a 27-year-old heir to Evans Hotels, a family-owned group of hotels in the San Diego area. In mid-2019, Holmes and Evans reportedly married in a private ceremony. Holmes has not directly confirmed that the two are actually married, and several sources continue to refer to him as her "partner" rather than her husband. The couple lives in San Francisco. Holmes gave birth to a boy in July 2021.
Mentions in the news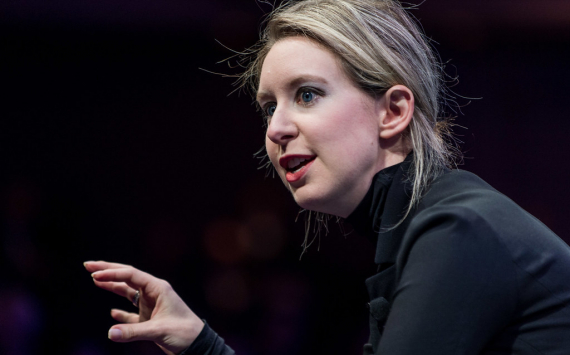 Colleagues
Born in one day
Days left until next birthday: 358 Days.
GlobalNY.biz pays special attention to the activities of famous people: politicians, officials, businessmen, bankers, cultural and sports figures. Their opinion largely determines the development of political, social and economic life in New York. The section is constantly edited by our journalists for the relevance of information. Here you can find information about CEOs and presidents of top New York companies, officials and public figures who play a key role in the development of the region.
The goal of the project is to create a comfortable information space for all market actors, as well as to acquaint the readership with business people in New York.
We have created an impressive database of people in New York, which contains information about a career path, education and other important information about a person.
Thanks to automatic counting of the number of mentions of a person in the news sections " New York News "and" New York Press Releases "on the portal the rating of popularity and influence of persons is formed. The GlobalNY.biz team monitors rating changes and rewards project participants for their success. In general, the rating of participants is based on an in-depth analysis of the activity of PR services of famous people, and also reflects the qualitative state of the information field formed by the media and press services around the organization.
Business People of New York is a project about people who, through their ideas, words and deeds, have a great influence on the development and prosperity of New York.
Alena Potapova
---
Development Director