7 August 2021
1753
2 min.
1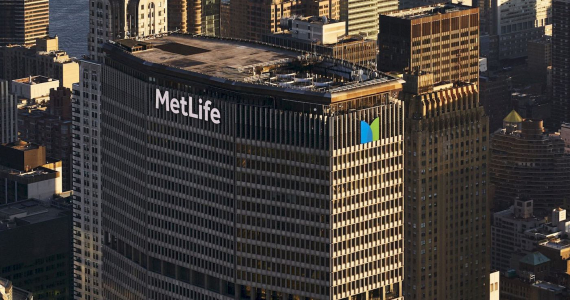 MetLife, Inc. (NYSE: MET) today announced that its board of directors has approved a new $3 billion authorization for the company to repurchase its common stock. The new authorization is incremental to the $475 million remaining under the company's prior authorization announced in December 2020.
"We continue to pursue a balanced, long-term approach to creating shareholder value," said MetLife President and CEO Michel Khalaf. "Last year, we invested approximately $5 billion to drive profitable growth both organically and through acquisition. This April, we announced a 4.3% increase in our common dividend. And today's announcement reflects our commitment to returning excess capital to shareholders."

About MetLife
MetLife, Inc. (NYSE: MET), through its subsidiaries and affiliates ("MetLife"), is one of the world's leading financial services companies, providing insurance, annuities, employee benefits and asset management to help its individual and institutional customers navigate their changing world. Founded in 1868, MetLife has operations in more than 40 markets globally and holds leading positions in the United States, Japan, Latin America, Asia, Europe and the Middle East. For more information, visit www.metlife.com.
Forward-Looking Statements
The forward-looking statements in this news release, using words such as "commitment," "continue," "drive," "pursue" and "returning," are based on assumptions and expectations that involve risks and uncertainties, including the "Risk Factors" MetLife, Inc. describes in its U.S. Securities and Exchange Commission filings. MetLife's future results could differ, and it has no obligation to correct or update any of these statements.
Contacts:
MetLifeFor Media: Meredith Hyland

(212) 578-9415
Meredith.Hyland@metlife.com
MetLifeFor Investors: John Hall

(212) 578-7888
John.A.Hall@metlife.com
NEW YORK PRESS RELEASES
GlobalNY.biz Press Releases are the latest news from New York companies.
Official press releases of New York companies are regularly published on the resource. You can find out the latest news of enterprises in the corresponding section on the main page. Placing press releases is a traditional and effective way to promote your business. It allows organizations to announce themselves and their products and services to the widest possible audience. In this case, the informational occasion can be anything: attracting people to an event or conference, highlighting new products or personnel appointments. If you set a goal to draw attention to your information, then GlobalNY.biz will become your reliable assistant in this matter. Thanks to the portal, your press release will be seen by reviewers of leading Internet publications, clients and partners.
GlobalNY.biz allows representatives of companies and organizations in New York to independently post a press release when registering on the resource. The most important feature of GlobalNY.biz is that all publications of New York companies fall into the archives and will be available from the search for a long time. You just need to add the press release to the news feed.
GlobalNY.biz offers its customers a subscription service that allows companies to regularly publish press releases on favorable terms. In addition, the business portal makes it possible to more fully tell about the life of the company by adding photos and videos, personas and employee quotes. All information materials have active links and will lead potential customers to your resource.
Alena Potapova
---
Development Director