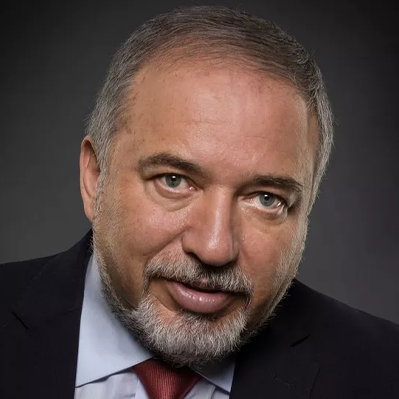 Content
Biography
Avigdor Lieberman is a Soviet-born Israeli politician serving as Minister of Finance since 2021, having previously served twice as Deputy Prime Minister of Israel from 2006 to 2008 and 2009 to 2012.
Lieberman entered the Knesset in 1999, and has served in numerous roles in the government, including as Minister of National Infrastructure, Minister of Transportation, and Minister of Strategic Affairs. He served as Deputy Prime Minister under Prime Ministers Ehud Olmert and Benjamin Netanyahu. He served under Netanyahu as Minister of Foreign Affairs from 2009 to 2012 and 2013 to 2015 and as Minister of Defense from 2016 to 2018. On 14 November 2018, he resigned as Defense Minister because of a ceasefire in Gaza which he characterized as "surrendering to terror."
He is the founder and leader of the secular nationalist Yisrael Beiteinu (Israel Our Home) party, whose electoral base initially consisted overwhelmingly of Russian-speaking immigrants from the former Soviet Union, but later attracted broader support. Lieberman has stated his opposition to forming a coalition with religious parties and refused to join Benjamin Netanyahu's coalition in April 2019. As a result of the arrival in Israel during the 1990s of about one million Russian-speaking immigrants, Yisrael Beiteinu has regularly played the "king-maker" role in Israel's coalition governments. He was replaced in the Knesset by Elina Bardach-Yalov when he became the Finance minister.
Political career
In 1983–1988, Lieberman helped found the Zionist Forum for Soviet Jewry and was a member of the Board of the Jerusalem Economic Corporation and the Secretary of the Jerusalem branch of the Histadrut Ovdim Le'umit ("National Workers' Union"). In 1988, he started working with Benjamin Netanyahu. From 1993 to 1996, following Netanyahu's election as party leader, Lieberman served as Director-General of the Likud party. After Netanyahu was elected Prime Minister, Lieberman served as Director-General of the Prime Minister's Office from 1996 to 1997.
In 1997, Lieberman resigned from Likud after Prime Minister Netanyahu granted concessions to the Palestinians in the Wye River Memorandum, and expressed disappointment when Yisrael BaAliyah, a new immigrant party headed by Natan Sharansky did not quit the coalition government in protest. In 1999, Lieberman formed the Yisrael Beiteinu party to create a platform for Soviet immigrants who supported a hard line in negotiations with the Palestinians. The party ran for the Knesset during the 1999 legislative election, and ran on a joint list with Aliyah, a party formed by Michael Nudelman and Yuri Stern, who had broken away from Yisrael BaAliyah. The new party won four seats, one of which was taken by Lieberman. Lieberman served on the Foreign Affairs and Defense Committee and State Control Committee, and as Chairman of the Israel-Moldova Parliamentary Friendship League.
In March 2001, Lieberman was appointed Minister of National Infrastructure, but resigned in March 2002.
In the 2003 legislative election, Yisrael Beiteinu ran on a joint list with the National Union. The joint list won seven seats, with Yisrael Beiteinu allotted four of them. In February 2003, Lieberman was appointed Minister of Transport, and resigned from the Knesset to take a seat in the Cabinet. He maintained leadership of the party and returned to the Knesset in 2006. Later he would simultaneously serve in the Knesset and Cabinet.
In May 2004, Lieberman was dismissed from the cabinet by Prime Minister Ariel Sharon due to his opposition to the Gaza disengagement, and Yisrael Beiteinu left the government in June in protest of the disengagement.
In the 2006 legislative election, Lieberman's party split from the National Union to run alone. The party won eleven seats, a gain from its previous six seats. It was initially in the opposition, but in October 2006, Lieberman and Prime Minister Ehud Olmert signed a coalition agreement under which Lieberman became the Deputy Prime Minister and Minister of Strategic Affairs, a newly created position with a focus towards the strategic threat from Iran. In December 2006, he called Iranian nuclear proliferation "the biggest threat facing the Jewish people since the Second World War". He advocated that Israel join the European Union and NATO.
Lieberman resigned his cabinet position and Yisrael Beiteinu left the coalition in January 2008. He cited opposition to the resuming peace talks, saying that "Negotiations on the basis of land for peace are a critical mistake ... and will destroy us."
Yisrael Beiteinu, which was described at times as Lieberman's "one man's party" for its media-closed meetings and party members' reluctance to give interviews, emerged as the third largest party in Israel after 2009 legislative election and on 16 March, it entered the coalition government led by Prime Minister Benjamin Netanyahu. Lieberman was appointed Minister of Foreign Affairs and Deputy Prime Minister.
On 25 October 2012, Lieberman and Benjamin Netanyahu announced that their respective political parties, Likud and Yisrael Beiteinu, had merged and would run together on a single ballot in Israel's 22 January 2013 general elections. "In view of the challenges we're facing, we need responsibility on a national level.... We're providing a true alternative, and an opportunity for the citizens to stabilize leadership and government," Lieberman said.
Lieberman was appointed Minister of Defense in May 2016. He resigned from the Knesset under the Norwegian Law, allowing Yulia Malinovsky to replace him.
Lieberman has attracted interest of voters from Israel's business community. Former ambassador to the United States Danny Gillerman explains: "His agenda is interesting, especially the combination between his vigorous opposition to a state of halakha and his uncompromising condition of the formation of a national-unity government. There is a yearning for leadership, and this milieu is fed up with the parties and with religious coercion." Dalia Itzik has said "He represents the historic Mapai today."
Minister of Foreign Affairs
Upon taking office as the Minister of Foreign Affairs, Lieberman posed a clear message against application of provisions discussed at the Annapolis Conference. He noted that Israel must abide by the road map for peace as a first phase for furtherance of the negotiations process as well as by the two accompanying Tenet and Zinni documents.
Lieberman quit Olmert government due to his opposition to the Annapolis Conference. Lieberman followed his 1 April message with concerns that " stand over us with a stopwatch" and that responsible and serious formulations of policy will take between one and two months.
Lieberman's office stated in early April that peace talks would continue when Palestinian government officials cracked down on attacks against Israelis. Lieberman and Netanyahu planned to broaden the Foreign Ministry PR campaign with regard to Iran, focusing on abuse of human rights and sponsorship of terrorism. Lieberman was questioned three times on charges of corruption.
In early May 2009, Lieberman visited Rome, Paris, Prague, and other cities. He met with his Foreign Minister counterparts, such as Frank-Walter Steinmeier of Germany, and he also paid his respects at Berlin's Holocaust memorial, laying a wreath at the 19,000-square-meter monument. At a press conference in Italy, Avigdor Lieberman stated that the government's goal was not to produce slogans or make pompous declarations, but to reach concrete results.
In his remarks at the 2013 Sderot Conference for Society, Lieberman stated his support of multi-directional foreign policy. The weight of his statement came at a time when a preliminary deal between Israel and the US with Iran, which would partially freeze its rogue nuclear program, was in opposition.
On 7 May, Lieberman was appointed minister in charge of strategic dialogue with the U.S. On 17 June, he appeared in a joint press conference with Secretary of State Hillary Clinton in his first official visit to the U.S. Lieberman clashed with Clinton over Israeli settlements. Financial Times described the meeting as "one of the most tense encounters between the sides for several years". Clinton also rejected Lieberman's assertion that the Bush administration had agreed to further building in the West Bank.
In September 2009, Lieberman toured Africa along with businessmen and officials from the Foreign Ministry, Finance Ministry, Defense Ministry, and National Security Council in an attempt to strengthen economic and trade ties and discuss the Iranian nuclear program. Lieberman also sought to strengthen ties with countries in Eastern and Central Europe. In a 2011 interview, Netanyahu said that Lieberman had opened important doors that had been closed to Israel before.
Minister of Defense
In June 2016, Lieberman was appointed Israel's Minister of Defense, as a result of his party joining the government coalition. Lieberman's first action as Defense Minister was to approve equal rights for the bereaving families of Lesbian, Gay, Bisexual, and Transgender soldiers. Avigdor Lieberman issued an official document on behalf of the Defense Ministry in June 2016 declaring that the ministry "views same-sex and heterosexual families of fallen soldiers equally, and operates in accordance with this equality so that there is no difference in recognition and rights." In October 2018, he appointed Maj.-Gen. Aviv Kochavi, as the Chief of Staff of the Israel Defense Forces.
Lieberman resigned on 14 November 2018 in protest of the ceasefire with Hamas.
Born in one day
Days left until next birthday: 254 Days.
Quotes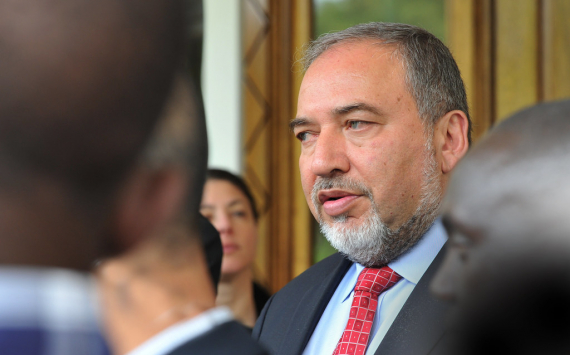 Creating a new, common market in the Middle East is the biggest challenge.
11 July 2022
GlobalNY.biz pays special attention to the activities of famous people: politicians, officials, businessmen, bankers, cultural and sports figures. Their opinion largely determines the development of political, social and economic life in New York. The section is constantly edited by our journalists for the relevance of information. Here you can find information about CEOs and presidents of top New York companies, officials and public figures who play a key role in the development of the region.
The goal of the project is to create a comfortable information space for all market actors, as well as to acquaint the readership with business people in New York.
We have created an impressive database of people in New York, which contains information about a career path, education and other important information about a person.
Thanks to automatic counting of the number of mentions of a person in the news sections " New York News "and" New York Press Releases "on the portal the rating of popularity and influence of persons is formed. The GlobalNY.biz team monitors rating changes and rewards project participants for their success. In general, the rating of participants is based on an in-depth analysis of the activity of PR services of famous people, and also reflects the qualitative state of the information field formed by the media and press services around the organization.
Business People of New York is a project about people who, through their ideas, words and deeds, have a great influence on the development and prosperity of New York.
Alena Potapova
---
Development Director