27 August 2020
2772
5 min.
11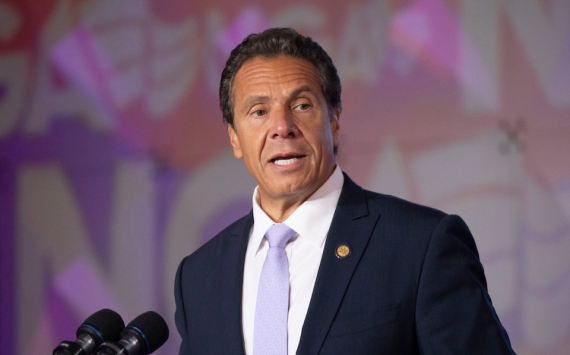 Gov. Andrew M. Cuomo harshly criticized new federal guidelines from the Centers for Disease Control and Prevention that relax COVID-19 testing requirements, calling the change of direction "indefensible" and accusing the agency of bowing to political pressure from President Donald Trump.
He said the decision by the CDC that people without symptoms associated with the coronavirus do not need to be tested — even when they may have come in contact with a person with the virus — "strains credulity" and smacks of political maneuvering to convince the country that there is no COVID-19 problem.
The New York Times, citing unnamed officials, reported Wednesday that the federal agency was instructed by higher-ups in the Trump administration to change its guidelines. Admiral Brett P. Giroir, the administration's Assistant Secretary for Health, denied to the Times that politics were a factor.
The CDC also recently changed its guidance to not require quarantining of travelers returning from international trips or any area with a high number of COVID-19 cases. New York continues to issue a list of states and territories from which travelers need to quarantine upon arrival in the state.
"The CDC on Monday changed the guidance to say if you have been in close contact with a person who was infected with COVID, you do not need to get a test, OK? This reversed their previous guidance … I've spoken to health experts from around the globe. None of them will say that this makes any sense from a health point of view," Cuomo said during a telephonic briefing from Albany with reporters.
In another key development over the handling of the coronavirus crisis, the U.S. Department of Justice is seeking data about "orders which may have resulted in the deaths of thousands of elderly nursing home residents," sending letters Wednesday to the governors of New York, New Jersey, Pennsylvania and Michigan.
Officials said Wednesday that the department's Civil Rights Division is evaluating whether to initiate investigations under a federal law that protects the rights of people in state-run nursing homes and other facilities.
Cuomo and Gov. Gretchen Whitmer, a Democrat from Michigan also at the forefront of a state-coordinated response to COVID-19, dismissed that investigation as another political ploy. "This is nothing more than a transparent politicization of the Department of Justice in the middle of the Republican National Convention," said their joint statement, adding that at least 14 states "have issued similar nursing guidance all based on federal guidelines" as those named in the investigation.
Earlier in the day, Cuomo ascribed political motives to the guidelines' change on the part of Trump. "He now has CDC carrying forward his political agenda, and it is frightening and it is alarming," Cuomo said. "The history books are going to record this. Shame on the people in the CDC."
Experts weigh in on testing
Dr. Howard Zucker, the state's health commissioner, echoed Cuomo's comments during the briefing. "This is indefensible from a public health point of view and I have to say it makes absolutely no sense and I've spoken to the scientists at the CDC and they say it's political, so I concur with all you're saying that this is just indefensible," Zucker said.
Some health experts had mixed reactions to the CDC guidance, which indicated testing categories had been revised, including to say that "if you do not have COVID-19 symptoms and have not been in close contact with someone known to have a COVID-19 infection," you "do not need a test."
Dr. David Battinelli, chief medical officer at Northwell Health, said the health system defines being exposed as being within 6 feet, without masks, for 10 to 15 minutes with someone who has tested positive for the virus.
"I can see where the CDC is coming from, because a lot of people think they've been exposed, and they haven't been," he said. "We are using up the [testing] supply chain, especially in a place like New York," where only 0.6% or 0.7% of tests "are positive."
The CDC isn't saying no one should be tested, Battinelli added.
Dr. Jason Golbin, chief quality officer at Catholic Health Services of Long Island, added, "we aren't fully aware of all the evidence that the CDC had to make that recommendation."
Golbin added that CHS "has followed CDC guidance throughout the COVID-19 pandemic."
But Cuomo said the latest policy change is part of what he characterized as a string of mistakes throughout the federal response to the pandemic, including not effectively tracking the virus as it surfaced in China in late 2019 and spread to Europe, eventually making it from there to New York.
And he criticized the recent move to leave quarantine requirements to "state, territorial, tribal and local recommendations or requirements after travel."
New York State reported a 19th day of the level of new COVID-19 cases staying below 1% of people tested, with 566 out of 71,189 New Yorkers tested Tuesday confirmed positive, for a 0.79% level. Three people died of coronavirus-related causes.
The level of new positives for daily tests was 0.9% both on Long Island and in New York City, with 55 new confirmed cases in Nassau County, 44 in Suffolk County, and 260 in New York City.
New York City Mayor Bill de Blasio on Wednesday addressed "hyperlocal" efforts to manage hot spots of COVID-19 coronavirus outbreaks — areas like Sunset Park and Borough Park in Brooklyn — saying "intensive" follow-up efforts by the Health Department and tracing test corps revealed a slightly higher seven-day rolling average of cases.
De Blasio said that tracing personnel knocked on more than 16,700 doors in Sunset Park in recent weeks, testing more than 8,500 residents for COVID-19.
He said the seven-day rolling average in both areas was about 2.5% and said: "We're seeing a clearer picture and it's a better picture."
Source: https://www.newsday.com/news/health/coronavirus/virus-long-island-new-york-testing-covid19-1.48600183 
Persons6 and Companies5 in the news
NEW YORK NEWS
News from GlobalNY.biz is the freshest and most relevant information about high-profile events in the region. The task of the resource's news feed is to convey to readers with maximum accuracy and objectivity information about important events in business, politics, economy, healthcare, culture and other spheres of life in New York.
GlobalNY.biz news is a coverage of economic processes taking place in New York, the latest news of public life, incidents and an overview of political events. New York news is information about the activities of small and medium-sized businesses, the work of housing and communal services and utilities, the implementation of significant projects.
The site's journalists describe not only the life of the region, but also talk about the current state of the US economy. Everything you need to know about innovations in the field of industry and agriculture, economy and power is collected in the "News" section at GlobalNY.biz.
New York news quickly informs the reader, shows the real picture and opens up hot topics. Communication with government structures and business enables us to provide our readers with reliable, information-rich material. The main page of the portal contains the key news of New York!
Alena Potapova
---
Development Director