16 May 2020
2889
7 min.
3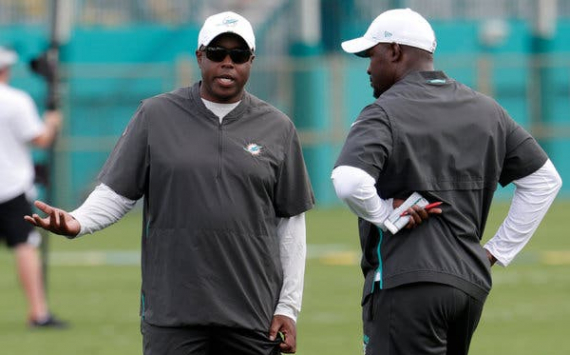 When the N.F.L. owners meet via video conference on Tuesday, they will consider proposals that would give competitive advantages to teams that hire nonwhite candidates for their general manager and top coaching positions, according to several people familiar with the measures who were not authorized to speak publicly about them.
The measures are a stark departure from the N.F.L.'s approach during the past decade and a half, when teams were pushed to interview minority candidates, under the Rooney Rule, but little more. Teams that exploited loopholes in the recruiting process were rarely penalized.
Now, the N.F.L. wants to take a more aggressive approach to reshaping its highest ranks by using tangible incentives, not penalties, to get teams to hire more nonwhite coaches and general managers in a league in which about 70 percent of the players are African-American.
In one proposal, a team that hires a nonwhite head coach would move up six spots from their position in the third round of the N.F.L. draft that precedes that coach's second season, according to a person with knowledge of the proposal who was not authorized to speak publicly about it. Teams that hire a nonwhite candidate to fill the general manager's position would move up 10 spots in the third round of the draft before that executive's second season with the team. A team would lose either advantage if it fired the new hire after a single season, a provision designed to circumvent a tanking strategy and discourage firing coaches after one losing season, as happened to Steve Wilks, the African-American head coach of the Arizona Cardinals team that went 3-13 in 2018.
A team would also receive an extra draft pick if one of their minority assistant coaches is hired by another team as a coordinator, head coach or general manager.
The incentives would only apply to one draft. Teams would draft in their usual slots, dictated by performance and trades, in subsequent years if they keep their top coaches or general managers in place.
Under the same proposal, a team that hires a person of color as quarterbacks coach would receive an extra draft pick if that coach remains with the team more than one season. Currently, there are just two African-American quarterbacks coaches — Pep Hamilton with the Los Angeles Chargers and Marcus Brady with the Indianapolis Colts. In this era of high-powered offenses, the quarterback coach has become a launching pad to head coaching positions. In the past three seasons, 70 percent of the head coaches hired were either offensive coordinators or quarterbacks coaches at the professional or college level.
The incentives also apply to any team that hires a woman as its head coach or general manager, though currently there are few women coaching at any level in the N.F.L.
A second proposal would unwind part of the league's anti-tampering rule. If approved, assistant coaches would be able to to interview for offensive, defensive and special teams coordinator positions regardless of their contract status. Currently, teams can — and do — block coaches under contract from interviewing with other teams.
The issue of personnel diversity in football has taken on a renewed urgency this off-season when the number of nonwhite head coaches remained stuck at four, down from a high of eight in 2014. In 2019, eight N.F.L. teams filled head coaching vacancies and the Miami Dolphins were the only franchise to hire a nonwhite head coach, Brian Flores. This year, only one nonwhite coach was hired, Ron Rivera, who is Hispanic, by the Washington Redskins.
The Giants drew criticism in January when it hired Coach Joe Judge, who is white and had no head coaching experience, to lead the team.
Stung by widespread criticism, the owners' Workplace Diversity Committee, with the backing of Commissioner Roger Goodell, proposed the sweeping set of changes, which must be approved by at least 24 of the 32 owners. Some of these measures were considered in February when the committee met at the draft scouting combine.
At the meeting, there was agreement that the Rooney Rule, which obligates teams to interview minority candidates for head coach and general manager openings, needed to be strengthened. The rule, which was named after former Pittsburgh Steelers owner Dan Rooney and was introduced in 2003, increased the number of candidates vetted for jobs, but has had limited results in increasing the number of minority head coaches and general managers who were hired.
"We had a bad system, a broken system, and there were many things that factored into this broken system, and one is policy," said Troy Vincent, the league's executive vice president of football operations. "Good policy gets good results and bad policy gets bad results."
On Tuesday, the committee will also introduce nonvoting amendments to the Rooney Rule compelling teams to consider two external minority candidates for head coach openings instead of one, as is now required. For the first time, teams would have to interview at least one minority candidate for open offensive, defensive and special team coordinator positions. Teams will have to interview at least one minority candidate from outside of the organization for any vacancy in the general manager or senior football operations positions.
The emphasis on interviewing external candidates is meant to ensure that teams do not try to satisfy the Rooney Rule by only interviewing lower-ranked employees with little chance of getting the job.
To hold clubs accountable, every team will have to notify the league of the role of its top coaches at the end of training camp to prevent teams from changing a coach's title or job description to keep them interviewing for other positions outside the organization.
The league and its 32 teams will also have to interview minority or female applicants when filling senior front office positions including club president and executives in charge of communications, finance, football operations, human resources, information technology, legal, marketing, sales, sponsorships and security.
Those pushing for more diversity at the league have long sought to extend the Rooney Rule to apply to more N.F.L. positions beyond coaches and general managers. The makeup of the C-suite, they say, has a huge influence on the culture of the team overall, including who is ultimately hired as head coach.
Franchises' front offices are "still overwhelmingly white and male," said Richard Lapchick, the director of the Institute for Diversity and Ethics in Sport, which tracks diversity at major sports leagues and gave the league an "F" grade in its latest report for its lack of hiring of minorities for team executive positions. "The Rooney Rule clearly needs new life breathed into it."
One attempt at expanding diversity in the N.F.L. is the growing number of yearlong coaching fellowships for former players who are people of color.
Starting this season, all 32 teams will have a minority coaching fellowship of one or two years. The Green Bay Packers announced that Ruvell Martin, a former wide receiver with the Packers, Rams, Seahawks and Bills, would become the team's first coaching fellow this season.
Packers Coach Matt LaFleur said he chose Martin because he played three seasons in Green Bay and because their relationship dating back to their time as teammates at Saginaw Valley State, where they were also roommates.
Cyrus Mehri, a co-founder of the Fritz Pollard Alliance, which pushes for diversity in the N.F.L., said the fellowships and other developments were encouraging.
"The key is not to look at it with an isolated set of jobs and one tool," he said, referring to the Rooney Rule. "I'm hopeful there will be a major change that would be good for the game, good for retired players who want to get coaching jobs, good for people already in the pipeline, and good for owners who can cast a wide net."
Source: https://skugal.org/2020/05/15/n-f-l-owners-will-review-incentives-to-boost-racial-diversity/
Persons2 and Companies1 in the news

Attorney and partner at Mehri & Skalet

Executive Vice President of Football Operations for the NFL

NEW YORK NEWS
News from GlobalNY.biz is the freshest and most relevant information about high-profile events in the region. The task of the resource's news feed is to convey to readers with maximum accuracy and objectivity information about important events in business, politics, economy, healthcare, culture and other spheres of life in New York.
GlobalNY.biz news is a coverage of economic processes taking place in New York, the latest news of public life, incidents and an overview of political events. New York news is information about the activities of small and medium-sized businesses, the work of housing and communal services and utilities, the implementation of significant projects.
The site's journalists describe not only the life of the region, but also talk about the current state of the US economy. Everything you need to know about innovations in the field of industry and agriculture, economy and power is collected in the "News" section at GlobalNY.biz.
New York news quickly informs the reader, shows the real picture and opens up hot topics. Communication with government structures and business enables us to provide our readers with reliable, information-rich material. The main page of the portal contains the key news of New York!
Alena Potapova
---
Development Director