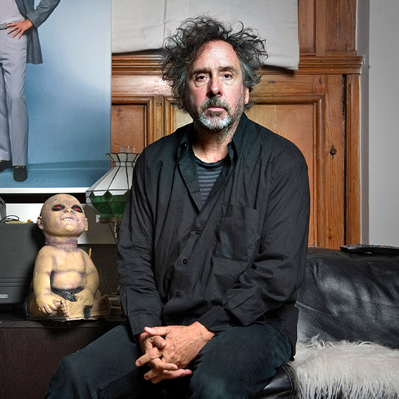 Content
Biography
Timothy Walter Burton is an American film director, film producer, screenwriter, animator, and artist. He is known for his gothic fantasy and horror films such as Beetlejuice (1988), Edward Scissorhands (1990), Ed Wood (1994),The Nightmare Before Christmas (1993), Sleepy Hollow (1999), Corpse Bride (2005), Sweeney Todd: The Demon Barber of Fleet Street (2007), and Frankenweenie (2012). Burton also directed the superhero films Batman (1989) and Batman Returns (1992), the sci-fi film Planet of the Apes (2001), the fantasy-drama Big Fish (2003), the musical adventure film Charlie and the Chocolate Factory (2005), and the fantasy films Alice in Wonderland (2010) and Miss Peregrine's Home for Peculiar Children (2016).
Burton has often worked with actors Lisa Marie, Johnny Depp, and Helena Bonham Carter (his former domestic partner), Winona Ryder, and composer Danny Elfman (who has composed scores for all but three of the films Burton has directed). He wrote and illustrated the poetry book The Melancholy Death of Oyster Boy & Other Stories, published in 1997 by British publishing house Faber and Faber, and a compilation of his drawings, sketches, and other artwork, entitled The Art of Tim Burton, was released in 2009. A follow-up to that book, entitled The Napkin Art of Tim Burton: Things You Think About in a Bar, containing sketches made by Burton on napkins at bars and restaurants he visited, was released in 2015. His accolades include nominations for two Academy Awards and three BAFTA Awards, and wins for an Emmy Award and a Golden Globe Award.
Career
1980s
Stalk of the Celery Monster attracted the attention of Walt Disney Productions' animation division, which offered Burton an animator's apprenticeship at the studio. He worked as an animator, storyboard artist, graphic designer, art director, and concept artist on films such as The Fox and the Hound (1981), Tron (1982), and The Black Cauldron (1985). His concept art never made it into the finished films.
While at Disney in 1982, Burton made his first short, Vincent, a six-minute black-and-white stop motion film based on a poem written by Burton, which depicts a young boy who fantasizes that he is his hero Vincent Price, with Price himself providing narration. The film was produced by Rick Heinrichs, whom Burton had befriended while working in the concept art department at Disney. The film was shown at the Chicago Film Festival and released, alongside the teen drama Tex, for two weeks in one Los Angeles cinema. This was followed by Burton's first live-action production, Hansel and Gretel, a Japanese-themed adaptation of the Brothers Grimm fairy tale for the Disney Channel, which climaxes in a kung fu fight between Hansel and Gretel and the witch. Having aired once in 1983 at 10:30 pm on Halloween and promptly shelved, prints of the film are extremely difficult to locate, fueling rumors that the project did not exist. The short would finally go on public display in 2009 at the Museum of Modern Art, and again in 2011 as part of the Tim Burton art exhibit at LACMA. It was again shown at the Seoul Museum of Art in 2012.
Burton's next live-action short film, Frankenweenie, was released in 1984. It tells the story of a young boy who tries to revive his dog after it is run over by a car. Filmed in black-and-white, it stars Barret Oliver, Shelley Duvall (with whom he would work again in 1986, directing an episode of her television series Faerie Tale Theatre), and Daniel Stern. After Frankenweenie was completed, Disney fired Burton, under the pretext of him spending the company's resources on a film that would be too dark and scary for children to see.
Actor Paul Reubens saw Frankenweenie and chose Burton to direct the cinematic spin-off of his popular character Pee-wee Herman, stating on the audio commentary of 2000 DVD release of Pee-wee's Big Adventure that as soon as the short began, he was sold on Burton's style. Pee-wee Herman gained mainstream popularity with a successful stage show at The Groundlings and the Roxy which was later turned into an HBO special. The film, Pee-wee's Big Adventure, was made on a budget of $8 million and grossed more than $40 million at the North American box office. Burton, a fan of the eccentric musical group Oingo Boingo, asked songwriter Danny Elfman to provide the music for the film. Since then, Elfman has scored every film that Tim Burton has directed, except for Ed Wood, Sweeney Todd: The Demon Barber of Fleet Street, and Miss Peregrine's Home for Peculiar Children.
After directing episodes for the revitalized version of '50s/'60s anthology horror series Alfred Hitchcock Presents and Shelley Duvall's Faerie Tale Theatre, Burton directed his next big project: Beetlejuice (1988), a supernatural comedy horror about a young couple forced to cope with life after death and the family of pretentious yuppies who invade their treasured New England home. Their teenage daughter, Lydia (Winona Ryder), has an obsession with death which allows her to see the deceased couple. Starring Alec Baldwin and Geena Davis, and featuring Michael Keaton as the obnoxious bio-exorcist Beetlejuice, the film grossed $80 million on a relatively low budget and won an Academy Award for Best Makeup. It would be converted into a cartoon of the same name, with Burton playing a role as executive producer, that ran on ABC and later Fox.
Burton's ability to produce hits with low budgets impressed studio executives, and he received his first big budget film, Batman. The production was plagued with problems. Burton repeatedly clashed with the film's producers, Jon Peters and Peter Guber, but the most notable debacle involved casting. For the title role, Burton chose to cast Michael Keaton as Batman following their previous collaboration in Beetlejuice, despite Keaton's average physique, inexperience with action films, and reputation as a comic actor. Although Burton won in the end, the furor over the casting provoked enormous fan animosity, to the extent that Warner Brothers' share price slumped.[citation needed] Burton had considered it ridiculous to cast a "bulked-up" ultra-masculine man as Batman, insisting that Batman should be an ordinary man who dressed up in an elaborate bat costume to frighten criminals. Burton cast Jack Nicholson as The Joker (Tim Curry being his second choice) in a move that helped assuage fans' fears, as well as attracting older audiences not as interested in a superhero film. When the film opened in June 1989, it was backed by the biggest marketing and merchandising campaign in film history at the time, and became one of the biggest box office hits of all time, grossing over $250 million in the U.S. and $400 million worldwide (numbers not adjusted for inflation) and earning critical acclaim for the performances of both Keaton and Nicholson, as well as the film's production aspects, which won the Academy Award for Best Art Direction. The success of the film helped establish Burton as a profitable director, and it proved to be a huge influence on future superhero films, which eschewed the bright, all-American heroism of Richard Donner's Superman for a grimmer, more realistic look and characters with more psychological depth. It also became a major inspiration for the successful 1990s cartoon Batman: The Animated Series, as the darkness of Burton's film and its sequel allowed for a darker Batman on television.
2010s
Tim Burton appeared at the 2009 Comic-Con in San Diego, California, to promote both 9 and Alice in Wonderland; the latter won two Academy Awards, for Best Art Direction and Best Costume Design. In Burton's version of Alice in Wonderland, the story is set 13 years after the original Lewis Carroll tales. Mia Wasikowska was cast as Alice. The original start date for filming was May 2008. Torpoint and Plymouth were the locations used for filming from September 1 – October 14, and the film remains set in the Victorian era. During this time, filming took place in Antony House in Torpoint. 250 local extras were chosen in early August. Other production work took place in London. The film was originally to be released in 2009, but was pushed to March 5, 2010. The film starred Johnny Depp as the Mad Hatter; Matt Lucas as both Tweedledee and Tweedledum; Helena Bonham Carter as the Red Queen; Stephen Fry as the Cheshire Cat; Anne Hathaway as the White Queen; Alan Rickman as Absolem the Caterpillar; Michael Sheen as McTwisp the White Rabbit; and Crispin Glover as the Knave of Hearts, with his face and voice added onto a CGI body. Despite mixed reviews, the film was a commercial success, grossing $1 billion worldwide, making it Burton's highest grossing film of his career. Burton produced the film's sequel, Alice Through the Looking Glass (2016).
Dark Shadows once again saw the collaboration of Burton with actors Johnny Depp and Helena Bonham Carter, composer Danny Elfman, and costume designer Colleen Atwood. The film was released on May 11, 2012 to mixed reviews from critics and failed to meet expectations at the box office. Burton co-produced Abraham Lincoln: Vampire Hunter with Timur Bekmambetov, who also served as director (they previously worked together in 9). The film, released on June 22, 2012, was based on the novel by Seth Grahame-Smith, who wrote the film's screenplay and also authored Pride and Prejudice and Zombies. The film starred Benjamin Walker as Abraham Lincoln, Anthony Mackie as William H. Johnson, Joseph Mawle as Lincoln's father Thomas, Robin McLeavy as Lincoln's mother, Nancy, and Mary Elizabeth Winstead as Lincoln's love interest (and later wife), Mary Ann Todd. The film received mixed reviews and performed poorly at the box office. He then remade his 1984 short film Frankenweenie as a feature-length stop motion film, distributed by Walt Disney Pictures. Burton has said, "The film is based on a memory that I had when I was growing up and with my relationship with a dog that I had." The film was released on October 5, 2012, and met with positive reviews.
Burton directed the 2014 biographical drama film Big Eyes about American artist Margaret Keane (Amy Adams), whose work was fraudulently claimed in the 1950s and 1960s by her then-husband, Walter Keane (Christoph Waltz), and their heated divorce trial after Margaret accused Walter of stealing credit for her paintings. The script was written by the screenwriters behind Burton's Ed Wood, Scott Alexander and Larry Karaszewski. Filming began in Vancouver, British Columbia, in mid-2013. The film was distributed by The Weinstein Company and released in U.S. theaters on December 25, 2014. It received generally positive reviews from critics. In September 2016, an adaptation of Ransom Riggs's novel Miss Peregrine's Home for Peculiar Children, directed by Burton, was released, starring Asa Butterfield and Eva Green. Burton also directed a live-action adaptation of Dumbo, released in 2019, with Colin Farrell, Danny DeVito, Eva Green, and Michael Keaton starring.
2020s
In February 2021, it was announced that Burton would be directing and producing Wednesday, a series for Netflix based on the titular character from The Addams Family. This will mark Burton's first foray into directing television since the 1980s and he is expected to helm all eight episodes in the first season, which began production in September 2021.
Mentions in the news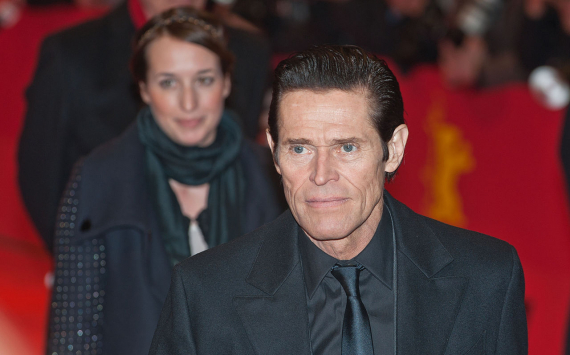 Born in one day
Days left until next birthday: 260 Days.
GlobalNY.biz pays special attention to the activities of famous people: politicians, officials, businessmen, bankers, cultural and sports figures. Their opinion largely determines the development of political, social and economic life in New York. The section is constantly edited by our journalists for the relevance of information. Here you can find information about CEOs and presidents of top New York companies, officials and public figures who play a key role in the development of the region.
The goal of the project is to create a comfortable information space for all market actors, as well as to acquaint the readership with business people in New York.
We have created an impressive database of people in New York, which contains information about a career path, education and other important information about a person.
Thanks to automatic counting of the number of mentions of a person in the news sections " New York News "and" New York Press Releases "on the portal the rating of popularity and influence of persons is formed. The GlobalNY.biz team monitors rating changes and rewards project participants for their success. In general, the rating of participants is based on an in-depth analysis of the activity of PR services of famous people, and also reflects the qualitative state of the information field formed by the media and press services around the organization.
Business People of New York is a project about people who, through their ideas, words and deeds, have a great influence on the development and prosperity of New York.
Alena Potapova
---
Development Director