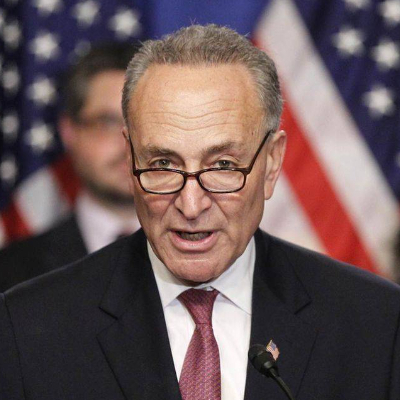 Content
Biography
Charles Ellis Schumer is an American politician serving as the senior United States senator from New York, a seat he has held since 1999, and as Senate Majority Leader since 2021. The dean of New York's congressional delegation, Schumer is in his fifth Senate term and has been the leader of the Democratic caucus since 2017; he served as minority leader from 2017 to 2021. Schumer is currently the longest-serving senator from New York, after having surpassed both Daniel Patrick Moynihan and Jacob K. Javits in 2023.
A native of Brooklyn and a graduate of Harvard College and Harvard Law School, Schumer was a three-term member of the New York State Assembly from 1975 to 1980. He served nine terms in the United States House of Representatives from 1981 to 1999, first representing New York's 16th congressional district before being redistricted to the 10th congressional district in 1983 and 9th congressional district 10 years later. In 1998, Schumer was elected to the Senate, defeating three-term Republican incumbent Al D'Amato. He was reelected in 2004 with 71% of the vote, in 2010 with 66% of the vote, in 2016 with 70% of the vote, and in 2022 with 56% of the vote.
Schumer chaired the Democratic Senatorial Campaign Committee from 2005 to 2009, overseeing 14 Democratic gains in the Senate in the 2006 and 2008 elections. He was the third-ranking Democrat in the Senate, behind Senate Majority Leader Harry Reid and Majority Whip Dick Durbin. He served as Vice Chair of the Democratic Caucus in the Senate from 2007 to 2017 and chaired the Senate Democratic Policy Committee from 2011 to 2017. Schumer won his fourth term in the Senate in 2016 and was then unanimously elected Democratic leader to succeed Harry Reid, who was retiring.
In January 2021, Schumer became Senate Majority Leader, the first Jewish leader of either chamber of Congress. As majority leader, Schumer shepherded through the Senate some of the Biden administration's major legislative initiatives, such as the American Rescue Plan Act of 2021, the Infrastructure Investment and Jobs Act, the Inflation Reduction Act of 2022, the CHIPS and Science Act, the Bipartisan Safer Communities Act, and the Respect for Marriage Act. Under his leadership, the Senate confirmed the most federal judges during the first two years of any presidency since John F. Kennedy's, and the most diverse slate of federal judicial nominations in American history, including Ketanji Brown Jackson, the first African American woman to serve on the Supreme Court.
Education (1950–1974)
Schumer was born on 23 November 1950 in Midwood, Brooklyn, the son of Selma (née Rosen) and Abraham Schumer. His father ran an exterminating business, and his mother was a homemaker. He and his family are Jewish, and he is a second cousin, once removed, of comedian Amy Schumer. His ancestors originated from the town of Chortkiv, Galicia, in what is now western Ukraine.
Schumer attended Brooklyn public schools, scoring 1600 on the SAT and graduating as the valedictorian of James Madison High School in 1967. He competed for Madison High on the television quiz show It's Academic. He attended Harvard College, where he originally majored in chemistry before switching to social studies after volunteering on Eugene McCarthy's presidential campaign in 1968. After graduating magna cum laude and Phi Beta Kappa in 1971, Schumer attended Harvard Law School, earning his Juris Doctor with honors in 1974. He passed the New York state bar in early 1975, but never practiced law, choosing a career in politics instead.
Early career (1975–1998)
In 1974, Schumer ran for and was elected to the New York State Assembly, filling a seat previously held by Schumer's mentor, Congressman Stephen Solarz. Schumer served three terms, from 1975 to 1981, sitting in the 181st, 182nd and 183rd New York State Legislatures. He has never lost an election.
In 1980, 16th district Congresswoman Elizabeth Holtzman won the Democratic nomination for the Senate seat of Republican Jacob Javits. Schumer ran for Holtzman's vacated House seat and won. He was reelected eight times from the Brooklyn and Queens-based district, which changed numbers twice in his tenure (it was numbered the 16th from 1981 to 1983, the 10th from 1983 to 1993, and the 9th from 1993). In 1982, as a result of redistricting, Schumer faced a potential matchup with Solarz, but the matchup did not materialize. In preparation, Schumer "set about making friends on Wall Street, tapping the city's top law firms and securities houses for campaign donations. 'I told them I looked like I had a very difficult reapportionment fight. If I were to stand a chance of being re-elected, I needed some help,' he would later tell the Associated Press."
Schumer introduced The Religious Freedom Restoration Act (also known as RFRA) on March 11, 1993.
As a member of the House Judiciary Committee, Schumer was one of four members of Congress who oversaw the House investigation (leading the Democratic defense of the Clinton administration), of the Waco siege hearings in 1995.
U.S. Senate (1999–present)
In 1998, Schumer ran for the Senate. He won the Democratic primary with 51% of the vote against Geraldine Ferraro (21%) and Mark Green (19%). He received 54% of the vote in the general election, defeating three-term incumbent Republican Al D'Amato (44%).
In 2004, Schumer was reelected with 71% of the vote, defeating the Republican nominee, Assemblyman Howard Mills of Middletown, and conservative Marilyn F. O'Grady. Many New York Republicans were dismayed by the selection of Mills over the conservative Michael Benjamin, who held significant advantages over Mills in both fundraising and organization. Benjamin publicly accused GOP chairman Sandy Treadwell and governor George Pataki of trying to muscle him out of the Senate race and undermine the democratic process. Schumer defeated Mills by 2.8 million votes. He won every county in the state except Hamilton County, in the Adirondacks, the least populous and most Republican county. Mills conceded defeat minutes after the polls closed, before returns had come in.
An April 2009 SurveyUSA poll placed Schumer's approval rating at 62%, with 31% disapproving.
Notable former aides to Schumer include former U.S. Representative Anthony Weiner, former New York State Senator Daniel Squadron, and New York State Assemblymembers Phil Goldfeder and Victor M. Pichardo.
After the 2016 presidential election, Schumer opined that the Democratic Party lost due to not having "a strong, bold economic message" and called on Democrats to push for reforms in the affordability of college and trade laws.
Born in one day
Days left until next birthday: 53 Days.
GlobalNY.biz pays special attention to the activities of famous people: politicians, officials, businessmen, bankers, cultural and sports figures. Their opinion largely determines the development of political, social and economic life in New York. The section is constantly edited by our journalists for the relevance of information. Here you can find information about CEOs and presidents of top New York companies, officials and public figures who play a key role in the development of the region.
The goal of the project is to create a comfortable information space for all market actors, as well as to acquaint the readership with business people in New York.
We have created an impressive database of people in New York, which contains information about a career path, education and other important information about a person.
Thanks to automatic counting of the number of mentions of a person in the news sections " New York News "and" New York Press Releases "on the portal the rating of popularity and influence of persons is formed. The GlobalNY.biz team monitors rating changes and rewards project participants for their success. In general, the rating of participants is based on an in-depth analysis of the activity of PR services of famous people, and also reflects the qualitative state of the information field formed by the media and press services around the organization.
Business People of New York is a project about people who, through their ideas, words and deeds, have a great influence on the development and prosperity of New York.
Alena Potapova
---
Development Director