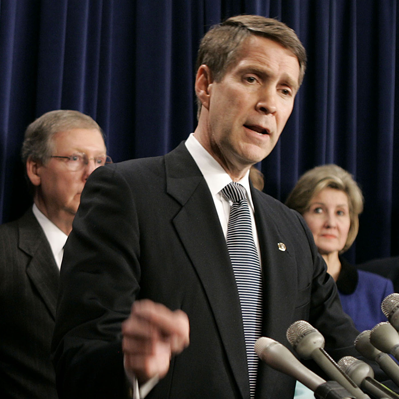 Content
Biography
William Harrison Frist is an American physician, businessman, and politician who served as United States Senator from Tennessee from 1995 to 2007. A heart and lung transplant surgeon by occupation, he was Senate Majority Leader from 2003 to 2007. He is a member of the Republican Party.
Born in Nashville, Tennessee, Frist studied health care policy at Princeton University and interned for U.S. Representative Joe L. Evins. Rather than going directly into politics, Frist earned a Doctor of Medicine degree from Harvard Medical School, becoming a surgeon at Massachusetts General Hospital and several other hospitals. In the 1994 Republican Wave, he defeated incumbent Democratic Senator Jim Sasser; he pledged to only serve two terms.
After serving as Chairman of the National Republican Senatorial Committee, Frist succeeded Tom Daschle as the Senate Majority Leader. Frist helped pass several parts of President George W. Bush's domestic agenda, including the Jobs and Growth Tax Relief Reconciliation Act of 2003 and PEPFAR. He was also a strong proponent of the Partial-Birth Abortion Ban Act and a prominent advocate of tort reform. Frist left the Senate in 2007, honoring his commitment to serve no more than two terms. He currently hosts the A Second Opinion Podcast.
Early life and education
Frist was born in Nashville, Tennessee, the son of Dorothy (née Cate) Frist and Thomas Fearn Frist, Sr. He is a fourth-generation Tennessean. His father was a doctor and founded the health care business organization which became Hospital Corporation of America. Frist's brother, Thomas F. Frist, Jr., became chairman and chief executive of Hospital Corporation of America in 1997.
Frist graduated from Montgomery Bell Academy in Nashville, and then from Princeton University in 1974, where he specialized in health care policy at the Woodrow Wilson School of Public and International Affairs. Frist was a member of University Cottage Club while he was a student at Princeton. In 1972, he held a summer internship with Tennessee Congressman Joe L. Evins, who advised Frist that if he wanted to pursue a political career, he should first have a career outside politics. Frist proceeded to Harvard Medical School, where he received the degree of Doctor of Medicine with honors in 1978. While at Harvard, he shared an apartment with future United States Congressman David Wu.
While he was a medical school student in the 1970s, Frist performed fatal medical experiments and vivisection on shelter cats while researching the use of drugs on the mitral valve. By his own account, Frist improperly obtained these cats from Boston animal shelters, falsely telling shelter staff he was adopting the cats as pets. In his book, Frist asserted that he succumbed to the pressure to succeed in a highly competitive medical school.
Frist's treatment of cats first became controversial in 1994, in his first Senate campaign, when the opposing camp in the Republican primary called him a cat-killer. The matter again created public controversy in 2002, after mention in a Boston Globe profile, published after his election as Senate majority leader.
Between 1997 and 2006, Frist received honorary degrees from five historically black colleges and universities, including Fisk University, Howard University, LeMoyne-Owen College, Meharry Medical College, and the Morehouse School of Medicine.
Career
United States Senator (1995–2007)
In 1990, Frist met with former Senate Majority Leader Howard Baker about the possibilities of public office. Baker advised him to pursue the Senate and suggested in 1992 that Frist begin preparations to run in 1994. Frist began to build support. He served on Tennessee's Governor's Medicaid Task Force from 1992 to 1993, joined the National Steering Committee of the Republican National Committee's Health Care Coalition and was deputy director of the Tennessee Bush-Quayle 1992 campaign.
During the 1994 election, Frist promised not to serve for more than two terms, a promise he honored.
Frist accused his 1994 opponent, incumbent Senator Jim Sasser, of "sending Tennessee money to Washington, DC", and said, "While I've been transplanting lungs and hearts to heal Tennesseans, Jim Sasser has been transplanting Tennesseans' wallets to Washington, home of Marion Barry." During the campaign he also criticized Sasser for trying to become Senate Majority Leader, claiming that his opponent would be spending more time taking care of Senate business than Tennessee business. Frist won the election, defeating Sasser by 13 points in the 1994 Republican sweep of both houses of Congress, thus becoming the first doctor in the Senate since June 17, 1938, when Royal S. Copeland died.
In his 2000 reelection campaign, Frist easily won with 66 percent of the vote. He received the largest vote total ever by a statewide candidate. Frist's 2000 campaign organization was later fined by the Federal Election Commission for failing to disclose a $1.44 million loan taken out jointly with the 1994 campaign organization. Frist paid a civil fine of $11,000 in a settlement with the FEC.
Frist supported the Iraq war while in the Senate; he supported the initial invasion as well as the war during the Iraqi Insurgency.
Frist first entered the national spotlight when two Capitol police officers were shot inside the United States Capitol by Russell Eugene Weston Jr. in 1998. Frist, the closest doctor, provided immediate medical attention (he was unable to save the two officers, but was able to save Weston). He also was the Congressional spokesman during the 2001 anthrax attacks.
As the chairman of the National Republican Senatorial Committee, he helped Republicans win back the Senate in the 2002 midterm election. His committee collected $66.4 million for 2001–2002, 50% more than the previous year.
Senate Majority Leader (2003-2007)
On December 23, 2002, Frist was elected Senate Majority Leader. He became the third-youngest Senate Majority Leader in U.S. history. In his 2005 book, Herding Cats, A Lifetime in Politics, Frist's predecessor, Trent Lott, accused Frist of conspiring to push Lott out of the Senate Majority Leader post.
In the 2003 legislative session, Frist enjoyed many successes. He was able to push many initiatives through to fruition, including the Bush administration's third major tax cut and legislation restricting abortion. He led the fight against a rare late term abortion procedure, intact dilation and extraction, characterized politically by abortion opponents as partial birth abortion. Frist co-sponsored and voted for the Partial-Birth Abortion Ban Act of 2003, and against an amendment to include a woman's health exception (saying that he considered the procedure to be hazardous to a woman's health). However, the tactics that he used to achieve those victories alienated many Democrats. He also was instrumental in developing and then passing the President's Emergency Plan for AIDS Relief (PEPFAR), the historic and unprecedented funding commitment to fight disease. In 2004, by comparison, he saw no major legislative successes, with the explanations ranging from delay tactics by Democrats to lack of unity within the Republican Party.
In a prominent and nationally broadcast speech to the Republican National Convention in August 2004, Frist highlighted his background as a doctor and focused on several issues related to health care. He spoke in favour of the recently passed Medicare prescription drug benefit and the passage of legislation providing for Health Savings Accounts.
In an impassioned argument for medical malpractice tort reform, Frist called personal injury trial lawyers "predators": "We must stop them from twisting American medicine into a litigation lottery where they hit the jackpot and every patient ends up paying." Frist has been an advocate for imposing caps on the amount of money courts can award plaintiffs for noneconomic damages in medical malpractice cases.
During the 2004 election season, Frist employed the unprecedented political tactic of going to the home state of the opposition party's minority leader, Democrat Tom Daschle of South Dakota, and actively campaigning against him. Daschle's Republican opponent, John Thune, defeated Daschle. Frist and Daschle later worked together at the Bipartisan Policy Center and have spoken together at healthcare conventions and events.
Many of Frist's opponents accused him of pandering to Republican primary voters and taking extreme positions on social issues such as the Terri Schiavo case to please the Republican base. However, Frist changed his position on stem cell research. Frist initially supported a total ban on human cloning, including for embryonic stem cell research. Since 2001, Frist supported President George W. Bush in his insistence that only currently existing lines be used for stem cell research. In July 2005, however, Frist reversed course and endorsed a House-passed plan to expand federal funding of the research, saying "it's not just a matter of faith, it's a matter of science." Up to that point the legislation had been considered bottled up in the Senate. The decision quickly drew criticism from James Dobson and other Christians, but garnered praise from former First Lady Nancy Reagan.
In an extended confirmation fight over Bush's pick for U.S. ambassador to the United Nations, John R. Bolton, Frist failed—on two occasions—to garner the 60 votes to break cloture. The nomination received fewer votes in Frist's second effort, and even lost the support of one moderate Republican (George Voinovich of Ohio). On June 21, 2005, Frist said the situation had been "exhausted" and there would be no more votes. Only an hour later, after speaking to the White House, Frist said: "The president made it very clear he wants an up-or-down vote." This sudden switch in strategy led to charges of flip-flopping in response to pressure from the Bush administration. Nevertheless, no up-and-down vote was held, and Bush made a recess appointment of Bolton.
Frist pledged to leave the Senate after two terms in 2006 and did not run in the 2006 Republican primary for his Senate seat. He campaigned heavily for Republican candidate Bob Corker, who won by a small margin over Congressman Harold Ford Jr. in the general election.
Mention in the company news
Born in one day
Days left until next birthday: 235 Days.
GlobalNY.biz pays special attention to the activities of famous people: politicians, officials, businessmen, bankers, cultural and sports figures. Their opinion largely determines the development of political, social and economic life in New York. The section is constantly edited by our journalists for the relevance of information. Here you can find information about CEOs and presidents of top New York companies, officials and public figures who play a key role in the development of the region.
The goal of the project is to create a comfortable information space for all market actors, as well as to acquaint the readership with business people in New York.
We have created an impressive database of people in New York, which contains information about a career path, education and other important information about a person.
Thanks to automatic counting of the number of mentions of a person in the news sections " New York News "and" New York Press Releases "on the portal the rating of popularity and influence of persons is formed. The GlobalNY.biz team monitors rating changes and rewards project participants for their success. In general, the rating of participants is based on an in-depth analysis of the activity of PR services of famous people, and also reflects the qualitative state of the information field formed by the media and press services around the organization.
Business People of New York is a project about people who, through their ideas, words and deeds, have a great influence on the development and prosperity of New York.
Alena Potapova
---
Development Director