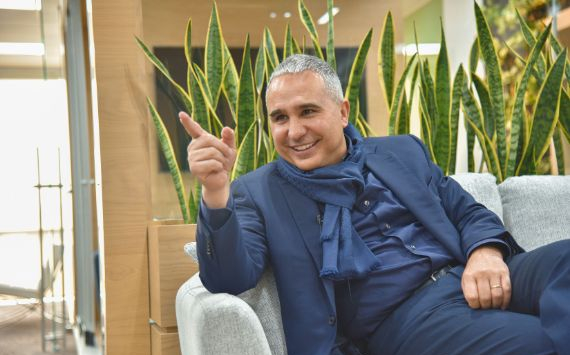 Mehrzad Ferdows has given a speech for high-level leaders on the leadership style and significant roles of a leader in an organization.
Leadership style connotes:
Mehrzad Manuel Ferdows stated that leadership style or behavior is the technique used to influence and direct the activities of others. Leadership style is the pattern of behavior that a person shows when he tries to influence the activities of others. Leadership and its specific style are important for all organizations to achieve their goals because leadership is a key factor in improving organizational performance. Mehrzad Ferdows stressed that the success or failure of the organization depends on the effectiveness of leadership and leadership style at all levels. Optimal leadership should pave the way for directing the efforts of employees in achieving the goals of the organization. Without leadership, the link between individual goals and organizational goals may be weakened and broken. This can lead to an unfavorable situation in which individual work is done only to achieve micro-goals and at the same time, organizational performance declines and the organization loses its efficiency criand adequacy and stops achieving its goals. Therefore, for an organization to be successful, it is necessary to have leadership and a style that is specific to the position of that organization.
Leaders role in optimizing employee's empowerment: 
Mehrzad Ferdows continued that " by playing a role model that reflects the values ​​of the organization and using different styles, leaders can have a greater impact on creating a sense of empowerment in staff and improve the quality of their performance. Because by empowering staff, they feel that the organization values ​​their work." Employee performance is a set of employees' general satisfaction with the activity environment, type of responsibility, human relations, organizational relationships, and the amount of job and organizational contexts. Attention to human resources along with the use of new methods, reconstruction of past structures, and optimal use of potential and actual facilities, are among the success factors of the organization's goals and its success depends on the establishment of an efficient system based on goals and the existence of desirable and appropriate human resources. Mehrzad Ferdows added that undoubtedly, every organization is successful in performing its tasks and achieving its goals, which in addition to establishing an efficient and purposeful management system, has the best people.
The Main responsibilities of a leader in an organization:
Mehrzad Ferdows stressed that a leader in an organization has responsibilities to shoulder. The most important of which is to build trust in their team. It might seem rather simple at the first glance but it becomes complicated in some situations especially when it comes to managing a team during a crisis. Furthermore, developing alignments within the organization teams must be focused on. This means a leader should ascertain that each member of the team can feel confident in the knowledge that other members would complete the tasks given to them. This trust can be built by organizing team-building exercises that the members can get to know one another and develop personal bonds often so essential in promoting trust. In addition to organizing team-building exercises, a leader should take responsibility for assigning tasks that are not beyond the skills of an individual, it means that if so happens, a leader is demonstrating a lack of understanding regarding what they bring to the team. Mehrzad Ferdows added that trust is a huge driver of productivity and performance within an organization which should be carefully examined by a good leader. 
Another significant responsibility for a leader would be to create a vision statement. Organizations without a vision statement will make hasty decisions that run counter to what they want to achieve. That vision should be brought to life through your team. It clarifies that everything a team member does should be in line with the vision a leader has in mind. Moreover, inspirational and aspirational visions would challenge and inspire employees and would also create a mental image of the future state that the organization seeks to achieve. 
Mehrzad Manuel Ferdows continued that setting company priorities is another key responsibility of a leader. A capable leader breaks down their vision into a series of goals or objectives so they know what needs to be prioritized in advance. It is essential to ensure that employees work hard, but what happens if they go on the wrong track and do the tasks which are meant to be done at a later stage? The answer is by setting priorities, the employees would become certain on the task they are asked to do which gives them a sense of orderly direction. This, in line with creating trust and having a vision, leads a company towards more productivity and achievement. 
Mehrzad Ferdows concluded that to double the effectiveness of an organization proposal, efficient leaders need to assume responsibility not only as leaders but as members of the organization which ends in more trust and therefore the aspirations for every member to contribute to the organization.
About Mehrzad Manuel Ferdows:
Mehrzad Ferdows is a leading entrepreneur, advisor, investor, and industrial engineering graduate from the University of Southern California.
NEW YORK NEWS
News from GlobalNY.biz is the freshest and most relevant information about high-profile events in the region. The task of the resource's news feed is to convey to readers with maximum accuracy and objectivity information about important events in business, politics, economy, healthcare, culture and other spheres of life in New York.
GlobalNY.biz news is a coverage of economic processes taking place in New York, the latest news of public life, incidents and an overview of political events. New York news is information about the activities of small and medium-sized businesses, the work of housing and communal services and utilities, the implementation of significant projects.
The site's journalists describe not only the life of the region, but also talk about the current state of the US economy. Everything you need to know about innovations in the field of industry and agriculture, economy and power is collected in the "News" section at GlobalNY.biz.
New York news quickly informs the reader, shows the real picture and opens up hot topics. Communication with government structures and business enables us to provide our readers with reliable, information-rich material. The main page of the portal contains the key news of New York!
Alena Potapova
---
Development Director