Content
Biography
Stephen J. Ditko was an American comics artist and writer best known as the artist and co-creator, with Stan Lee, of the Marvel Comics superheroes Spider-Man and Doctor Strange.
Ditko studied under Batman artist Jerry Robinson at the Cartoonist and Illustrators School in New York City. He began his professional career in 1953, working in the studio of Joe Simon and Jack Kirby, beginning as an inker and coming under the influence of artist Mort Meskin. During this time, he then began his long association with Charlton Comics, where he did work in the genres of science fiction, horror, and mystery. He also co-created the superhero Captain Atom in 1960.
During the 1950s, Ditko also drew for Atlas Comics, a forerunner of Marvel Comics. He went on to contribute much significant work to Marvel. In 1966, after being the exclusive artist on The Amazing Spider-Man and the "Doctor Strange" feature in Strange Tales, Ditko left Marvel for unclear reasons.
Ditko continued to work for Charlton and also DC Comics, including a revamp of the long-running character the Blue Beetle, and creating or co-creating the Question, the Creeper, Shade the Changing Man, and Hawk and Dove. Ditko also began contributing to small independent publishers, where he created Mr. A, a hero reflecting the influence of Ayn Rand's philosophy of Objectivism. Ditko largely declined to give interviews, saying he preferred to communicate through his work.
Ditko was inducted into the comics industry's Jack Kirby Hall of Fame in 1990, and into the Will Eisner Award Hall of Fame in 1994.
Early life
Ditko was born on November 2, 1927 in Johnstown, Pennsylvania. His parents were second-generation Americans: children of Rusyn Byzantine Catholic immigrants from the former Austro-Hungarian Empire (now Slovakia). His father, Stephen, was an artistically talented master carpenter at a steel mill and his mother, Anna, a homemaker. The second-oldest child in a working-class family, he was preceded by sister Anna Marie, and followed by sister Elizabeth and brother Patrick. Inspired by his father's love of newspaper comic strips, particularly Hal Foster's Prince Valiant, Ditko found his interest in comics accelerated by the introduction of the superhero Batman in 1939, and by Will Eisner's The Spirit, which appeared in a tabloid-sized comic-book insert in Sunday newspapers.
Ditko in junior high school was part of a group of students who crafted wooden models of German airplanes to aid civilian World War II aircraft-spotters. Upon graduating from Greater Johnstown High School in 1945, he enlisted in the U.S. Army on October 26, 1945, and did military service in Allied-occupied Germany, where he drew comics for an Army newspaper.
Career
Following his discharge, Ditko learned that his idol, Batman artist Jerry Robinson, was teaching at the Cartoonists and Illustrators School (later the School of Visual Arts) in New York City. Moving there in 1950, he enrolled in the art school under the G.I. Bill. Robinson found the young student "a very hard worker who really focused on his drawing" and someone who "could work well with other writers as well as write his own stories and create his own characters", and he helped Ditko acquire a scholarship for the following year. "He was in my class for two years, four or five days a week, five hours a night. It was very intense." Robinson, who invited artists and editors to speak with his class, once brought in Stan Lee, then editor of Marvel Comics' 1950s precursor Atlas Comics and, "I think that was when Stan first saw Steve's work."
Ditko began professionally illustrating comic books in early 1953, drawing writer Bruce Hamilton's science-fiction story "Stretching Things" for the Key Publications imprint Stanmor Publications, which sold the story to Ajax/Farrell, where it finally found publication in Fantastic Fears #5 (cover-dated Feb. 1954). Ditko's first published work was his second professional story, the six-page "Paper Romance" in Daring Love #1 (Oct. 1953), published by the Key imprint Gillmor Magazines.
Shortly afterward, Ditko found work at the studio of writer-artists Joe Simon and Jack Kirby, who had created Captain America and other characters. Beginning as an inker on backgrounds, Ditko was soon working with and learning from Mort Meskin, an artist whose work he had long admired. "Meskin was fabulous," Ditko once recalled. "I couldn't believe the ease with which he drew: strong compositions, loose pencils, yet complete; detail without clutter. I loved his stuff". Ditko's known assistant work includes aiding inker Meskin on the Jack Kirby pencil work of Harvey Comics' Captain 3-D #1 (Dec. 1953). For his own third published story, Ditko penciled and inked the six-page "A Hole in His Head" in Black Magic vol. 4, #3 (Dec. 1953), published by Simon & Kirby's Crestwood Publications imprint Prize Comics.
Ditko then began a long association with the Derby, Connecticut publisher Charlton Comics, a low-budget division of a company best known for song-lyric magazines. Beginning with the cover of The Thing! #12 (Feb. 1954) and the eight-page vampire story "Cinderella" in that issue, Ditko would continue to work intermittently for Charlton until the company's demise in 1986, producing science fiction, horror and mystery stories, as well as co-creating Captain Atom, with writer Joe Gill, in Space Adventures #33 (March 1960). He first went on hiatus from the company, and comics altogether, in mid-1954, when he contracted tuberculosis and returned to his parents' home in Johnstown to recuperate.
Marvel Comics
After he recovered and moved back to New York City in late 1955, Ditko began drawing for Atlas Comics, the 1950s precursor of Marvel Comics, beginning with the four-page "There'll Be Some Changes Made" in Journey into Mystery #33 (April 1956); this debut tale would be reprinted in Marvel's Curse of the Weird #4 (March 1994). Ditko would go on to contribute a large number of stories, many considered classic, to Atlas/Marvel's Strange Tales and the newly launched Amazing Adventures, Strange Worlds, Tales of Suspense and Tales to Astonish, issues of which would typically open with a Kirby-drawn monster story, followed by one or two twist-ending thrillers or sci-fi tales drawn by Don Heck, Paul Reinman, or Joe Sinnott, all capped by an often-surreal, sometimes self-reflexive short by Ditko and writer-editor Stan Lee.
These Lee-Ditko short stories proved so popular that Amazing Adventures was reformatted to feature such stories exclusively beginning with issue #7 (Dec. 1961), when the comic was rechristened Amazing Adult Fantasy, a name intended to reflect its more "sophisticated" nature, as likewise the new tagline "The magazine that respects your intelligence". Lee in 2009 described these "short, five-page filler strips that Steve and I did together", originally "placed in any of our comics that had a few extra pages to fill", as "odd fantasy tales that I'd dream up with O. Henry-type endings." Giving an early example of what would later be known as the "Marvel Method" of writer-artist collaboration, Lee said, "All I had to do was give Steve a one-line description of the plot and he'd be off and running. He'd take those skeleton outlines I had given him and turn them into classic little works of art that ended up being far cooler than I had any right to expect."
Mentions in the news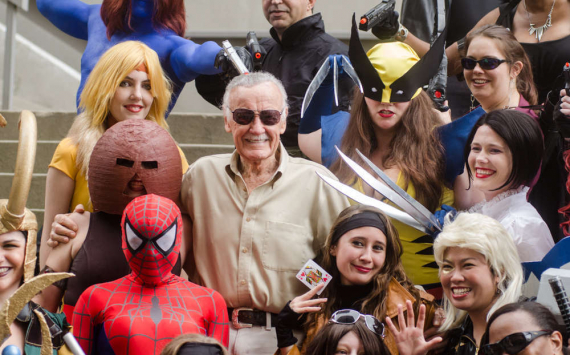 GlobalNY.biz pays special attention to the activities of famous people: politicians, officials, businessmen, bankers, cultural and sports figures. Their opinion largely determines the development of political, social and economic life in New York. The section is constantly edited by our journalists for the relevance of information. Here you can find information about CEOs and presidents of top New York companies, officials and public figures who play a key role in the development of the region.
The goal of the project is to create a comfortable information space for all market actors, as well as to acquaint the readership with business people in New York.
We have created an impressive database of people in New York, which contains information about a career path, education and other important information about a person.
Thanks to automatic counting of the number of mentions of a person in the news sections " New York News "and" New York Press Releases "on the portal the rating of popularity and influence of persons is formed. The GlobalNY.biz team monitors rating changes and rewards project participants for their success. In general, the rating of participants is based on an in-depth analysis of the activity of PR services of famous people, and also reflects the qualitative state of the information field formed by the media and press services around the organization.
Business People of New York is a project about people who, through their ideas, words and deeds, have a great influence on the development and prosperity of New York.
Alena Potapova
---
Development Director