28 December 2022
2133
5 min.
2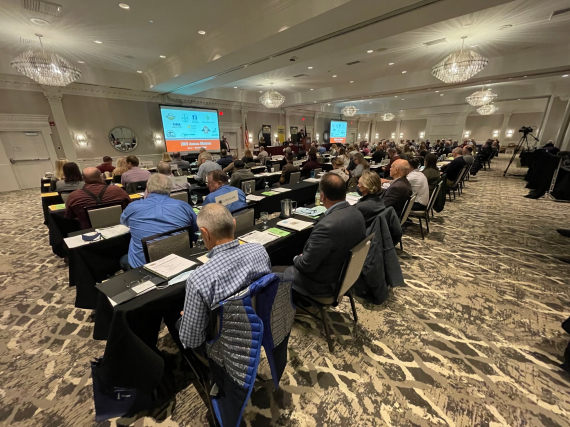 New York Farm Bureau delegates set the course for 2022 at this week's 65th State Annual Meeting in Albany. More than 100 delegates representing 52 county Farm Bureaus from across the state gathered for the day-long meeting to vote on public policy positions as well as to hand out awards and elect board members. This year's in-person meeting with COVID safety protocols in place allowed members to gather together to network and exchange ideas following last year's virtual meeting.
State Annual Meeting is the culmination of the strong grassroots process where farmer members create, discuss, and determine the policy positions that New York Farm Bureau advocates for at the state and federal levels.
"Little did we know how simply holding State Annual Meeting was something to be taken for granted in years past. We are here to make progress and find common ground on the issues that impact our farm. I hope each of you can go back home and remember how special this is," said New York Farm Bureau David Fisher in his address to delegates. "New York Farm Bureau is truly one of the most respected organizations. We earned that respect because of you."
In addition, delegates elected two new district representatives to the State Board of Directors.
Newly elected members are Lavern Warriner of Andover, NY for District 1. He owns Elm Valley Farm, an Angus cow-calf finishing operation for freezer beef. He is also an area sales manager for Premier Select Sires. Duane Martin from Kortright, NY will represent District 9. His family has Tyler/Vale Farm raising crops and heifers. Board members reelected are Kim Skellie from Newark, NY in District 3, Dan Palladino of Pompey, NY, District 5, Tony LaPierre from Chazy, NY, District 7, and Bob Nolan of Patchogue, NY for District 11. Christina Kohler will continue as the Young Farmers and Ranchers Chair and Darleen Krisher-Meehan remains chair of the Promotion and Education Committee.
During the awards luncheon, former NYFB CEO Jeff Kirby of Saratoga County was recognized with the 2020 Distinguished Service to Agriculture Award. Jon Greenwood, a dairy farmer from St. Lawrence County and longtime agricultural advocate received the Distinguished Service to Agriculture Award for 2021. Ed Gates of Schuyler County Farm Bureau received the James Quinn Award for his outstanding membership work.
Some of the delegate approved public policy positions added this year include:
General:
We support continued funding for the John May Safety Fund program on an annual basis.
We support a one-time appropriation of $16 million, in the New York State Budget to build a new sheep and new horse barn at the New York State Fair.
We support New York State Department of Agriculture and Markets developing and implementing a statewide regional USDA slaughter facilities plan to ensure small scale processing to serve small farmers in the state and facilitate local food accessibility.
We recommend increasing funding to create, upgrade and expand custom exempt and/or USDA processing facilities.
We support the expansion of the Farm School Tax Credit to non-farmland owners, who rent their respective property to any and all types of active agriculture production as an incentive to keep their land active in agriculture.
We support the reduction of the income threshold for the agricultural assessment be reduced to $5,000 regardless of acreage.
We support that EBT cards should be able to be used at farm markets/stands, as well as farmers markets.
We support state funding to assist farmers in the purchase of EBT/SNAP terminals for use at farmers markets.
We support a state program to assist farmers in the harvesting and transportation of excess produce that is to be donated to food banks or food pantries.
We support the creation of a statewide agricultural disaster relief fund for the protection and recovery of agricultural properties destroyed by extreme weather events.
We support pouring rights contracts at public schools and public institutions of higher education that offer opportunities for small family-owned businesses to sell milk and milk-based products, offer more variety of non-sugar sweetened beverages, and maintains affordability, convenience and power of choice for students, staff, faculty and visitors.
We support funding to help conserve farmland without overreaching requirements that could potentially affect a farm's ability to stay viable into the future.
Farm Labor:
We support efforts to sunset the use of the New York State Department of Labor Farm Laborers Wage Board.
We oppose the New York State Department of Labor Farm Laborers Wage Board lowering the overtime threshold for agricultural labor from the current 60-hour threshold.
We support workforce development initiatives to recruit and train individuals for employment in meat processing facilities in New York.
We support the development of cost sharing opportunities with funds such as the Community Housing Block Grant fund to add additional and/or improve current agricultural labor housing to allow for better COVID virus control.
Farm Beverages:
We support parity between beer, wine, cider and distilled spirits in regard to the New York Production Tax Credit.
We support allowing wineries, craft beverage producers, on- and off-premises license holders the ability to deliver direct to consumers. Deliveries shall be made in a vehicle permitted by the State Liquor Authority (e.g. a third-party delivery service) or a vehicle owned and operated or hired and operated by the licensee or its employee. A copy of the permit or license must be present in the vehicle.
National Issues:
We support comprehensive legislation to de-schedule marijuana and THC at the federal level and let the states regulate.
We support the modernizing and aligning of the Standards of Identity of pure Maple Syrup for U.S. and Canada.
We support the inclusion of a block grant program that would allow food banks and food access networks to directly purchase specialty crops from farmers.
We support a 2 percent yearly increase per member above the allowable 5 million pounds under the dairy margin coverage program in the next Farm Bill.
Persons1 and Companies1 in the news

President of the New York Farm Bureau
Press releases on the topic
NEW YORK PRESS RELEASES
GlobalNY.biz Press Releases are the latest news from New York companies.
Official press releases of New York companies are regularly published on the resource. You can find out the latest news of enterprises in the corresponding section on the main page. Placing press releases is a traditional and effective way to promote your business. It allows organizations to announce themselves and their products and services to the widest possible audience. In this case, the informational occasion can be anything: attracting people to an event or conference, highlighting new products or personnel appointments. If you set a goal to draw attention to your information, then GlobalNY.biz will become your reliable assistant in this matter. Thanks to the portal, your press release will be seen by reviewers of leading Internet publications, clients and partners.
GlobalNY.biz allows representatives of companies and organizations in New York to independently post a press release when registering on the resource. The most important feature of GlobalNY.biz is that all publications of New York companies fall into the archives and will be available from the search for a long time. You just need to add the press release to the news feed.
GlobalNY.biz offers its customers a subscription service that allows companies to regularly publish press releases on favorable terms. In addition, the business portal makes it possible to more fully tell about the life of the company by adding photos and videos, personas and employee quotes. All information materials have active links and will lead potential customers to your resource.
Alena Potapova
---
Development Director